Billy Hart
Drummer, Educator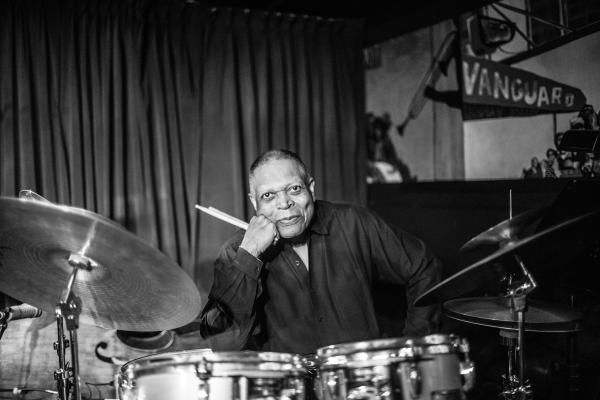 Bio
Billy Hart is one of the most sought-after jazz drummers of his generation, able to perform in diverse contexts ranging from straight-ahead to avant-garde to pop. Throughout his career, he has recorded 12 albums in his own name and performed as a sideman on more than 600 recordings. Hart also teaches widely—nationally and internationally—and has authored the book Jazz Drumming.
Hart grew up in in the nation's capital in a music-loving family who introduced him to jazz early on. His maternal grandmother bought him his first drum set. At age 17, he was hired by the great local saxophonist Buck Hill for an extended gig with his band, which also featured two of Hart's high school classmates, pianist Reuben Brown and bassist Butch Warren. His next important mentor was singer and pianist Shirley Horn. After being established locally, Hart spent most of the '60s touring with three of the preeminent working groups of the era, Jimmy Smith, Wes Montgomery, and Eddie Harris.
Upon moving to New York, Hart became associated with a group of like-minded and forward-thinking musicians, recording with Pharoah Sanders, Wayne Shorter, McCoy Tyner, Joe Zawinul, and, especially, Herbie Hancock, with whom Hart spent three productive years in the band now known as Mwandishi. He also appeared on the seminal Miles Davis 1972 album On the Corner.
Other notable associations include four years with Stan Getz, almost ten years with Charles Lloyd, and record dates ranging from standard bearers like Frank Foster, Clark Terry, Horace Silver to experimentalists like Joanne Brackeen, Geri Allen, and James Newton. A working cooperative with Dave Liebman, Richie Beirach, and Ron McClure—Quest—has existed for more than 30 years. Hart is also a member of the current jazz "supergroup" the Cookers, which includes George Cables, Billy Harper, Donald Harrison, Jr., Eddie Henderson, Cecil McBee, and David Weiss.
His current quartet includes Ethan Iverson, Ben Street, and Mark Turner. In 2016, Hart was featured with the German WDR Big Band on the release The Broader Picture and was honored at the Healdsburg Jazz Festival in California with a 40-year retrospective programming in his honor.
Since the early 1990s, Hart has taught at the Oberlin Conservatory of Music, the New England Conservatory of Music, and at Western Michigan University.
Selected Discography
Herbie Hancock, Crossings, Warner Brothers, 1971
Enchance, Horizon, 1977
Oceans of Time, Arabesque, 1996
All Our Reasons, ECM, 2011
The Cookers, Warriors, Jazz Legacy Productions, 2011
I am surprised and delighted to become an NEA Jazz Master. Many of my most beloved peers and some of my favorite musicians of all time have already been given this award, and I am honored to be included in this family.