Eugene Edward "Snooky" Young
Solo Instrumentalist (Trumpet)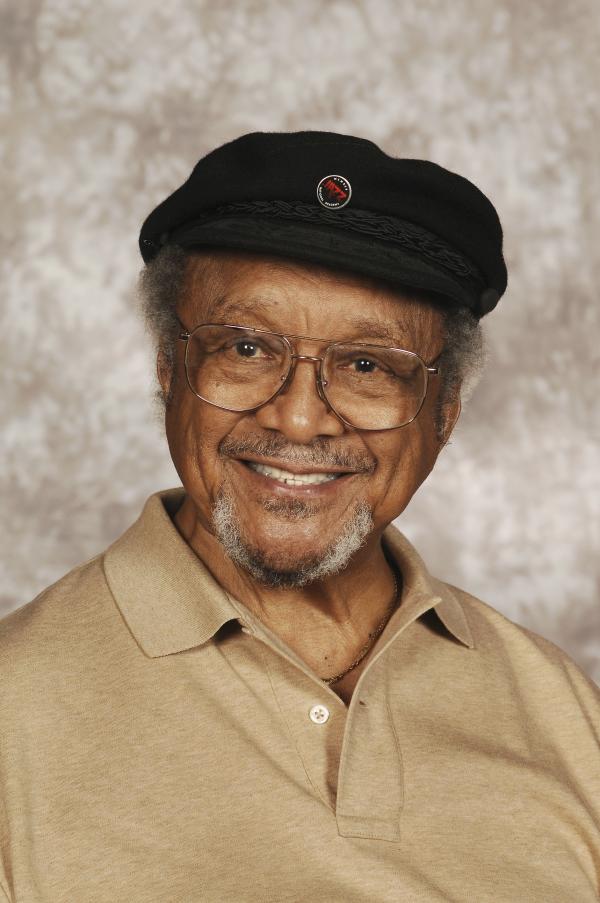 Bio
"I am extremely honored and greatly appreciate the prestigious award of NEA Jazz Master. This honor means more to me than words can express! A sincere 'thank you' to all members of the National Endowment for the Arts."
Known for his prowess with the plunger mute, Eugene Edward "Snooky" Young's trumpet playing was most often heard in the context of the big band. For 30 years, he was heard every weeknight as a member of the Tonight Show orchestra.
Young began playing the trumpet at five and by his early teens was working in various regional bands. From 1939-1942 he made a name for himself as lead trumpeter and soloist in the Jimmie Lunceford band. From 1942 to 1947 Young worked with Les Hite, Benny Carter, and Gerald Wilson, as well as with the Count Basie band, where he replaced trumpet player Ed Lewis. Young led his own band in his hometown of Dayton from 1947 to 1957 and continued to perform periodically with both Lionel Hampton and Basie through the early 1960s.
Upon leaving Basie in 1962, Young began his longest engagement with a band as a trumpeter for the Doc Severinsen band on the Tonight Show. In 1972, he moved to Los Angeles when the show relocated, and remained until Johnny Carson left in 1992.
Young continued to work on other projects as well. He was a founding member of the Thad Jones-Mel Lewis Orchestra in 1966, and throughout the 1960s and early 1970s, he played with a variety of big bands, including on recordings by such jazz greats as Louis Bellson, Gil Evans, Quincy Jones, Charles Mingus, and Jimmy Smith. Young has worked outside of jazz as well, playing with the rock group the Band on New Year's Eve in 1971 and on the classic 1976 blues recording Bobby Bland and B.B. King Together Again...Live.
Young worked since with several Los Angeles big bands, and issued three albums under his own name, including Horn of Plenty, which demonstrated his solo gifts as a strong lead trumpeter. Young appeared as a soloist at jazz festivals in Montreux, Switzerland; The Hague, Holland; Antibes, France; and Concord, California, and his work appeared on numerous soundtracks as well, including The Color Purple.
Selected Discography
Jimmie Lunceford, 1939-1940, Classics, 1939-40
Count Basie, Kansas City Suite, Roulette, 1960
Thad Jones-Mel Lewis Orchestra, Live at the Village Vanguard, Solid State, 1967
Horn of Plenty, Concord Jazz, 1979
Gerald Wilson, State Street Suite, MAMA Foundation, 1994
Interview by Anthony Andrews for the NEA
July 2008
edited by Don Ball
STARTING ON TRUMPET
Q: How did you get your nickname, Snooky?
Snooky Young: [My real name is] Eugene Edward Young. My professional name is Snooky Young.
I don't know how I got it. It started when I was a real little kid. I don't know where it came from. It used to be Snookum and then it finally wound up being Snooky.
Q: How old were you when you started playing the trumpet?
Snooky Young: I started playing the trumpet when I was about five years old. I had an older brother that started playing before me, Granville. Granville was a very good trumpet player. He's about two or three years older than me and I really wanted to play trombone, but I had a younger brother that said he wanted to play a trombone and that just made me change my mind. I said, "Well, I don't want to play trombone. I want to play trumpet." And that's how I got to be a trumpet player.
Q: And your family had a band?
Snooky Young: Yes, there was a family band. Let's see, my mother and father both were musicians. They both played guitar and banjo. My daddy played saxophone. And my daddy taught my mother how to play guitar and banjo. They both were very good guitar and banjo players. My daddy was a professional. There were a few bands that wanted him to come and play with them but he didn't want to leave home. I can't think of the name of the bands now but they were famous bands back in them days.
INFLUENCED BY SATCHMO
Q: Who were some of your early influences?
Snooky Young: My early influences? My early influence was Louis Armstrong. When I was about six or seven years old, Louis Armstrong was singing and playing and I used to try to imitate Louie Armstrong. And in fact, when I got so that I could play I used to play amateur contests at my home and I would play songs that Louis Armstrong had played and I would win the contest. One of the songs was "When You're Smiling," and [another was] "I'll Be Glad When You're Dead, You Rascal, You." See, I could do them songs, and sing and play, because that's what Louie Armstrong recorded and did way back then. He was the one who influenced me.
Q: Did you ever meet him?
Snooky Young: Oh, yeah. I met Louis Armstrong. My mother and I was walking down Fifth Street in Dayton, Ohio, and Louis Armstrong was in town. I think he might have been staying at the Y or something because we were right in front of the YWCA and my mother saw Louie and she stopped Louie and said, "Louis Armstrong, this is my son, Snooky. He wants to play trumpet like you and he admires you very much." And Louis Armstrong, I can just remember, he hugged me and said many nice things to me when I was a little kid. And when I grew up, I later met Louie and told him about meeting him in Dayton. He didn't really remember because he'd meet so many people, but I told him, "I met you and my mother introduced me to you." And that was after I was grown and was playing with Jimmie Lunceford's band, I think it was at the time. And I told Louie when I met him in my home town.
DEVELOPING A SOUND
Q: When did you start playing professionally?
Snooky Young: When I went with Jimmie Lunceford, I was 19. But I went professional before 19 because I played with a band out there in the Midwest [with] Chick Carter. I think Gerald Wilson and I played in that band and Booty Wood. A lot of musicians played in Chick Carter's band in Ohio.
Q: How did you develop your sound?
Snooky Young: Well, actually, I wanted to play like Louie Armstrong. I wanted to be Louie. And so after I grew up and got a little older I realized you can't be another musician. You have to find your own way. And that's what I did, but at first I wanted to play like Louie and Roy Eldridge. See, Roy Eldridge, him and Dizzy Gillespie and Louie was my inspiration. In fact, I met Dizzy Gillespie before he got to be Dizzy Gillespie, in a sense. I mean, he was Dizzy but he hadn't got popular like he did. He didn't get popular till after he left Cab Calloway's band. He was in Cab Calloway's band and he had a falling out with Cab and then he went on and he got famous after that, though. He started recording with Charlie Parker. And that's how Dizzy got to be Dizzy Gillespie. But he was Dizzy all the time.
Q: Talk about your plunger mute. How did you develop that sound with the mute?
Snooky Young: Well, when I played in the big bands and Jimmie Lunceford and Count Basie and Lionel Hampton and as many bands I can't even think now that I played with, I was trying to find a style of my own. In the big bands, all the other trumpet players had things going their own way. In Count Basie's band, there was Thad Jones and Joe Newman and Wendell Culley. They had a style and a sound of their own. Well, I wanted to find a sound of my own and what I did was started using the cup mute and the plunger. There were other people that did that, but that was where I wanted to go and that's the way I went, the cup mute. I used the plunger but then I stopped using the plunger and I started using the cup mute just like a plunger with the same effect but it had a little different sound. And I used that in many of the bands. I used the cup mute with the plunger type thing. In all the bands when I had solos and different things to play, that's what I used.
Q: Why do you love the trumpet?
Snooky Young: The trumpet is a very difficult instrument to play. Some people can play a trumpet and a lot of other instruments, but I wasn't one of those kind of people. I just wanted to play the trumpet. I didn't want to play the sax, the clarinet, or any other instrument besides the trumpet. And I wound up being a first trumpet player. I wanted to be a jazz player but then that wasn't supposed to be my thing, being a jazz trumpet player, because there's so many jazz players out there and in the big bands that I played with, they always put me on first trumpet. So, I guess I was meant to be a first trumpet player and I wound up being a first trumpet player. And I had a few solos now and then, but Sweets Edison, Joe Newman, Thad Jones, all these guys were soloists, but they didn't play first. And in the bands that I played with, I played first for them. And it wasn't that I really didn't want to be like that, but it just happened that way. You get put in positions that you really don't know what's going to turn out in life, in other words.
Q: What about "Pensive Miss?"
Snooky Young: That was with Count Basie. Yeah, that was one of the nice solos that I had. I considered myself a first trumpet player, but then I did do some soloing. My main job was playing first trumpet in the bands.
The last main band that I played with [was] Thad Jones and Mel Lewis. That's a great band. That was one of the great -- in fact, it's just as good as any one of those bands that I had played with, like Jimmie Lunceford or Count Basie. Thad Jones and Mel Lewis' band was equally as good, if not better, and I'm serious about that. I wouldn't say that if it wasn't true because I can't talk against Count Basie, Jimmie Lunceford, Lionel Hampton, or any of those bands. I played first trumpet for those people. But I also played first trumpet for Thad Jones and Mel Lewis and they were all New York musicians. [There were] a lot of soloists in that band. I'm still with that band. I don't play first no more, though.
WITH BASIE
Q: Do you have any stories about being on the road with the Basie band?
Snooky Young: We were in Atlantic City and the drummer, Sonny Payne, and I used to hang out. Sonny Payne had a brand new Chrysler Imperial and we were hanging out at a bar and Sonny Payne got drunk. He was out of it. So, I said, "Sonny, give me the keys to the car. You can't drive a car." He said, "Sure." Me and Sonny were very close. He said, "Sure, it's no good. Take the car. I'll see you tomorrow." We weren't staying at the same hotel. I took the car and went to the hotel where I was staying. It was late at night so I didn't get up in the daytime. We generally didn't get up in the daytime. We'd just rest all day and get up and eat and go to work. When I got up to go to work I guess Sonny Payne didn't know who had his car, so he reported his car stolen and he had the cops searching for his car. Now, when I got in the car and getting ready to go to the club where we were playing that night, the police stopped me and pulled me over and said, "This car is stolen." I said, "No, this car is not stolen." I said, "This car belongs to the drummer in Count Basie's band." I can't think of the name of the place where we were staying in Atlantic City, but anyway, the cops, they arrested me. They took me to jail. When I got in front of the judge I told the judge, I said, "I'm a musician." I said, "Look, this is the uniform I got on. I was going to the club where we played." I said, "This car belongs to the drummer, Sonny Payne. Sonny Payne was drunk last night and he couldn't drive his car so I drove it. Now, I'm going to work tonight in the car and the cops pulled me over."
Q: Tell me what Count Basie was like.
Snooky Young: Well, Count was great, man. He was a wonderful guy to play with.
I played with him twice. I was in his band twice. I was in his band from the first time when I left Jimmie Lunceford in '42. The first time I played with Basie, I replaced Buck Clayton. Buck Clayton got sick. No, Buck Clayton had to have some teeth replaced or something. I had just left Lunceford and Basie knew I had left Lunceford, so he called me and said, "Would you come and play with the band and replace Buck Clayton for a month?" I said, "Well, look, Buck Clayton's a jazz player," I said, "and I'm a first trumpet player." He said, "Don't worry about it. Come on. I want you in the band." So, I went in the band and replaced Buck Clayton for a month and after that month I went back home. That was my first job with Basie, and then after that, about six or seven months later, I replaced Ed Lewis, the first trumpet player in the band. That's how I was with Basie. We got to be real close friends anyway. And all the guys in the band were just great. Everybody was so wonderful to play with and they liked me. I was a kid in that band.
Q: How old were you?
Snooky Young: I was, like, 21 and all those guys had 10, 15, 16 years older than that. And it was great. We traveled all over Europe, man, in Basie's band. A couple of times we'd take a tour and go to Europe and we'd stay over there for about a month and we would travel all over Europe, man.
That's in Basie's first band. The trumpet section was Buck Clayton, Ed Lewis, Sweets Edison, and...I can't think of his name but it's the high note trumpet player. I replaced Ed Lewis. Sweets was there, and Joe Newman came in the same time.
CLARK TERRY AND THE TONIGHT SHOW
Q: Tell me about Clark Terry.
Snooky Young: Clark Terry was the one that got me on the Tonight Show. Clark Terry was on the Tonight Show and they wanted another brother over there and Clark said, "I got a man for you." He said, "Get Snooky Young." We were very good friends. We didn't work together, but we were friends and doing different jobs and there was a lot of recording and different things in New York. And I used to work with Clark Terry on different things and we got to be very good friends.
Q: Where did you meet him?
Snooky Young: He was in St. Louis. I was there with some band. Clark hadn't left. I was on a big band before Clark was. I was with Jimmie Lunceford, I think, before Clark got with Duke Ellington. And I met Clark in St. Louis and it was up in a jam session in this place I forget. That's when I first heard Clark Terry. And I said, "Whew, my goodness." He was something else. But that was before Clark got to be famous. He got to be famous after that, though, because when he finally left from there, he went with Duke Ellington and that's when he got famous.
Q: Did you enjoy playing on TV?
Snooky Young: Yeah, I loved playing on TV. A lot of people think it's a drag to play on a show like that, but it wasn't because you played for everybody in the business. See, that makes a difference when you play for everybody. Everybody came on the Tonight Show of any recognition. It was just great to play for all these people, all these stars I'm talking about. And when the Tonight Show left New York, went to California, I went with them. They asked me if I wanted to go, and I said, "Yes, I want to leave New York." And some people said, "You're going to leave New York?" I said, "Count the days that I'm gone." And I never did go back.
Q: Johnny Carson loved jazz, didn't he?
Snooky Young: Johnny used to come when we would come in some days and he'd come in and he'd set up on the drums at our rehearsals and things and he'd play the drums. I mean, he wasn't no drummer but he wanted to be a drummer and he would set up there and play some drums for a little while and we would kid around and have some fun. Johnny Carson was quite a guy.
Q: Did you think Tonight Show was a good band?
Snooky Young: Oh, yeah, it was a good band. It was a great band. It was a great band in New York but when it got to California, I think it might have even got to be better. Doc Severinsen was the leader. He was not the leader in New York. Doc Severinsen was one of the section men. The trumpet section was Doc Severinsen, Clark Terry, Jimmie Maxwell, and myself. That was the trumpet section for a long time.
Q: Did you like Doc?
Snooky Young: Doc and I were good friends. Doc had a group, and we did a lot of traveling with that group. We were just good buddies. We hung together and did everything. We liked one another. That means something. It wasn't that he was Doc and I was Snooky, we were friends just like Clark Terry and I were friends. Sweets Edison and I were good buddies. See, when you're in music, friendship has a lot to do with music really coming together. People liking one another and working with one another, they work together better. See, that makes the difference.
Q: You did a lot of studio work with Doc, a lot of recording sessions?
Snooky Young: I did a lot of recording sessions. In New York you do a lot of recording sessions with everybody. The contractors call you and they call people that they know will come in there and do it -- most of the record dates run for three hours. Sometimes they could run for six hours, but most of the time most of the recording takes about three hours. And you can go from one day to the other, boom, boom, boom.
Q: You did a lot of recording sessions in Los Angeles?
Snooky Young: Oh, yeah.
Q: You worked with Quincy Jones there too, right?
Snooky Young: With Quincy? I did record with him. I played in Quincy's band. And even in New York, I played with Quincy's band. And then when I come out on the [west] coast, I did a lot of work with Quincy. I met Quincy when he was a trumpet player. I think it was Lionel Hampton's band when he was a trumpet player. But he stopped being a trumpet player and started writing music and then he went on. People don't even remember him being a trumpet player, but he was a pretty good trumpet player.
BEING AN NEA JAZZ MASTER
Q: How do you feel about receiving the NEA Jazz Master award?
Snooky Young: I'd like to say it's been a very great honor to be selected as one of the NEA Jazz Masters. I think it's a great honor to be finally selected. Now I'm 89 years old, almost 90. I'll be 90 next year and I'm still blowing now. Don't get me wrong, I know I can't play like I did when I was 55 or 25. Who can? But I'm glad that I was a good young man when I was in there. And I'm still in there. I still play.
Q: You got any advice for the young people, young trumpet players?
Snooky Young: Yes, practice. Practice and practice a lot and listen to people that you like and eventually you'll go off on your own anyway. That's what I did. I used to listen to Louie and Roy and Dizzy and them cats, and I played a lot like them at the beginning, but then I finally veered away from that. You listen to people and listen to good trumpet players and imitate them for awhile, but after you get to be a man of a certain age you move on, on your own.