Foreststorn "Chico" Hamilton
Percussionist, Bandleader, Composer, Educator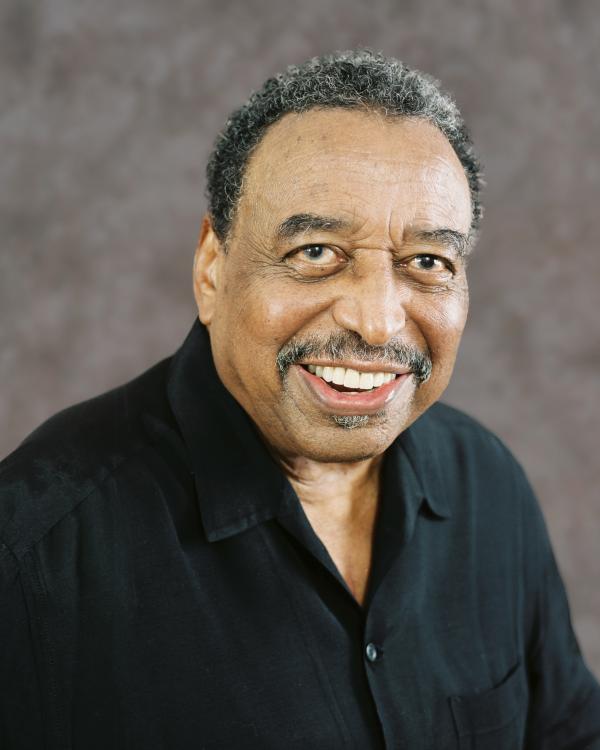 Bio
"This award will enable me to continue to help young musicians to become professional musicians. I sincerely believe that music is one of God's Wills, and God's will, will be done."
Foreststorn "Chico" Hamilton was not only a subtle, creative drummer, but also a skillful bandleader who continually discovered talented newcomers. As a teenager growing up in Los Angeles, Hamilton started playing regularly for the first time with a band that included classmates Charles Mingus, Dexter Gordon, and Illinois Jacquet. He made his recording debut with Slim Gaillard, and studied drumming with jazz great Jo Jones during his military service from 1942-46.
After working briefly with Jimmy Mundy, Count Basie, and Lester Young, Hamilton joined Lena Horne's band in 1948, staying with her on and off for six years, including a tour of Europe. During this time, he also became an original member of the legendary Gerry Mulligan Quartet, which included Mulligan, Chet Baker, and Bob Whitlock. Successfully recording with them for three years (1952-55) on the Pacific Jazz label, Hamilton got his first shot as bandleader.
In 1955, he formed the Chico Hamilton Quintet, utilizing an unusual combination of instruments: cello, flute, guitar, bass, and drums. One of the important West Coast bands, the Hamilton group made their film debut in the movie The Sweet Smell of Success, as well as highlighting Jazz on a Summer's Day, the film about the 1958 Newport Jazz Festival. His second great band started in 1962 with Albert Stinson on bass, Gabor Szabo on guitar, Charles Lloyd on tenor sax and flute, and George Bohanon on trombone, bringing a fresh, new sound to jazz once again. Over the years, Hamilton's bands have had various personnel, but the quality of the musicianship has remained high. Some of the players Hamilton nurtured in his bands include Jim Hall, Eric Dolphy, Ron Carter, Arthur Blythe, Larry Coryell, and John Abercrombie.
During the 1960s, Hamilton formed a company to score feature films and commercials for television and radio. In 1987, Hamilton was on the originating faculty at Parsons New School of Jazz in New York. During the same year, he formed a new quartet called Euphoria, and began touring in Europe. The quartet met with great popularity, and in 1992, their album Arroyo placed in the Jazz Album of the Year category in the DownBeat Reader's Poll. In 1995, a documentary of Hamilton's extraordinary life and career, Dancing to a Different Drummer, directed by Julian Benedikt, was presented twice on the French-German Arts Network, ARTE. In June 1999, Hamilton received a Beacons of Jazz award from the Mannes College of Music at the New School University in New York City. Never one to rest on his laurels, Hamilton released four new albums in 2006 in celebration of his 85th birthday. In 2007, he was a member of the NEA's National Council on the Arts.
Selected Discography
Complete Pacific Jazz Recordings of the Chico Hamilton Quintet, Mosaic, 1955-59
Man From Two Worlds, Impulse!, 1962
Dancing to a Different Drummer, Soul Note, 1993
Foreststorn, Koch, 2000-01
Believe, Joyous Shout!, 2000-05
Interview by Molly Murphy with Dan Stone for the NEA
November 6, 2003.
Edited by Don Ball, NEA
CHICO'S MUSICAL STYLE
Q: Tell us a bit about your drumming style.
Chico Hamilton: I was the first drummer to use bottomless heads on the drums. Ordinarily, you'd beat two drum heads, one on the bottom and one on top. I'm the one that took the heads off the bottom. The original drumheads were calfskin, and when the war got bad the government stopped making them, they used the calfskin for other things. So you couldn't buy [them], it was hard to get drumheads, so in order to make them last, I took them off the bottom.
Q: How does it change the sound?
Chico Hamilton: It all depends on what your tonality is in regards to what kind of pitch you like, what kind of sound you like, and what kind of sound you're sensitive to, because that's all we're dealing with. What may be music to me might not be music to you, which is cool. Which is the way it's supposed to be, because if everyone sounded alike, it would be boring as hell, you know? So emotionally I'm involved with a certain sound, a certain pitch. This is what I want. So that's cool. It's rare when another person would want that same pitch on this particular instrument. And it's totally impossible for two drummers to play alike, physically, and the reason is, if you've got short arms, that means you have to sit closer. If you've got long arms, you sit further back.
Q: How do you play?
Chico Hamilton: I play down on my instrument. As you know, most drummers today, they play with the cymbals all up in the air, right? And they don't realize that something's got to give. How long can you hold your arms up? So what's going to give is the time; so they can't keep time. The tempo drops. By playing on top of the instrument, it's easier to hold your arms down than it is to hold them up. It's just sensible logic. The Psychological Approach to Contemporary Drumming is one of the books that I've never finished, but that has to do with it, you know.
Q: Do you ever feel like your music falls on deaf ears? I mean, do you ever feel like whatever language you're speaking, people are not comprehending it?
Chico Hamilton: It's like, "Is You Is Or Is You Ain't My Baby." You either dig it, or you don't dig it. I don't play music for people; I play music for music's sake. As a matter of fact, perhaps I'm one of the few guys that'll be in the studio and if somebody plays a bad note, if the feeling is there, dynamite. Leave the note in it, because that's what you did at that time. I don't go in and redo and redo. To me, that's cheating. That's not right, you know? It's an emotional thing. And I do my best every time I sit down and play, whether I sound good or bad or indifferent, I'm doing the best that I can at that moment. I'm dedicated to the music, not to the people that are listening to it. People are fickle; fans are fickle.
You create a mood. That's the only thing you can do -- the music's already here. It's been here. It's all around us. So what you do, you take a little bit of this, a soupçon of that, and you put it together and you create a mood. That's all we can do. That's the way I feel about it, anyway. Of course, I could be wrong as hell, you know? But here again, there's no such thing as new music. I'm a firm believer in that. Because somewhere, someplace, at some time, somebody took those same notes and put them together. It might not have been on a CD, you know? It might not have been on a tape, a vinyl record, whatever. But somewhere, somebody did. The only possible thing that can be different, really different, is the rhythm aspect of it, you know?
FIRST GIG WITH ELLINGTON
Q: When did you know you'd be involved in music?
Chico Hamilton: My mother took me to the Paramount Theater in Los Angeles when I was eight years old, and there I saw Duke Ellington's orchestra. And the orchestra, the band--Duke set the band up in a pyramid. And at the top of the pyramid was Sonny Greer, the drummer. As a matter of fact, to quote myself in the beginning of one of my books that I haven't written, "Man, he had more drums than a drum store." But he played on everything. He was the first percussionist. He wasn't just a drummer. Everything he touched was musical, was a sound. And I saw this and heard this when I was eight years old and that's what I knew I wanted.
Q: And then what happened? How'd you get to sub for Sonny Greer?
Chico Hamilton: I subbed for Sonny when I was around 16 years old. My wife and I, we were dating. We went to the Sunday movies [on] Sunday afternoon. And as we came home to her house (I walked her home to her house), her mother came out on the porch and she says, "Forest?" (My name is Foreststorn.) She says, "There's a gentleman here that's been waiting to talk to you." And just then the gentleman gets out of the car that was parked in front of her house, and it turned out to be Herb Jeffries [Ellington's vocalist]. And he says, "Forest, Sonny Greer fell off the bandstand and hurt himself."
Q: How did they even know to come to you?
Chico Hamilton: Well, I had a reputation. At 16, I had a good reputation as a drummer. And I knew every arrangement that Duke Ellington had ever played because of all the records. That's all I did, all day long was play records and keep time and hum the solos.
Q: So what was it like to play?
Chico Hamilton: We came in through the back way, you know, the stage entrance. And we opened the door, and the band was playing. Man, they was swinging so hard, man, my feathers fell because I just knew they had a drummer, you know? But Herb says, "Go on up, junior." (He used to call me Junior.) " Go on up." And I climbed up there, and there was no drummer.
That's when, I think, "Flamingo" was a very popular tune. "The A Train" had just come out. And I sat down and I picked up the brushes. I started brushing and Jimmy Blanton [Ellington's bassist], who was way down there, all of sudden looked up to me and smiled at me, you know? And that was it.
WORKING WITH BASIE
Q: The other band that I think you were listening to a lot of is Basie.
Chico Hamilton: Now, never did I ever think that I would ever play with Basie, but it happened. I had just come home from the Army. I'd spent five years in the Army. I got back to LA.
First of all, I'm a self-taught musician and I could keep time, but I didn't know how to read music. Which wasn't unusual at that time. A lot of the players, a lot of musicians didn't know how to read. They knew the instrument. I knew my instrument, but I didn't know how to read. I went to the service. I carried my drum, my snare drum, with me when I was in the service and they put me in the Drum and Bugle Corps. They didn't put me in the band. I was in a camp at Fort McCullen, Alabama. It was two camps, and it was a little mountain, a little hill, a little mountain that divided the camp: the black camp, and the white camp. In the white camp, there was a drummer who played with Claude Thornhill. He heard that I was in the black camp and we used to meet in the middle of the mountain, and he'd bring over a drum book and sticks, and he taught me how to read drum music. It's the God's truth.
And after I came back, I got out of the Army, Basie came in town and Jo Jones came to my house that morning. That's when the bands did five and six shows a day, right? He says, "Come on down to the theater with me." So I went to the theater with him. Got up, went to the theater with him, stood in the wings, and watched the show. Jo comes off the bandstand when the show was over, I'm standing in the wings, he comes up and says, "You got it." He put the sticks in my hand and leaves. Just splits.
And the next show is coming up very shortly, about a half an hour, 45 minutes, and Basie, he didn't know me, you know? So Freddie Green [Basie's guitarist] said, "Well, if Jo thinks the kid can do it, let him try," you know, that type of thing. So I got up, played the show.
I would say that Jo Jones was my first influence. Well, Sonny [Greer], really. And then from there Jo and then Art Blakey, who turned a lot of things around, you know?
Q: Did you know Blakely?
Chico Hamilton: Oh, yeah. Quite well. All drummers knew each other quite well. As a matter of fact, the first guy I met when I came to New York for the first time was Max Roach. I came in 1946 with Lena Horne. I spent eight years accompanying Lena.
ACCOMPANYING LENA HORNE
Q: How did you hook up with Lena Horne?
Chico Hamilton: I get the call from Luther, wanting to know if I'd be interested in making a rehearsal. And hey, you know, this is what I do so, yeah. So he gives me the address and everything. It's out Nicholas Canyon Road in Hollywood, right? So I hang up the phone and no sooner than I hang up my phone, my phone rings again and it turns out to be Charlie Drayton, the bass player. So he says, "Did you get a call from Luther Henderson?" I said, "Yeah." He says, "Well, he called me, too." Anyway, Charlie didn't drive so I pick him up the next day and we go out to Nicholas Canyon Road. Get there, knock at the gate, and all of a sudden this very distinguished-looking black gentleman opens the gate, introduces himself. He says, "My name is Luther Henderson." He helps me and Charlie carry my drums in the house. We go into this house, fantastic house. He passes out the music and we start practicing. In the meantime, there was a guy that was a painter -- you know, the white cap, the paint clothes, and everything -- he's walking around with a paint brush and a can of paint. And every now and then he would stop in the music room; it seemed like he was listening to what we were doing. And I didn't pay no more attention to him. This went on for about a week. Lena Horne, we haven't seen her. We got the music down, really down, got everything. And next thing I know, every now and then this painter would come in to listen. So after about five or six days, Lena's manager comes into the rehearsal and he says, "We're going to Vancouver and would you be interested in going with us?" And it's a gig, you know, so dynamite. So I said, "Yeah." We made some business arrangements. They paid me $125 a week, and I had to pay my own room. But this is in 1947. The average money playing in a joint in LA around that time, you made around $35 or $36; that was a full week's salary.
So anyway, when I agreed, all of sudden, the next rehearsal, there was Lena Horne. That was a lady. Luther introduced us to her. And this little guy with the paint brush turned out to be Lennie Hayton [Lena Horne's husband].
Q: Checking up on you.
Chico Hamilton: Yeah. It was cool. At that time, he was music director at MGM, you know.
I went around the world with Lena. Lena is still one of the most unusual singers that I have had the pleasure keeping time for. Lena would be on the floor, all right? The drummers were right behind her. The band would be behind me. Which was very unusual.
No other singers had the drummer right behind them, you know? As a matter of fact, I never saw her from the front. I only saw her from the front once, and that's when we did a benefit at Madison Square Garden, the old Madison Square Garden. And I was down there in the pit. I saw her walk out on stage, I [said], "This is a good-looking woman." Man, I didn't realize how good looking she was. I had no idea.
Q: That's a very different skill, to be able to accompany someone versus leading a band.
Chico Hamilton: I spent about 15 years as an accompanist. It taught me how to play for an instrumentalist. When to and when not to, you know?
FIRST QUINTET
Q: Why did you want those textures, that combination of sounds (which included cello, guitar, bass, reeds, and drums), for the instrumentation of your first quintet?
Chico Hamilton: To be perfectly honest, it was really a fluke. It ended up being five guys at the right place at the right time. That's the bottom line to it. It was just like the four guys with Gerry Mulligan: Me, Chet Baker, Gerry, and Bob Whitlock. We just happened to be four guys at the right place at the right time. And that's the only answer I can come up with. Originally I was going to use a French horn. And the first day of rehearsal, Bob Gross, who was a well-known French horn player in California, had a heart attack and died. So I was doing a thing with Jana Mason and Fred Katz at the time. Fred had been with me with Lena. And I told him what happened. So Fred said, "Well, why don't I come over with the cello?" So I said, "Dynamite." And that's how it happened.
Q: Did you feel like it was groundbreaking when you were doing it?
Chico Hamilton: No. No. You know what? At that time, strangely enough, all we were doing is trying to play in tune. That's when rock had begun to become very, very, very popular. And that was the sound. And in a sense, people didn't want to hear music. The fact is my first gig, which was unbelievable, was in Long Beach, California, which was a very prejudiced place. And it was on the strip, the boardwalk, and it was a sailor's hang out. Long Beach was a sailor's town. And this joint was a joint with sawdust on the floor. It might be, you know, sawdust on the floor today would be glamorous. But it wasn't glamorous, then. And it was a place for the hookers to hang out in. And here it is, man, this black dude comes in there with a cello and a flute. Right?
Q: So what was the reaction of the people?
Chico Hamilton: Well, we were only supposed to stay a week. I think we ended up seven or eight months. And [got a] record contract with Pacific Jazz, went on the air on a radio station. People started coming from all over. And when our first album came out, it was a huge success. So everybody became famous.
Q: Did you encounter any problems with having an interracial group?
Chico Hamilton: No, not necessarily. I've always had an interracial group, you know? I go for the instruments and the players, and if they turn out to be chartreuse, they're chartreuse. If they turn out to be grey, they're grey. So at one time they used to bill me Chico Hamilton and his all-white orchestra. That's the way I was booked in Philadelphia, the first time I came to Philly.
But, you know, it was cool. We played a lot of places where I couldn't stay with my group. I'm originally from California. I was born in LA. As a matter of fact, I was born in Hollywood. My family goes back almost a couple hundred years there. You see, very early in life I realized that I was who I was and what I was all about, so I had no problems with it.
Q: Jim Hall was talking about the fact that those things never seemed to really come into play much between the musicians.
Chico Hamilton: No. First of all, you've got to understand something -- music is one of God's wills, and God's will will be done. If you get involved into music, music does not care who plays it. But it seems to be pretty particular about who makes it, because there's not that many people that make music. There's a lot of people who play it, but there's not that many who reach that point where they make music.
THE FUTURE OF JAZZ
Q: There are so many jazz programs in universities compared to when you came up, when there were none. But jazz doesn't seem to be in the greatest state currently. What do you think about it? You know, is jazz alive and well?
Chico Hamilton: I'm perhaps the wrong person to ask that question.
Q: Why?
Chico Hamilton: Because I don't know.
Q: Do you concern yourself with it?
Chico Hamilton: Well, you see, first of all, a jazz audience, they consider themselves sophisticated people, here in this country anyway. In Europe, it's a different thing. Jazz is a natural part of arts. People bring their kids out. Babies. You know? Here in this country, you better not bring a kid into a jazz joint. You don't hear jazz on the radio. And you never, never, ever hear it on TV.
Q: What's your next project? What are your future aspirations?
Chico Hamilton: Whatever happens, whatever comes, you know, come what may. I hope that my wife and I can continue to stay together. And without being in a whole lot of pain. And I hope I'm able to continue to play my instrument and to make music. And to be able to help other young people to become good professional musicians. That's why I teach. I don't make no money teaching. I'm down there because this is my way of giving something back, because music's been very good to me.
Q: What is it about making music that has kept you so young and sharp?
Chico Hamilton: By allowing other people to join me. Whether they can play well or whether they cannot play well. The most important things -- it takes two things to make music, patience and fortitude. And these I have. Because someone had the patience and fortitude to help me when I started out, you know? As hokey and corny, maybe, as that sounds, that's the way I feel.