Cedar Walton
Pianist, Composer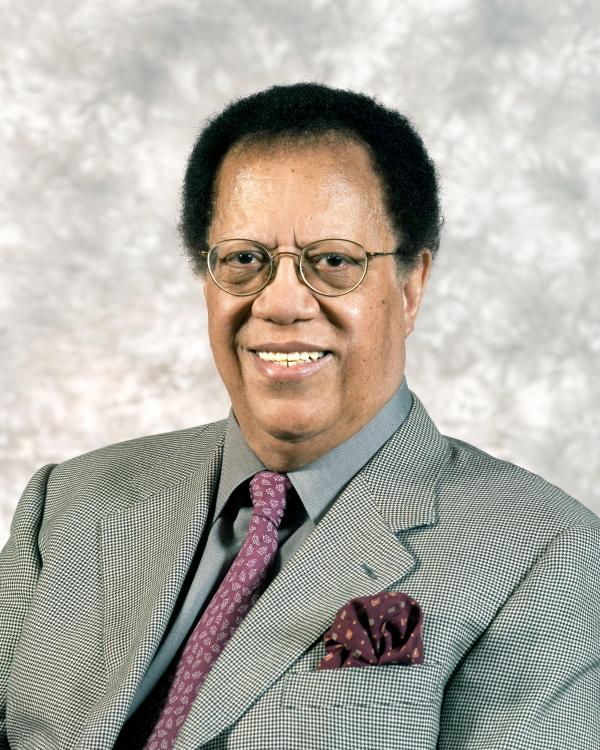 Bio
"I'm honored and grateful for being selected for this outstanding award. I consider it an outstanding pleasure, as well as being hopeful to live up to this the Jazz Master Fellowship Award."
One of the great hard bop pianists, Cedar Walton was also known for his compositions, some of which have become jazz standards, such as "Bolivia," "Clockwise," and "Firm Roots."
Walton was first taught piano by his mother, and, after high school, moved to Colorado to commence studies at the University of Denver. There, during after-hours jazz club gigs, he met musicians, such as Charlie Parker, Dizzy Gillespie, and John Coltrane, who would sit in with Walton's group when traveling through town.
Eventually, Walton moved to New York. In 1955, he was drafted into the U.S. Army and sent to Germany where he performed in a military jazz ensemble. Upon his return to New York City two years later, he began playing and recording with Kenny Dorham, J. J. Johnson, and Gigi Gryce. In 1959, he recorded with Coltrane on his seminal album Giant Steps, but the recordings weren't included on the initial issue of the album; the alternate tracks were later issued on the CD version. From 1960-61, Walton worked with Art Farmer and Benny Golson's band Jazztet.
Walton's next significant musical association was with Art Blakey and the Jazz Messengers. During his years with Blakey (1961-64), Walton stepped forward as composer, contributing originals such as "Mosaic," "Ugetsu," and "The Promised Land" to the group's repertoire. Walton left the Jazz Messengers to lead rhythm sections and trios featured in various New York clubs and work as a sideman for well-known artists such as Abbey Lincoln (1965-66) and Lee Morgan (1966-68).
In 1974, Walton joined with bassist Sam Jones, drummer Billy Higgins, and saxophonist Clifford Jordan to form the group Eastern Rebellion, which would perform and record sporadically over the subsequent two decades. Other musicians rotated in and out of the band, including George Coleman, Bob Berg, Ralph Moore, David Williams, Curtis Fuller, and Alfredo "Chocolate" Armenteros. Higgins became a regular accompanist for Walton throughout the 1980s -- along with other stellar musicians such as Ron Carter, Bobby Hutcherson, Harold Land, and Buster Williams. In addition, he continued to perform in rhythm sections for Milt Jackson, Frank Morgan, and Dexter Gordon and accompanied vocalists Ernestine Anderson and Freddy Cole. He also led the backup trio for the Trumpet Summit Band, which started as a project for the 1995 Jazz in Marciac festival in France.
Selected Discography
Art Blakey and the Jazz Messengers, Mosaic, Blue Note, 1961
Cedar!, Prestige/OJC, 1967
Eastern Rebellion, Eastern Rebellion, Timeless, 1975
Composer, Astor Place, 1996
Seasoned Wood, High Note, 2008
Interview by Molly Murphy for the NEA
July 24, 2009
Edited by Don Ball
BORN IN TEXAS
NEA: So you were born down in Texas?
Cedar Walton: Yeah, I was born in Dallas, Texas, in a place named Pinkston Clinic by a Dr. Pinkston himself, who was a family friend. And I'll just never forget that because in my later visits to Dallas, they built a freeway through there and the clinic was gone. If you live long enough, you'll see this kind of thing. Here's a place that you used to love is gone. Even the house I really grew up in, just a vacant lot, so when I take people there and say, "That's where I grew up," it's not the same thing as showing them a structure. You know what I mean?
NEA: Can you recall any very specific experiences you had as a kid where you were hearing jazz that were pivotal and maybe directed you down sort of a path of music?
Cedar Walton: Definitely, yeah. My mother, Ruth, in the first place, started me out on piano. She played piano. She played sheet music and sang along with herself to entertain herself and she had aspirations to be a concert pianist, but she sort of backed off when she found out that it might not be as sensible an ambition as she first thought. So she went to school at a place named Wiley College in Texas, and studied music, and she could teach, she had students come to the house. And so, of course, she started giving me piano lessons, and she was a jazz lover, she took me to concerts. They used to have a tour and they went around the United States, and maybe Europe too, but it seemed to hit every town in the United States. Jazz at the Philharmonic, where the young Hank Jones was a part of and the young Ray Brown and people like Buddy Rich, Coleman Hawkins, Lester Young, even Charlie Parker. And they introduced along with its producer, Norman Granz, the great Oscar Peterson, the young Canadian pianist.
I remember I was a big groupie by this time. I was in college, I think, in Denver. And so, I saw the concerts when they came through Denver, but I had seen them in Dallas too. My mother was reminding me, "Son, those guys on stage, they don't have music in front of them. But they can read music, so you going to have to shape up." And I'll always appreciate her for that.
NEA: So I ran across somewhere you must have told someone a story about your first trip to New York with your mother?
Cedar Walton: In 1947, yeah, I was 13, and I was blown away. I just wanted to see Jackie Robinson, I remember, more than anything else, and I did. It was not too far from where we are now, Ebbets Field, the old Brooklyn Dodgers, and I saw him slide and try to steal second and they called him out. And boy, he jumped up and he was arguing. And his face and the umpire's face were about a half an inch from each other talking. I said, "Wow." I had never seen an African-American man argue with a Caucasian man before.
I was 13 and that was a big impression on me. I said, "Wow. You can do that here? "He turned a lot of heads, an African-American athlete in the Major League. So that was my highlight. In the meantime my mother went up to the Apollo to hear Billie Holiday and Count Basie, and as I reflect, I wish I'd gone with her too.
But we had some friends from Dallas that lived here in Brooklyn, so that's how we came to stay here a few days. Our first stop, though, was Rochester, where she had a lifelong friend. And so we went up there first, and that was my first time on a golf course. But more important than that, they had a great record collection of jazz, everything you could imagine. I just used to live in front of record players, and in those days, they weren't even LPs yet. It seemed like all my parents' friends had great collections. I started to build my own collection. In those days you could go in a booth. I think you can still now, but it's been a long time since I went in a record store. In those days you went in and you could take what you want into a booth and listen to it and decide whether you wanted to buy it or not.
INFLUENCES
NEA: Can you tell me a little bit about some of the pianists who were influential as you were developing your style, who you were listening to and what you appreciated in their approaches?
Cedar Walton: There was a show on the radio that featured once a week one jazz artist guest and one classical artist guest. I would have my ear to the radio every Sunday. Heard Mary Lou Williams, George Shearing, and really a panorama of great artists and I just liked all of them because that's what I wanted to do. By this time the jazz bug had bit me and stung me. You know, it was a constant pursuit of trying to figure out what these people were doing, and luckily they had some books in the music store that had some simplified versions of what they were doing. And one in particular I remember was the George Shearing book. And I got a lot from that, and there were probably other books too. There was Freddie Slack, who is not so much remembered as George Shearing. This guy was a boogie-woogie artist, and boogie-woogie was not the easiest technique to negotiate on the piano. You know, your left hand was quite busy and so was your right doing something totally different. So that appealed to me, and I developed, as I'm inclined to do, my own little boogie-woogie technique. Some of them were terrifically technical, and I wasn't prepared. They were boogie-woogie specialists, these people. There was a guy named Albert Ammons, he was the father of Gene Ammons, and very well known. They were excruciatingly punishing with the boogie-woogie style. They were just ferociously full of technique and wizardry and I still, to this day, am amazed at their ability.
SCHOOL IN DENVER
NEA: When you went to Denver, did you go specifically intending to study music?
Cedar Walton: Yeah, I'd gone to a school even prior to that, a small school in New Orleans named Dillard University. And me and Ellis Marsalis, the father of Wynton and Bradford, we registered the same day. He wasn't even playing piano then. I mean, not as much as I was. He was, like most of the musicians I met there, amazingly playing three or four instruments. He might have been studying piano too, but he played bass on a little gig we had there, the one gig I had in New Orleans as a college student.
NEA: So when you were in Denver, when you're studying music, did you have any regular gigs around town?
Cedar Walton: Yeah. So the gig I had, I think, really affected my ability to attend classes, it was so late. It was an after-hours gig. Denver was more or less on the circuit then. You know, every band that was on tour coming east to west or vice versa would stop through there, because it was a big audience there then. And I met practically all of them because where I played, they all would come and have their entertainment after they got through playing. Yeah, I was playing with basically the uncle of Dianne Reeves, his name was Charlie Burrell, he was the bassist in the Denver Symphony, but he played very good jazz. I played with him and some other guys.
NEA: And did those touring musicians sit in with you guys?
Cedar Walton: Definitely, yeah. Charlie Parker even sat in one time. He was a little bit off his game that night. He asked for a chair and he played a few tunes. And he was right behind me sitting at the piano. He was sitting right here, and the audience was out there. We played a couple of tunes, and he kind of dozed off. I had heard he had consumed a significant amount of scotch that night, but I didn't see him do it, so I'm not an eyewitness. But, it looked like he had had something because he dozed off, but not before we played a couple of tunes. I'll always remember that. And the saxophone player that played with us, he erased it. I said, "Man how could you erase that? "
NEA: What do you mean? He was recording it?
Cedar Walton: Yeah. Yeah, in those days they had wire recordings. That was one of the early ways of recording something that if you wanted to catch something on tape. It wasn't on tape, it was on a wire, and it's so ancient I don't even remember exactly how it worked, but I just know it wasn't even a cassette yet.
When he erased it, that infuriated me. Maybe he thought that it wasn't worthy of saving. But I remember Charlie Parker saying, "Uh, can I sit in with you fellows? "And we all looked at each other and said, "Are you kidding? "And his companions helped him up on the stage. It was kind of a high stage, a place named Lil's in Denver. That started pretty late at night, around 11 or 12, and went until sunrise.
NEA: And then you had to get up the next morning and go to class?
Cedar Walton: I tried to schedule my classes in the afternoon. One or two times I couldn't, so I would miss a lot of them. English lit, I would try to fake my way through, but it was obvious I hadn't looked at the books. I was busy out there learning some of what I know now, just off campus.
One of my special memories is of being able to stay off campus, right across the street from the campus, in a lady's basement who had some kids and she wanted the extra income by renting rooms to students. So I took that and she happened to be a graduate of Juilliard, a pianist, and she used to come down and say, "Cedar, you have to do it like this." And she could read a whole page at a time. And you have to play, and then you turn the page, and you'd start looking at that page while you're playing the previous page. She was well trained. I still feel like I was very fortunate to meet her and live in her house. Those were some good days for me.
Denver's a good place to study. It was at that time. And of course when people like Frank Foster came through town with Count Basie, I met him. He sought out a place to sit in with people. And he was another one who sat in, and we made friends then. And when I met him later on, he seemed to remember. One time I played with him -- we played together in Belgium (by this time it's the '70s or '80s). And we played one of my tunes, "Firm Roots." And he liked it, and I gave him a copy. And he kept saying he was going to orchestrate it, and one day all of a sudden on the radio I heard [it] -- he was conducting Count Basie's orchestra, and he made an arrangement of it. I had to sit down. I said, "Wow, it sounded so wonderful." I think I called him eventually and told him thank you.
NEW YORK CITY
NEA: What brought you to New York? You came to New York in about '55, is that right?
Cedar Walton: No, that first trip when I was 13. I decided then that one day I was coming back. I mean, I found a way to get back. I was still in Denver and me and a friend drove all the way from there. I had about $70 and he had about $75 or vice versa. You couldn't do that today, with gas prices. You couldn't have got out of the state of Colorado probably.
But anyway, in '55 is when I made my move. I found out later that most people who roll in, roll in with say the Ray Charles Band or the Lionel Hampton Band and look around, but I just came. I worked at Macy's for a few minutes. Stock boy or something. I was staying at the YMCA, the Sloane House YMCA. I think it's still called that. It's on West 34th Street and 9th Avenue. Rooms were about $11 a day I think, didn't have no private baths.
One day on the bulletin board there was an announcement that they needed ushers for the Jazz at the Philharmonic, the same tour I'd seen Hank Jones and Oscar Peterson on in Brooklyn. And I said, "Wow." And it paid about maybe $15 or something, but you get to see the concert. Oh man, that was something. I ran and applied for that and got that. That's a nice memory because I saw Dizzy Gillespie and Lester Young play together for the only time I think that they ever did that. It was exhilarating just to see these people you know in New York. New York was -- and still is, I think -- the mecca of American jazz.
NEA: How did you hook up with J. J. Johnson?
Cedar Walton: The Paramount, they had their main artists play from Tuesday through Sunday, and on Monday night, they would invite the younger up-and-coming artists who were playing with possibly other musicians. So the guy there, Johnny Garry, he invited me to bring a group in on a Monday night and play. And J. J. heard me and he hired me.
NEA: And was that the first band that you were really touring with?
Cedar Walton: Yeah, J. J. Johnson. We played everywhere here [in the U. S. ]There were a whole lot of cities you could play in say '59 and '60. I'm not sure we got out to California. There were so many places.
We got to Denver and got to just so many cities here in America, including Chicago. Lots of places on the East Coast, Connecticut, Massachusetts. That was a nice period to be with the number one trombonist in the jazz community. He was very innovative, because he was more modern and his technique was impeccable. He didn't move the slide much. He knew all the alternate positions on this instrument and he must have known them all because he never did move too far, while other trombonists had to negotiate their notes more. It was amazing, after I thought about it. I didn't notice it that much when I was playing with him.
I saw him play before I joined him. I saw him play with Kai Winding, and they had a group named Jay and Kai, two trombones and a rhythm section. And J. J. was doing this and Kai was doing this. Kai was great too, but it just was obvious who knew all the secret positions you could say on that instrument.
THE JAZZ MESSENGERS
NEA: I wanted to make sure we talked about the Jazz Messengers. You were with the group for four years, is that right?
Cedar Walton: Approximately four years. [Curtis Fuller] was in there a little before me. When Bobby Timmons, the pianist, and Lee Morgan, the trumpet player, departed from the group to pursue their own careers, Art [Blakey] had me and Freddie Hubbard sort of in reserve. So he called us and said, "Are you ready? "I said, "Yeah." I was in Chicago. By this time I had changed over to the Jazztet [from J. J. Johnson], which involved Benny Golson and Art Farmer and on trombone was Curtis. I played with them too.
And then when the pianist and the trumpet player left, me and Freddie Hubbard joined [the Jazz Messengers] the same day. And I brought in a song named "Mosaic," which we'd been trying to record with the Jazztet, and somehow the chemistry wouldn't adapt to that song. But as soon as I took it into the Messengers, it caught fire. I couldn't believe it. I said, "Wow, these guys are playing my song as good or better than me." Wayne Shorter was there and Freddie Hubbard and Curtis ate it like it was Post Toasties. And there was Art -- he had a way of walking around listening to us rehearse something, and then when he sat down to the drums, he would nail it in such a way that nobody could have written the drum part better than that.
Prior to meeting Art Blakey I thought intelligence meant that you went to school or Harvard or somewhere to get intelligence. But no, if you travel around the world as a bandleader, you're meeting the mayor, you're meeting the king or whatever they have in that territory, and you're in a better position to become intelligent than anybody. So that was a great experience.
COMPOSING
NEA: Can you talk a little bit about how you approach composition and maybe through the lens of "Mosaic? "
Cedar Walton: I happened to be in Max Roach's apartment up on Central Park West, for what reason I can't remember, but his saxophonist was there, and I just happened to be doodling at the piano. And first I think I named it "Central Park West," because it came so quick like it was coming from somewhere through me on the keys. So it became my sort of patented method of coming up with pieces and digging them out of the piano, so to speak. I don't think of them and then scratch them down; often I am just sitting at the piano looking for something that sounds original to me, and I have to like it. Those are the prerequisites of me coming up with a composition. And I want it to be challenging to the players who might be involved in playing it.
I usually kind of know 90 percent it's going to work if I like it, because I tend to leave spaces in my compositions for improvisation, and then there's a part where you make up and then got to go resume the ensemble. That became like a trademark. But that's something that I find that horn players, especially, bass players [like]. I tend to give them a chance to express themselves during the performance of the theme, leave spaces in there. That makes it very unique in that sense. I'm very lucky that way because a lot of people decided they wanted to get involved in some of my music.   I mean, I record it or play it.   And so I've been very fortunate that way.  
ABBEY LINCOLN
NEA:   And you played with Abbey Lincoln?  
Cedar Walton:   Yes. She heard me at the Five Spot, she and Max came out to hear. They liked to hear [Charlie] Mingus and I was playing opposite Mingus at the Five Spot. She told Max, "Wow, if I get a performance, I'd like to use him." So I met them and she had some original music and we had a great time together. We spent a long engagement. Those days, I'm talking about the '70s, we had a long running gig up in Harlem. Abbey Lincoln and the Cedar Walton trio for a few months, which was just amazing to be able to go to work right here and sleep in your own bed for that long. And my biggest problem was getting from Brooklyn all the way up to where that was. If I missed a certain train, I'd be a few minutes late.
NEA: Do you need to you use any kind of different sensitivity when playing with a vocalist?
Cedar Walton: You have to listen, but Max was very instructive about that. He said, "Cedar, you don't want to be too diminutive in accompanying a vocalist because if you listen to Billie Holiday and what Art Tatum was doing behind her, she just went on and sang. And if they can't do that, they're not good singers." So that was very instructive to me. He pointed out that when Teddy Wilson and others were playing behind [Holiday], they just played. They would improvise anything they wanted to do, and she could sing the song. And that demonstrated how good of a vocalist she was.
NEA: And was Roach's advice helpful?
Cedar Walton: Definitely, yeah -- he was her [Lincoln's] husband at the time. I just remember having a great time playing with her. Unfortunately, after about maybe about eight weeks, upstairs from this place there became what we now know as a disco. And so when we stopped a song you could hear this boom, boom, boom, and she just couldn't take it. I couldn't take it, but I needed my salary so it didn't bother me as much as it did her. So she quit. And so they [the promoters] came to me and said, "Cedar, who can we get? " And I knew that Betty Carter had just returned from California. And so I said, "Betty Carter is right out there in New Jersey. Why don't you call her? " So not only did they hire Betty, and she took over the gig and stayed a quite a while, but she fired me. She wouldn't put up with those three, four, five, six, seven minute late. I would pull up that much late and she said, "No." And then one time I pull up say 11 minutes late, and I saw John Hicks, the late John Hicks -- he stayed with her about 11 years after replacing me. In hindsight, that was quite amusing.
COLTRANE
NEA: How did you meet John Coltrane?
Cedar Walton: I was appearing at Birdland with Art Blakey. And then another group [played], John Coltrane's group. When he finished a set he would still go way in the back and keep playing. He never stopped playing the saxophone, I guess, until he went to sleep. And he'd wake up and start playing again. He was incessant. He was on a mission. He was driven more than anybody I've ever met, and so and he became quite a virtuoso and we became friends too. He asked me to join his band and, for some reason, declined. I think in a friendly way, and of course, I think when McCoy [Tyner] joined him, he did way better than I would have, but that's style.
NEA: But you recorded on Giant Steps with him?
Cedar Walton: Yeah, that was before. He was still with Miles Davis at that time, but he had a contract with Atlantic. We made the record session with John Coltrane, Cedar Walton, Paul Chambers, and a guy named Lex Humphries who I'd been in the military with. He was playing with Dizzy. So me and Lex, after we did this session, Lex went traveling with Dizzy and I went traveling with J. J. And when I got back, I said, "John, I'm back." He said, "Cedar, I had to finish it up with Tommy." So I did the first one, but the one that was released was with Tommy. And then I was in Japan one day, and somebody handed me this LP and said, "Look." I think Alternate Tracks might have been the name of it. I was really shocked that some musicians told me that they prefer that version, and said, "Cedar, you played more simple." Or something like that. It was a great compliment to me, but I don't think I was necessarily better.
RECORDINGS AND AUDIENCES
NEA: What are some of your favorite recordings?
Cedar Walton: One of my favorites is named Roots on the Astor Place label -- that's one of my favorites. One of my songs that became quite popular is "Bolivia." And I have an updated version of "Bolivia" on there featuring Josh Redman and myself, Ron Carter, and Lewis Nash, and then a small ensemble, too, we added later. We did it at Rudy Van Gelder's [studio], and Don Sickler produced it. We wrote some parts for four or five horns and it worked out good. I was very proud of that one.
NEA: Do you have any preference between live recordings versus studio recordings?
Cedar Walton: Well [Roots] is a studio recording and I'm really proud of that because we didn't rush. We took our time. Some of the studio recordings that I've been doing lately we'd do it in a day. And you have to get kind of lucky if you come up with a good product in one day.
NEA: Not as lucky as a live performance?
Cedar Walton: How is it that somehow the live performance seems to come out better? That's a hard one there. And that's a question that's way harder than trying to pick one of your favorite recordings. Let me think. There are some live ones, too, but I'm a side man. Three Blind Mice comes to mind with Art Blakey. That's a live recording.
It's six of one, half a dozen of the other. So for me, it's about the same level of luck that you need to come out with something good and memorable, something that you can live with.
NEA: Do you have any preferences between intimate little clubs versus bigger venues?
Cedar Walton: No, I like them all. If it's little that's fine, as long as they have a good piano. But I love to play like where I just came from...all outdoor festivals. Those are great.
NEA: And that's got to be with huge audiences.
Cedar Walton: It was for jazz. I can't compare with Michael Jackson, but they're huge for me, yeah.
NEA: How much of the year do you spend on the road?
Cedar Walton: Oh that's a good question because it's always different. I would say maybe 40 percent, and we don't ever call it on the road anymore, we call it touring. You know, on the road is a bus and a cheeseburger. Touring is an airplane and room service.
NEA: Do you feel like jazz is alive and well these days?
Cedar Walton: I certainly do. There are cutbacks in jazz just like everything else in this nation at the moment. But on an international scale I certainly feel alive and well, and from what I hear, the fans are still intact. They're getting younger -- I mean they have to be getting younger just by sheer mathematics. So I'm amazed at the amount of younger people who are attaching themselves or being impressed by this musical style, which is truly American.