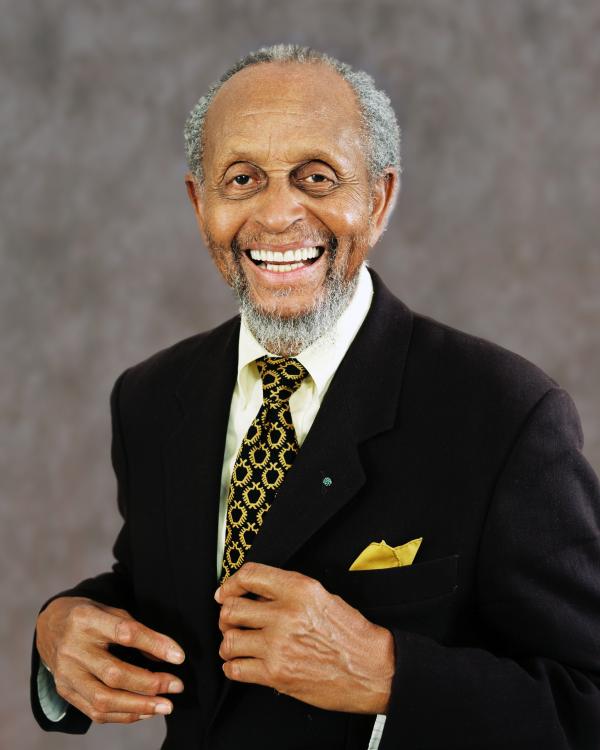 Bio
"Having had the good fortune to be born and raised in a musical family, I was destined to become a performing artist from an early age. The joy of being able to make music all over the world for so many people has been my privilege for 50 years. Now among the many honors bestowed on me, to be given this award, joining so many of my mentors is an overwhelming experience in my life. Thank you."
Percy Heath was the backbone of the popular jazz group Modern Jazz Quartet, and a superb bassist so sought after that he appeared on more than 200 jazz albums. Heath was a member of one of the great families of jazz (along with the Joneses and Marsalises), with brothers Jimmy (on saxophone) and Albert "Tootie" (on drums) also being stellar jazz musicians.
Heath started on the violin in his school orchestra but began to seriously study music at the Granoff School of Music in Philadelphia after his service in the Air Force. In 1947, he joined his brother Jimmy in Howard McGhee's band, ending up in New York where he performed regularly with jazz greats such as Miles Davis, J.J. Johnson, Sonny Rollins, Fats Navarro, and Charlie Parker. Heath joined Dizzy Gillespie's sextet from 1950-52, where he met the osther members of the soon-to-be Modern Jazz Quartet (MJQ): John Lewis, Milt Jackson, and Kenny Clarke. Heath stayed with MJQ, off and on, from its beginning in 1952 for more than 40 years. Lewis' arrangements brought the bass into greater prominence, prompting Heath to greater heights with his performances. During his time with MJQ, Heath performed on film soundtracks and with symphony orchestras and string quartets, always exhibiting style and poise in every setting.
During the break from the MJQ in 1975-82, Heath worked with Sarah Vaughan and began performing with the Heath Brothers band, which included Jimmy and Tootie, sometimes playing cello instead of bass. The Heath Brothers were featured in Danny Scher's 2006 documentary, Brotherly Love.
His talents on bass were much in demand as the house bass player for both Prestige and Blue Note record labels, providing a confident, straight-ahead style of playing reminiscent of the great Ray Brown.
Heath received many honors in his career, such as the Maria Fischer Award, France's Cross of Officer of Arts and Letters, and an honorary doctoral degree from Berklee College of Music in Boston, Massachusetts. In addition, Heath performed at the White House for Presidents Nixon and Clinton.
Selected Discography
Modern Jazz Quartet, The Artistry of the Modern Jazz Quartet, Prestige, 1952-55
Jimmy Heath , Really Big!, Original Jazz Classics, 1960
Heath Brothers, Marchin' On!, Strata East, 1976
Heath Brothers, Brotherly Love, Antilles, 1991
Modern Jazz Quartet, Celebration, Atlantic, 1992