Louis Hayes
Drummer, Bandleader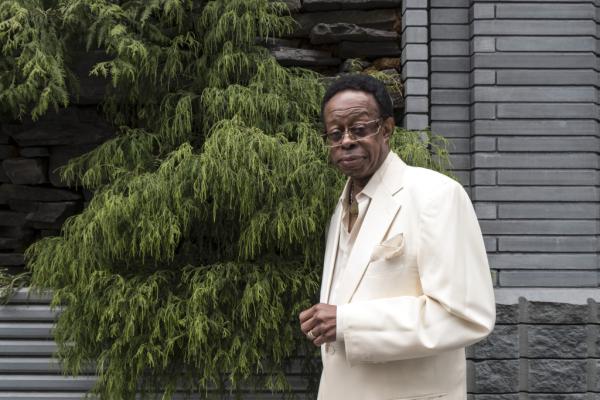 Bio
Louis Hayes' ability to shift seamlessly between driving hard bop and quiet sensitivity on ballads make him one of the premier drummers in jazz. In addition to being a member of bands led by jazz legends such as Cannonball Adderley, Oscar Peterson, Horace Silver, and McCoy Tyner, through his long career he has recorded on hundreds of sessions as a sought-after sideman. Since the 1970s, he primarily has led his own bands to popular acclaim, often featuring new generations of stellar musicians.
Hayes grew up in Detroit, practicing on the drum set he received from his father at age ten. His older cousin, Clarence Stamps, an accomplished drummer, saw his talent and took Hayes under his wing. Hayes developed his skills while working with the likes of Kenny Burrell, Curtis Fuller, Yusef Lateef, and Doug Watkins in Detroit. While still in his teens, he moved to New York City and joined the Horace Silver Quintet, in whose band he performed and recorded with for three years. Hayes joined Cannonball Adderley's group in 1959, reuniting with Lateef and performing and recording with the band through 1965. He followed his stint with Adderley by joining Oscar Peterson's trio for two years, where he and bassist Sam Jones created a formidable rhythm section for the pianist.
In the early 1970s, Hayes co-led bands with Junior Cook and Woody Shaw before leading his own bands that included top talent such as Kenny Barron, Dexter Gordon, and Freddie Hubbard. Hayes also spent several years touring with McCoy Tyner as well as taking session work. He continued to front his own groups, often employing and mentoring younger musicians such as Jeremy Pelt and Dezron Douglas, appearing at jazz festivals and on tour. In 2002, he formed the Cannonball Adderley Legacy Band, which continues to perform.
Hayes has received many honors, including the DownBeat New Star Award in 1961, special recognitions from the states of Louisiana and Michigan as well as the United States House of Representatives, and a Spirit of Detroit Award by the Detroit City Council (2004). He also is the recipient of individual NEA jazz grants in 1977 and 1982.
Selected Discography
Horace Silver, 6 Pieces of Silver, Blue Note, 1956
Una Max, Steeplechase, 1989
Dreamin' of Cannonball, TCB Records, 2001
Serenade for Horace, Blue Note, 2017
Crisis, Savant, 2021
I'd like to share this prestigious award in spirit with the many musicians I have played with in my 66-year career. They have helped me to become the artist I am today.