2015 NEA Jazz Masters Celebrated at Free Concert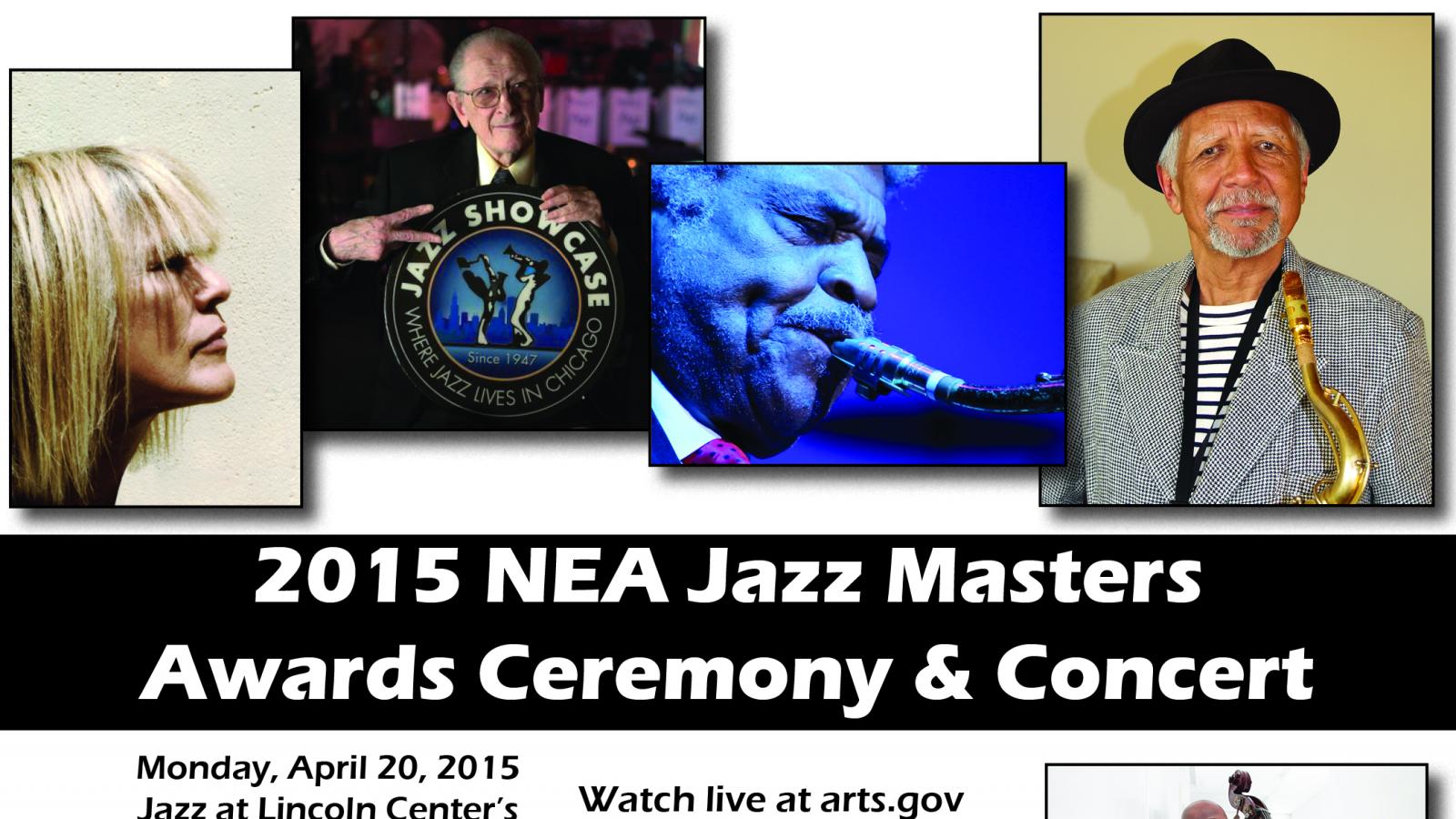 Washington, DC—On Monday, April 20, 2015 at 7:30pm, the National Endowment for the Arts, in partnership with Jazz at Lincoln Center, will present the 2015 NEA Jazz Masters Awards Ceremony & Concert in Rose Theater at Jazz at Lincoln Center's Frederick P. Rose Hall in New York City. Held during Jazz Appreciation Month, this concert will honor the 2015 NEA Jazz Masters, recipients of the nation's highest honor in jazz, and will be hosted by jazz musician and bassist, composer, and educator Christian McBride. The 2015 NEA Jazz Masters Awards Ceremony & Concert will also be streamed live at arts.gov and jazz.org/neajazzmasters. Follow #NEAJazz15 to join in the conversation on Twitter.
The 2015 NEA Jazz Masters are:
* Joe Segal is the recipient of the 2015 A.B. Spellman NEA Jazz Masters Award for Jazz Advocacy, which is bestowed upon an individual who has contributed significantly to the appreciation, knowledge, and advancement of the art form of jazz.
Bley and Lloyd are scheduled to perform at the concert. Also scheduled to perform are NEA Jazz Masters Jimmy Cobb and Jimmy Heath, as well as Ingrid Jensen, Harold Mabern, Rudresh Mahanthappa, Cécile McLorin Salvant, and Helen Sung, among others.
Members of the media who wish to cover the concert or obtain photographs or video should send a request to Liz Auclair at auclaire@arts.gov.
 
Concert tickets On Thursday, March 19, 2015 at 12pm (eastern time) free tickets will be available to the 2015 NEA Jazz Masters Awards Ceremony & Concert. Tickets are free and can be reserved (limit of two) at jazz.org or at Jazz at Lincoln Center's box office at Broadway and 60th Street. A $1 fee applies per order for tickets ordered via jazz.org. For those unable to obtain tickets, there will be a standby line the evening of the concert beginning at 6pm.
 
Live webcast The 2015 NEA Jazz Masters Awards Ceremony & Concert will be video-streamed live at arts.gov and  jazz.org/neajazzmasters. An archive of the webcast will be available following the event. In addition, WBGO.org and NPRMusic.org will also stream the live webcast. Sirius XM Channel 67, Real Jazz will audio stream the event.
The NEA encourages households, schools, and community organizations to come together to watch the webcast. You may request copies of the NEA Jazz Masters publication prior to the event by emailing neajazzmasters@arts.gov. Viewers may connect with the broader community by sharing comments and photos on Twitter using the hashtag #NEAJazz15.
 
About NEA Jazz Masters History: Each year since 1982, the Arts Endowment has conferred the NEA Jazz Masters award to living legends in recognition of their lifetime achievements and exceptional contributions to the advancement of jazz. With this new class, the NEA has honored 136 great figures in jazz including Art Blakey, Dave Brubeck, Ornette Coleman, Chick Corea, Miles Davis, Paquito D'Rivera, Ella Fitzgerald, Dizzy Gillespie, Lionel Hampton, Herbie Hancock, Keith Jarrett, Sheila Jordan, Abbey Lincoln, Eddie Palmieri, Max Roach, Sonny Rollins, Cecil Taylor, Nancy Wilson, and the Marsalis Family. More info about the NEA Jazz Masters is available here.
Nominations: NEA Jazz Master Fellowships are awarded to living individuals on the basis of nominations from the public including the jazz community. The NEA encourages nominations of a broad range of men and women who have been significant to the field of jazz, through vocals, instrumental performance, creative leadership, and education. Visit arts.gov/honors/jazz to make a nomination.
Content: The NEA's website also features free content to learn more about the NEA Jazz Masters, including bios, video interviews, podcasts, video from past concerts, and Jazz Moments—1-2 minute audio clips consisting of musical excerpts and short interviews with NEA Jazz Masters and other artists about the Masters' music and influence on the field. The podcasts and Jazz Moments are available for radio stations to use via iTunesU and PRX.
In addition, the NEA supports the Smithsonian Jazz Oral History Program, an effort to document the lives and careers of NEA Jazz Masters. In addition to transcriptions of the comprehensive interviews, the website also includes audio clips with interview excerpts. This project has transcribed the oral histories of more than 90 NEA Jazz Masters, including the 2015 NEA Jazz Masters.
 
About the National Endowment for the Arts The National Endowment for the Arts was established by Congress in 1965 as an independent agency of the federal government. To date, the NEA has awarded more than $5 billion to strengthen the creative capacity of our communities by providing all Americans with diverse opportunities for arts participation. The NEA extends its work through partnerships with state arts agencies, local leaders, other federal agencies, and the philanthropic sector. Visit the NEA at arts.gov.
 
About Jazz at Lincoln Center The mission of Jazz at Lincoln Center is to entertain, enrich and expand a global community for Jazz through performance, education and advocacy. With the world-renowned Jazz at Lincoln Center Orchestra and guest artists spanning genres and generations, Jazz at Lincoln Center produces thousands of performance, education, and broadcast events each season in its home in New York City (Frederick P. Rose Hall, "The House of Swing") and around the world, for people of all ages. Now in its 27th year, Jazz at Lincoln Center is led by Chairman Robert J. Appel, Managing and Artistic Director Wynton Marsalis, and Executive Director Greg Scholl. Please visit us at jalc.org; follow us on Twitter @JALCNYC and Facebook; watch our free, global webcasts at new.livestream.com/jazz; and enjoy concerts, education programs, behind-the-scenes footage, programs and more at youtube.com/jazzatlincolncenter.
# # #
Contact
Liz Auclair (National Endowment for the Arts), auclaire@arts.gov, 202-682-5744
Zooey Jones (Jazz at Lincoln Center), zjones@jazz.org, 212-258-9821