The Soul of America
American Artscape | 2012 No. 2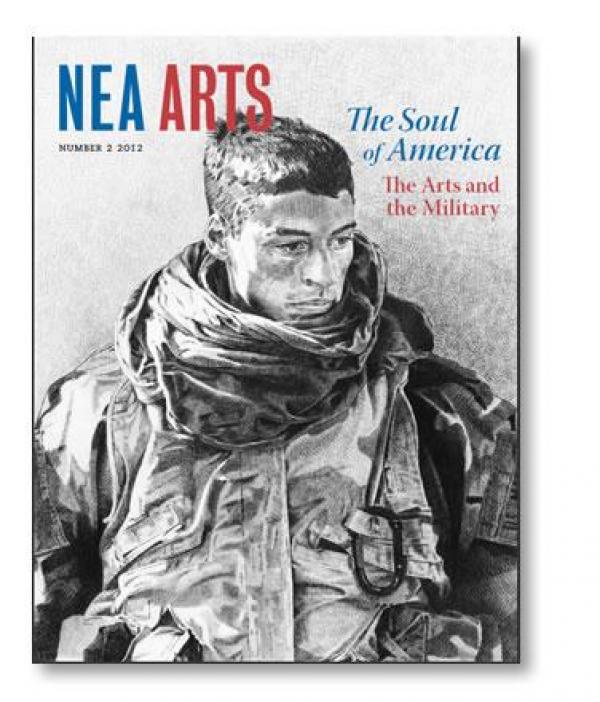 Download Issue
All Issues
About this Issue
At first glance, the arts and the military might seem to have very little in common. But in truth, the two disciplines have a long history together. From the Greek playwright Aeschylus who took the ancient Persian-Greek wars as his subject circa 472 BC, to Walt Whitman who not only wrote expansively about the U.S. Civil War but served as a wartime nurse, to the numerous military scenes captured in the visual arts, such as August Saint-Gauden's Civil War memorial sculpture of Robert Gould Shaw and the all-black 54th Regiment, there has always been an overlap between conflict and creativity.
Today, however, the relationship between artist and service member goes much deeper. For one thing, all of the armed services contain artist occupations -- from members of military bands to graphic artists to writers to photographers. The arts have also become part of the protocol of military health care as health professionals integrate diverse disciplines -- music, visual arts, creative writing -- into the ongoing care of troops recovering from a range of physical and mental injuries.
The NEA has long recognized this intimate connection. Programs like Great American Voices and Shakespeare in American Communities brought arts performances to military audiences, while Operation Homecoming offered military personnel and their families the chance to expound on military service through creative writing.
In this issue we will take a look at several intersections of the arts and the military, including the combat visual artists programs of the U.S. Army and Marine Corps, and the men and women who serve in the 158 U.S. military bands. We'll also visit the groundbreaking National Intrepid Center of Excellence at Walter Reed National Military Medical Center, where arts activities are a prescribed part of the clinical experience for patients. We'll take the stage with 2011 National Medal of Arts recipient United Service Organizations (USO), which has been bringing great artists to visit troops since 1941. And finally, we'll go behind-the-scenes with the NEA's Blue Star Museums program and find out what it took to get this groundbreaking program from idea to reality.