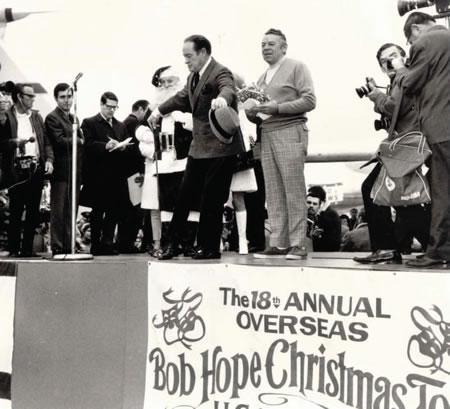 In early 1941, with the U.S. on the verge of entering World War II, President Franklin Delano Roosevelt was busy preparing America's armed forces for the upcoming conflict. FDR was concerned with more than military strategy; he also considered the morale and comfort of those headed toward battle. As explained by Sloan Gibson, president of United Service Organizations (USO), "I think Roosevelt already had a sense for the challenges that the country was going to have as America mobilized. And he brought together six different organizations -- YMCA, YWCA, Salvation Army, Jewish Welfare Board, Catholic Community Charities, and Travelers Aid Society -- under the umbrella of the USO to take care of troops during World War II, and we've really been around ever since." The mission with which Roosevelt charged the new organization? "To lift the spirits of America's troops and their families," said Gibson.
With the help of an enormous cadre of volunteers, today's USO does many things, including manning more than 160 USO locations for troops and their families worldwide, sending care packages to overseas troops, providing connectivity for phone calls home to loved ones, and assisting at Dover Air Force Base in the dignified transfers of deceased troops. However, the organization is probably best known by the public for its entertainment division, launched just a few months after its founding.
In its first seven years, the USO presented 7,000 entertainers and 428,521 live performances to troops at domestic and international bases. Over the years the talent roster has included everyone from Marilyn Monroe to Sammy Davis, Jr. to Stephen Colbert to Gary Sinise (who also tours with the Lieutenant Dan Band). The Dallas Cowboy Cheerleaders have been regulars on the USO circuit since 1979, and in recent years sports figures have joined the ranks of USO entertainers, including NBA legend Karl Malone, NFL Commissioner Roger Goodell, and NASCAR driver Joey Logano. Everyone that signs on for a USO tour donates their time.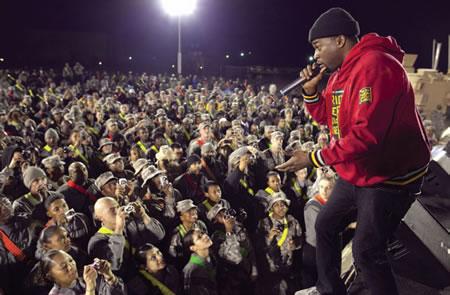 "Oftentimes these people are paid significant amounts of money to show up and do what we're asking them to do [for free]," said USO Entertainment Vice President Rachel Tischler. "And our celebrities are selflessly saying, 'The military and their families mean a lot to me, and I'm going to take the time out of my life to go and tell them that.' I've seen [troops] have celebrities propose over the phone or call their parents or wish somebody happy birthday."
Perhaps no artist comes to mind more readily when speaking of the USO than the iconic comedian Bob Hope. Hope is credited with inaugurating the entertainment division with a May 1941 performance to personnel stationed at California's March Field. That first show with comedian/musician Jerry Colonna, singer/actress Frances Langford, and radio announcer/actor Bill Goodwin was the first of hundreds -- including 35 consecutive Christmas tours -- that Hope would host or perform in during his nearly lifelong association with USO.
The military looks very different than it did in 1941, and the USO works to make sure that the diversity of the entertainers reflects that of today's troops. "So you get a rapper and you get a famous author so you can talk about writing books and you get a country singer and you get a glamorous film star, " said Tischler, explaining how the organization puts together its tour schedule. "We try and send a little bit of everything since that's basically representative of what the military is."
But just as during the Bob Hope era, laughter is still one of the best medicines -- at least according to comedian Jeffrey Ross, who has toured with USO since 2005. Perhaps best known as Comedy Central's consummate roastmaster, Ross first signed on at the urging of Drew Carey and Carey's TV castmate Kathy Kinney. "I was at a comedy club in L.A., and they just said, 'Hey, we're going to Iraq!' And I had never even been on a military base. I mean I had no idea what I was getting into, but I love an adventure," remembered Ross.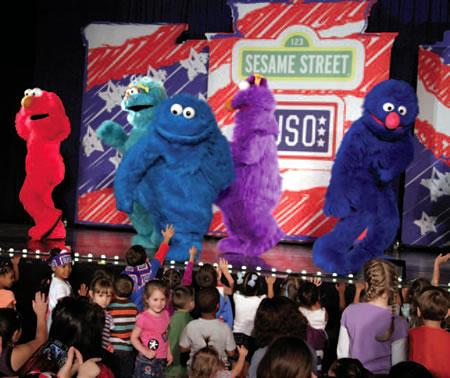 Ross was also inspired by what he knew of Bob Hope's work with the group. "[Hope] had died not long before [my first USO tour]. And I remember in the New York Times, there was a picture of Bob Hope receiving an award from the president," he related. "I had never seen a comedian treated with such respect from the commander-in-chief. It made me aware of Bob Hope and what the USO was." When Ross showed the obituary to his mail carrier, a Vietnam vet, he was surprised that the man became teary-eyed. "I just had never seen a reaction to a comedian like that, and I was inspired to do something more with my life and talent. So, I got into it."
The comedian's first tour was especially momentous -- the hotel room where he stayed during that trip was bombed. The danger didn't deter him, however, from continuing to work with the USO; he's performed for troops nearly every year since. He asserted, "If you can get a joke to penetrate a helmet, or a bulletproof vest, and the punch line to stay in somebody's mind when they're going through all that, and make them laugh, and forget about their predicament, even for a few seconds, to me it's a good achievement for a comedian."
Ross added that his chosen profession especially motivates him to entertain the troops. "I talk smack for a living… and these men and women protect my right of free speech…. So I keep going back because it's the little bit I can do for the people who sacrifice so much."
While the entertainment tours are a significant part of how USO brings the arts to troops, they are not the only way. The USO2GO program, which sends care packages of toiletries, DVD players, and other comfort items to remote outposts, also provides electronic keyboards and acoustic guitars. In fact, according to Gibson, musical instruments are a common sight in USO centers. "I couldn't tell you the last time I walked into a USO center and didn't see a couple of acoustic guitars sitting over on the side…. In some places we've actually created rooms that we've soundproofed. We've got them equipped with amps and all that kind of stuff so it becomes a place where they can actually go in and jam some."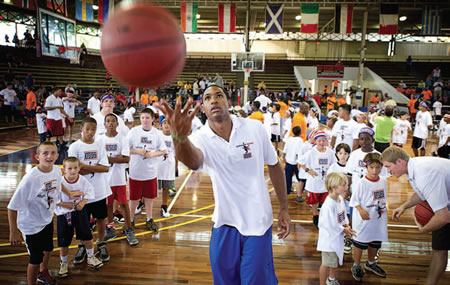 The USO is also studying how to incorporate the arts into its Warrior and Family Care program, which provides support to wounded, ill, and injured troops, their families, and their caregivers. Gibson explained that the goal is to have music and the arts incorporated into each of the new state-of-the art centers it's building at Fort Belvoir, Virginia, and the Walter Reed National Military Medical Center in Bethesda, Maryland. He stressed, "I'm not talking about celebrities here. I'm talking instead about using music and the arts as therapy for those who have traumatic brain injury or post-traumatic stress."
The USO is also keenly aware of the emotional toll of deployment on military families, especially as multiple deployments have become the norm. To that end, they have drafted Elmo, Cookie Monster, and a host of other Sesame Street characters for a production targeted to military youngsters. The USO initially partnered with Sesame Street Workshop (SSW) on a series of resource kits aimed at helping children deal with issues particular to military families, such as constant relocations and injured family members. SSW wanted to do more, however, and the Sesame Street/USO Experience for Military Families tour was born in 2008. To date, the Muppets -- including Katie, a new Muppet who is the child of a military family -- have performed at more than 130 military bases in the U.S. and abroad to an audience of more than 290,000 troops and their families. According to Tischler, the overwhelming response from moms and dads has been, "Wow, this really gives us a familiar and easy way to talk to our kids."
Even as the USO continues to adapt to the changing needs of U.S. military personnel, the arts remain a lynchpin of their strategy for the simple reason that when it comes to its mission, the arts work. As Tischler commented, "You know how when you're in your car and a song comes on that you love, and you're singing at the top of your lungs and bouncing your head along to it, and having the time of your life? That's what we bring to people… at the times that they may need it most."