NEA Jazz Masters/NEA National Heritage Fellowships: Celebrating 35 Years
American Artscape | 2017 No. 1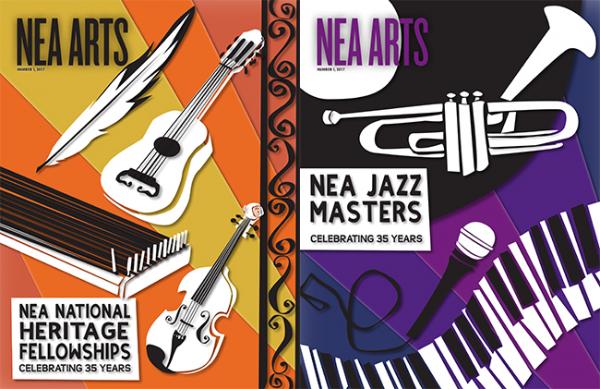 Download Issue
All Issues
About this Issue
In 1982, two new lifetime honors programs were created by the National Endowment for the Arts to honor artists who have made a significant impact in the jazz and folk and traditional arts fields: NEA Jazz Masters Fellowships and NEA National Heritage Fellowships. To celebrate the 35th anniversary of both programs in 2017, this issue looks at some of the awardees in both fields. In the PDF, the jazz section comes first, then the heritage section.
On the Jazz Masters side, we look at a few of the recipients who have had advanced the music in innovative ways. They have changed the sound of jazz recording from a studio in their parents' living room, and mentored future generations of rising jazz musicians. They have developed new strains of jazz, and have shown that jazz is big enough to embrace all manner of cultural traditions. They have used jazz as a diplomatic and educational tool, and have extended the reach of jazz to other art forms.
For the National Heritage awards, we highlight recipients whose art has had remarkable impacts on their communities. They have knit together the Cambodian refugee community through textiles, and helped save the Tewa language from extinction. They have shaped and preserved Charleston's architectural character, and linked generations of Mexican-Americans through the sound of son huasteco. And they have deeply embedded Irish fiddling into the lexicon of American music.
Together, all the artists featured in this issue (and all who have received the awards in the past) create a rich tapestry of America culture, their art conveying the stories, history, and values of the American people.