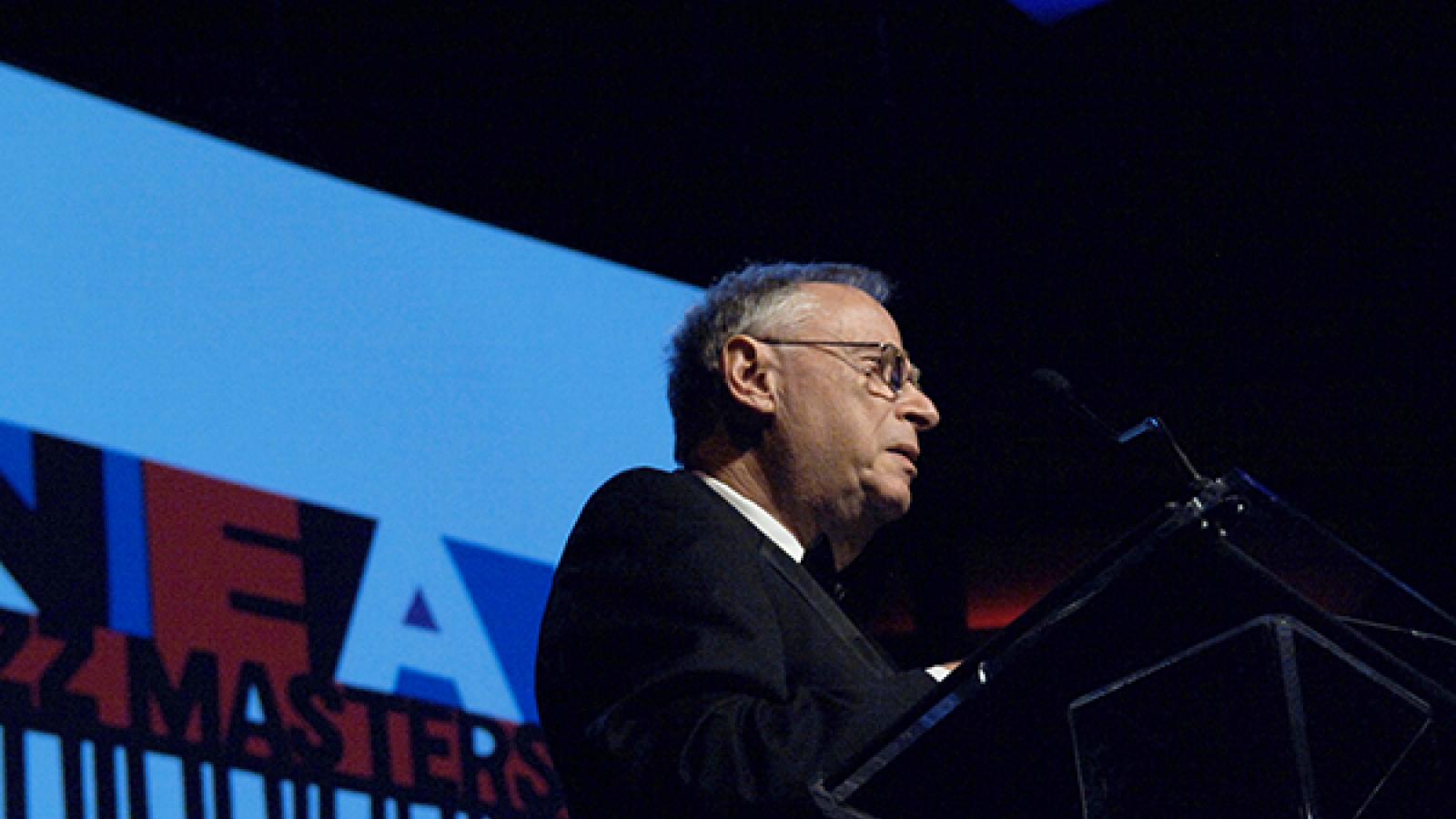 Studies have shown that more young people are living at home with their parents than at any time since 1940. But how many of them are asking their parents to build a recording studio? In their living room!? Yet that is what 2009 NEA Jazz Master Rudy Van Gelder did, with hardly any professional recording experience under his belt, and a steady career as an optometrist. Maybe more surprising, his parents agreed and turned their living room into one of the most important jazz recording studios of the 1950s.
The name Rudy Van Gelder might not ring a bell. But if you have even a modest jazz record collection, most likely something you would pull out that was recorded in the 1950s and early 1960s was recorded by Van Gelder. His mark on jazz was that prominent. Throughout his career, Van Gelder worked with some of the major producers on the biggest jazz labels: Alfred Lion at Blue Note, Bob Weinstock at Prestige, Bob Thiele at Impulse!, and Creed Taylor at CTI, to name just a few.
Although not a musician, he has shaped the sound of jazz, and more importantly, how we listen to jazz. The music is primarily improvisational and usually best experienced live to capture the in-the-moment revelations of the musical conversations being held by the jazz artists. Van Gelder realized the need to "be in the room" with the musicians while they were creating, and that is what he attempted to duplicate in his recordings. "It was a U-shaped house," Van Gelder recollected about his first studio in Hackensack, New Jersey, in a 2009 NEA interview with Molly Murphy, "and there was a large center section. The kitchen would go off on one leg and the bedrooms would go off on the other leg and the studio was right in between. The kitchen was a hallway away from where I used to put Kenny Clarke. It was a wonderful scene, but I think that's one of the reasons the music sounded that way, because it was really not a studio in the sense that studios were then."
Van Gelder is probably best known for his Blue Note recordings in the 1950s and '60s, where he helped shape the sound of the record label. His time at Blue Note started, as Van Gelder told it, with a recording he made of Gil Mellé for a small independent record company. Alfred Lion, one of the founders of Blue Note Records, wanted to put that recording on his label. After he published the recording, he wanted to make another with Mellé that had the same sound. He took the album to one of his engineers, who basically told Lion that he couldn't duplicate that sound and that he should go back to the original engineer. So Lion went back to Van Gelder, and that was the beginning of a more than ten-year relationship with the label that resulted in hundreds of recordings, many considered jazz classics. What they all had in common was that singular sound: each instrument was crisp and distinct, and the tonal range of the recordings gave it a warmth and live in-the-room feel.
Van Gelder was always very secretive about how he achieved that sound, but Michael Cuscuna, president of Mosaic Records and formerly with Blue Note—where he worked with Van Gelder on close to 200 remasters of Blue Note recordings—shared one technique that Van Gelder used in recording. "Once Alfred Lion found him, they developed a strong rapport, and Rudy's sonic identity began to take shape. He was using tape, and he would load the tape right up to the threshold in terms of the amount of input, right up to the needle going into red, without it going into red. He was very brave that way. Most engineers in the '50s, you'll hear more hiss on theirs because they're very timid about the levels they record at. With Rudy, you've got almost like a vivid, digital kind of sound with an analog tape. I think what he did was to really capture the power and the spirit and the clarity of jazz."
Another technique was close micing of the instruments, so that recording them at the high level he did created a striking, powerful sound for each instrument, and made them stand out on the recording. "He somehow recorded the drums where every detail of the drum kit was really vivid and really audible," Cuscuna added. "It's like you were sitting next to the drummer, whereas a lot of engineers in those days were afraid of the physical loudness of the drum set. That's something I think Rudy really pioneered, micing the drum set to get all the detail and all the nuance of it."
In 1959, Van Gelder gave up his job as an optometrist and began recording full-time, building a new studio for himself in Englewood Cliffs, New Jersey, where he moved with his wife. He wanted to get a real, warm room sound with his new studio—and a larger space to accommodate larger ensembles—and worked with a Frank Lloyd Wright apprentice to design it. The studio had a high cathedral-like ceiling with cedar beams and specially made blocks for the walls that reflected the sound the way Van Gelder wanted. Surprisingly enough, the first session he recorded there was not a jazz great but the West Point Glee Club.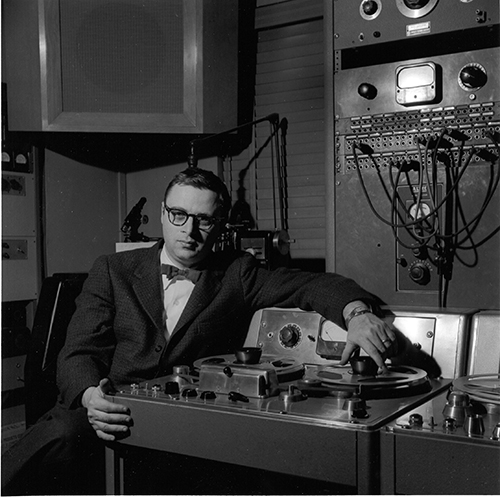 The studio became his main place of work for the next 50-plus years. 2017 NEA Jazz Master Ira Gitler, who also attended many of Van Gelder's sessions in Englewood Cliffs to gather material for his liner notes (and who worked as a producer on a few recordings with him) wrote in his liner notes to Booker Ervin's album The Space Book that the studio was "a nonsectarian, non-organized religion temple of music in which the sound and the spirit can seemingly soar unimpeded." One can only imagine that John Coltrane would have agreed with that sentiment as he recorded his spiritual masterpiece A Love Supreme in the studio.
Even in a live setting, Van Gelder managed to create a luxurious, impeccable recording. "He recorded A Night at the Village Vanguard with me," said jazz legend and 1983 NEA Jazz Master Sonny Rollins, who recorded more than 15 albums with Van Gelder on various labels. "That was the first jazz album recorded from the Village Vanguard, and Rudy was the engineer. I was concerned with trying to not make any mistakes myself. Just get the music right. Because it was accepted by me, and probably everybody else, that it was going to be recorded superbly by Mr. Van Gelder."
In 1999, Van Gelder was contacted by Cuscuna to begin remastering his initial analog Blue Note recordings for digital formats. At first Cuscuna thought that he would refuse, as he rarely looked back at work he had already completed. But Van Gelder looked at it as a chance to improve upon what he had already done. "He was looking at it as taking the past and dragging it into the future. And he did. He had a great time doing it. He would call me about this Hank Mobley record or that Blue Mitchell record like he was just discovering it for the first time. And, I think, as a fan he was hearing it for the first time." Like Rollins in performance concentrating on not making a mistake, Van Gelder would be doing the same while recording, so he didn't necessarily listen aesthetically to the fabulous music he was recording at the time.
His methods of recording continued to develop over time, incorporating multitrack mixing, sound booths, and digital recording. Van Gelder was always looking to find a new way of capturing musical performances. "It was an evolutionary process," said Cuscuna. "But there was always an essence and a vividness and a sense of power to what he recorded that never left. It never changed. Those were always the core values of his sound. And he defined the way we listen to jazz records, the way jazz records should sound."
"I have to thank Rudy Van Gelder," added Rollins, "for that part of any success that I've had. I just went there trying to get the music right. And Rudy was there to make it sound as good as it ended up sounding. He was one of these great individuals that I've been blessed in my life to have met and worked with."