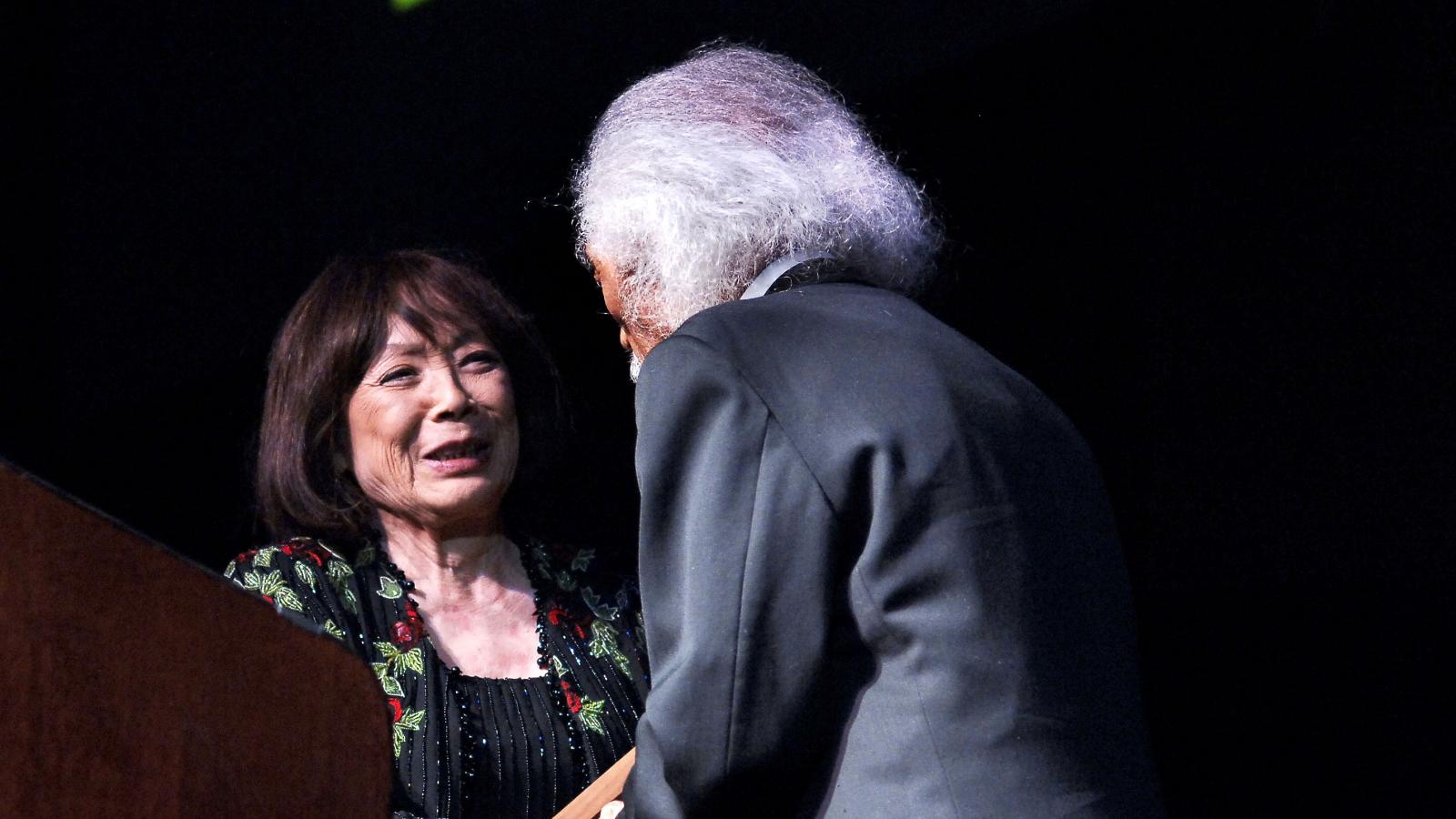 One of the premier bandleaders and pianists of the second half of the 20th century, 2007 NEA Jazz Master Toshiko Akiyoshi doesn't look the part. In the hard-driving, male-dominated jazz field at the time, a petite Japanese woman who wrote and arranged her own music was unusual to say the least. But Akiyoshi was a pioneer in bringing an Asian sensibility to the music and follows in Mary Lou Williams' footsteps as a major female jazz composer and arranger.
Akiyoshi had come a long way. Born in 1929 to Japanese parents in Manchuria, then part of the Japanese Empire, she grew up speaking Chinese, Japanese, and English and began studying classical piano at age seven. However, World War II turned her family's life upside down. When the war ended, Japan had been defeated and Manchuria was first occupied by Russian troops and then returned to China. Sixteen-year-old Akiyoshi and her family survived but were forced to move penniless to mainland Japan. "When we went back to Japan that was already broken, my father had to try to find a place for us to live," said Akiyoshi in a 2008 interview conducted by Anthony Brown for the Smithsonian's National Museum of American History, funded by the NEA. "Meanwhile I took a job in a dance hall. My father got really mad because the normal situation in Japan in those days, the girls never worked." First hearing jazz through a Teddy Wilson record and recordings of Bud Powell on the radio, Akiyoshi moved to Tokyo in 1948 to pursue playing jazz. She mostly played for U.S. service members still in the country and later with visiting American jazz artists such as Illinois Jacquet, Oscar Pettiford, and J.J. Johnson.
Oscar Peterson, after seeing Akiyoshi perform, brought her to the attention of his friend Norman Granz, who had come to Japan with his Jazz at the Philharmonic show. He encouraged Granz to record the pianist with Peterson's trio—bassist Ray Brown and guitarist Herb Ellis, with J.C. Heard added on the drums—which resulted in the album Amazing Toshiko Akiyoshi. The recording opened doors for her and she was ready to take the next leap as a self-supporting young woman in a culture that was not open to middle-class girls working for a living. She also wanted to grow musically. "I'd become sort of like the biggest frog in a very small pond, so to speak," said Akiyoshi in the Smithsonian interview. "As you know, jazz is a social art: if you are surrounded by better players, you become better at it."
In 1956, she went to the Berklee School of Music in Boston, receiving a full scholarship as her Granz recording had impressed Lee Berk, the school's founder. At age 27, Akiyoshi started over for the second time in her life, this time completely on her own and in a foreign culture. She immersed herself in studies, as well as working four nights a week with her own band at the Storyville jazz club in Boston. In 1959, after graduating from Berklee, she moved on to New York rather than return to Japan as she had intended to do. She immersed herself in the jazz scene, playing at legendary clubs including Birdland, the Village Gate, and the Five Spot. In the 1960s, working with legendary bandleader and bassist Charles Mingus inspired Akiyoshi to develop her talents as a composer and arranger for large ensembles.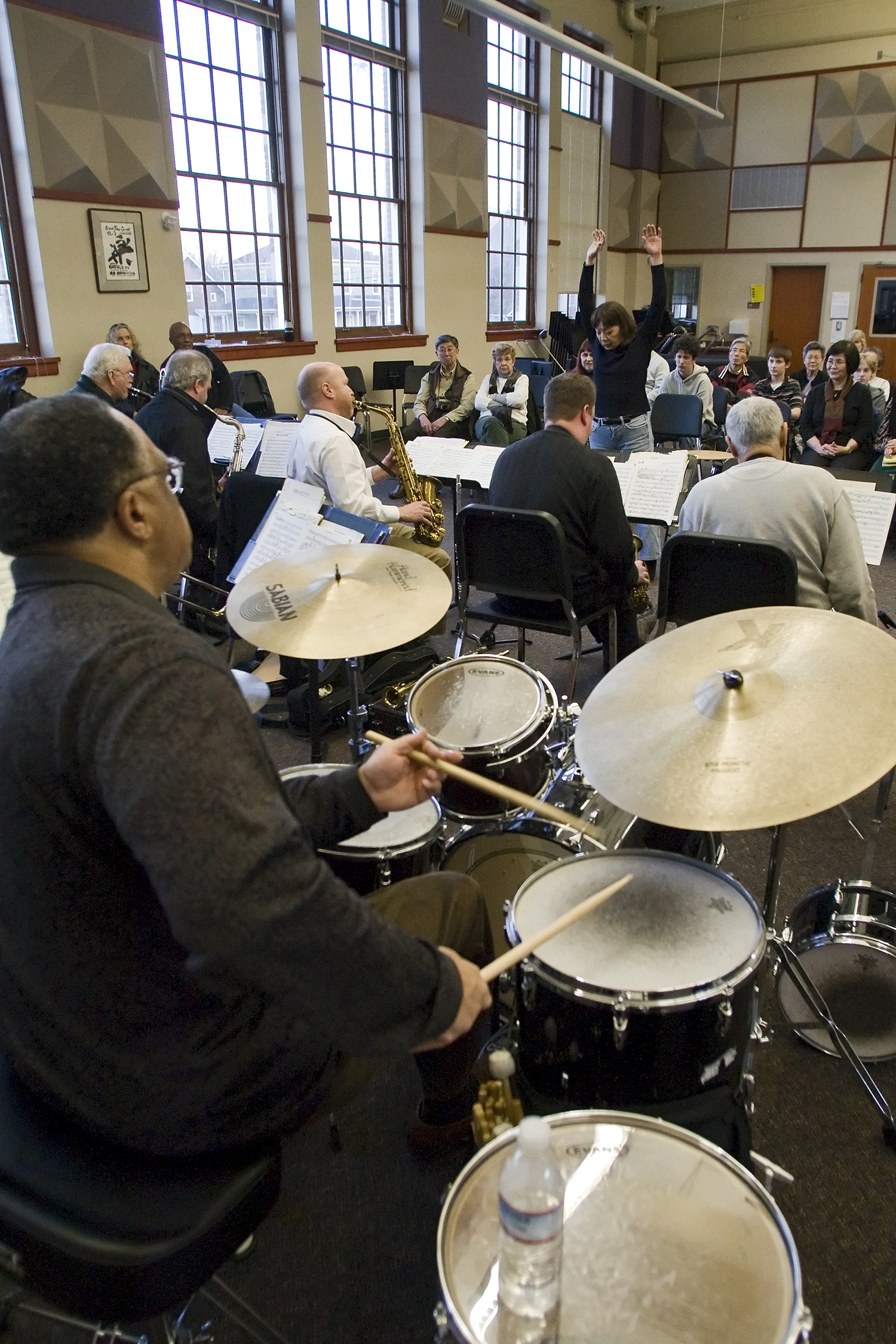 Although it took time, she was able to put together a band after she and her second husband, saxophonist and flutist Lew Tabackin, had relocated to Los Angeles. Her first big band album, Kogun, brought her back to her Japanese culture. The title track "Kogun" is influenced by a story about a Japanese soldier discovered in a Philippine jungle who did not know that World War II had ended, 29 years after the fact. The revolutionary step was using Japanese recordings of traditional tsuzumi drums on the track (there were not tsuzumi players in LA at the time), which Akiyoshi then sequenced with the jazz orchestra. "The normal belief in Japan was to be Japanese and play jazz was a handicap," Akiyoshi noted. "I look at my heritage as my asset rather than my handicap. Maybe I can bring something into the jazz tradition.
"I thought Japan was going to put me down, because Japanese jazz fans want more of a purist approach," she continued. "I thought, 'Go ahead and put me down, I don't care.' That album became an all-time seller [in Japan]." The album's success proved a turning point in her career. Akiyoshi continued to combine Japanese elements, whether it be culture, history, or traditional instruments, with a strong jazz base on subsequent big band recordings like Long Yellow Road, Tales of a Courtesan, and especially Hiroshima: Rising from the Abyss. Of the more than 100 songs she has written, she said, "Probably the most important music compositions all have Japanese culture weaved in." Her fan base is enthusiastic about her work and made her the first woman ever to place first in the Best Arranger and Composer categories in the DownBeat magazine Readers' Poll.
For Hiroshima, which was commissioned by a priest from Hiroshima, Akiyoshi was faced with the horror of World War II again. "I never had an air raid experience or anything like that, and then we came back to Japan, the whole family in 1946. I started playing immediately in the dance hall. At that time, there wasn't much talk about this bomb dropped by the Americans," she said in the Smithsonian interview. "So when the priest gave me photos [of victims three days after the bombs were dropped], I was shocked, because I had never seen anything like this. I wasn't quite sure if I could write something like this." One of the images the priest sent, however, was of a little girl who survived the bombings smiling to the camera. The image inspired Akiyoshi to find an approach to the tragic material. "I'm going to make this more like a piece of anti-war, anti-nuclear weapon," she noted. "We will not give up hope that someday maybe people will tolerate each other." A month after the first performance of the finished song cycle, 9/11 occurred in the United States, and the section of the composition called "Hope" became a regular part of her set.
Throughout her career there have been suggestions that there are better male performers or that her work isn't "authentic" jazz, but Akiyoshi has persevered and prevailed. "I hoped people would identify with the music," she said. "But the main thing to me always has been to be very, very true to me. I'm the first listener, as far as the writing's concerned. If I'm not true to my music, I'm not worthy." She added, "Some music stands, and I think time is the judge of the music, of the composition."
In 2015, at age 86, she and her husband performed at the royal palace for Japanese Empress Michiko, an accomplished pianist herself. A year later, Japanese public television NHK presented a 90-minute documentary about her and Tabackin (which included a live performance of Akiyoshi's resurrected orchestra at Jazz at Lincoln Center in New York City). "Given this honor in my native country is extremely gratifying," she noted in a recent e-mail exchange with the NEA.
Katja von Schuttenbach is the jazz specialist at the National Endowment for the Arts.