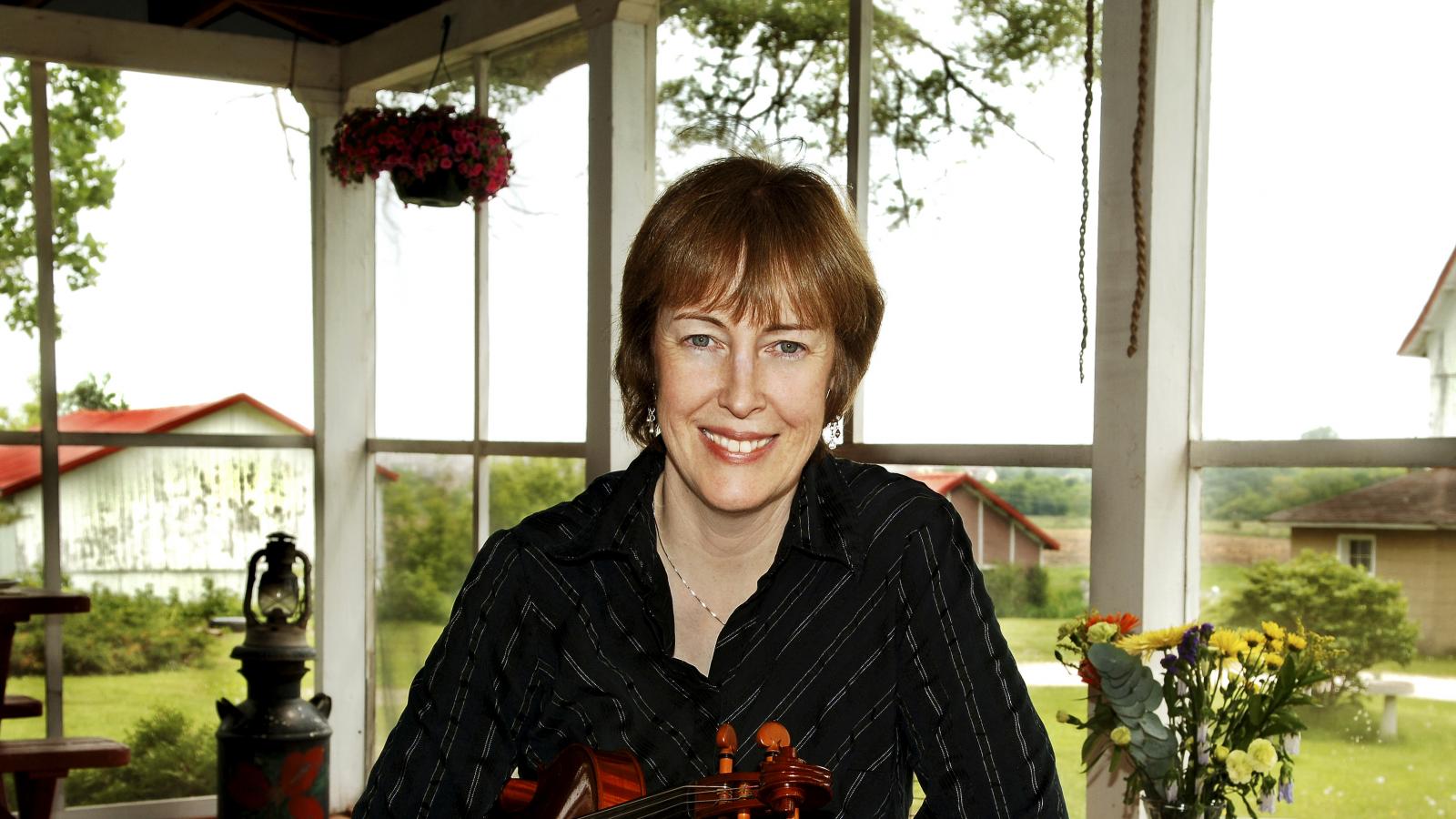 Although more than ten percent of the total population of the United States claim Irish ancestry, for centuries this heritage was seen as a source of embarrassment and shame. But with the election of John F. Kennedy, this sentiment shifted to one of pride. What followed was a renaissance of Irish culture within the United States—one that has showed no signs of slowing down. There were the Clancy Brothers and Tommy Makem in the 1960s, continuing with the Chieftains and the Bothy Band in the 1970s and the punk-fueled traditional songs of the Pogues in the 1980s. Starting in the 1990s, Michael Flatley (1988 NEA National Heritage Fellow) exploded onto the world stage with his Riverdance and Lord of the Dance productions showcasing Irish dancing. Throughout that time period, though, there was one artist who has consistently pushed the culture forward through her music: 1994 NEA National Heritage Fellow Liz Carroll. Known for her prowess on the fiddle, Carroll is also renowned for her compositional skills, having written about 200 original Irish tunes, many of which have now become part of the canon of Irish music.
Carroll's story begins not in Ireland, but in Chicago in 1956. Born and raised on the South Side by Irish immigrants, her father, Kevin, played the accordion, and her mother's father was a fiddler. Music was always in the house, and the family frequented the nearby Irish social clubs.
Encouraged to play accordion at age five, Liz got her first fiddle lessons at nine from Sister Francine, a parochial school nun. Playing music in the Carroll home had its perks: if she practiced the fiddle, she didn't have to wash the dishes.
"I got out of the dishes playing Irish music," joked Carroll.
Family forays to Irish music hangouts like Hanley's House of Happiness led to Carroll sitting with her fiddle on the outer circle of sessions, soaking in the tunes of Chicago's Irish music stalwarts like Johnny McGreevy and Eleanor Neary. Carroll herself had started to compose as a young child, a sign of the future impact she would have.
And yet, "I didn't conceive of Irish music going anywhere," said Carroll of her modest expectations. "The only thing I saw was the Chieftains [a traditional Irish band], or musicians in pubs."
But this changed when teenager Carroll traveled to Ireland to compete in the All-Ireland Junior Fiddle Competition. All the South Side dances, ceilidhs, and all-night sessions paid off: she won second place. The following year, she claimed top honors in the category.
Renowned for a fierce, if friendly, competitiveness ("like the Geena Davis character in A League of Their Own," joked Billy McComiskey, an Irish button accordionist and 2016 NEA National Heritage Fellow), Carroll returned to Ireland in 1975 at age 18 determined to win—not the Junior title, but the All-Ireland
Senior Fiddle Championship, a feat that at the time had only been accomplished by one American.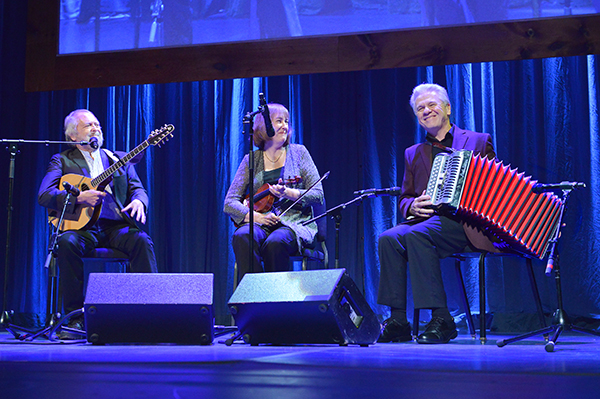 She won. And with accordionist Jimmy Keane, she also won the All-Ireland Senior Duet Championship.
"I remember the audience going out of their minds when she played," said McComiskey, who was also there in '75. "There's genius," he stated, "and Liz is it on the fiddle."
Despite that auspicious accomplishment, Carroll suspected that it was unlikely, though not impossible, that Irish music could deliver three square meals a day or support a family in the late '70s. So the All-Ireland champion took her fiddle to college, where she received a degree in social psychology from DePaul University (though Irish music always seemed to intrude at exam time). She stayed on at DePaul for a degree in elementary education, and taught at a Catholic school on the South Side for one year. "I definitely learned what I had skills in," she said of her short-lived teaching career, "and what I didn't."
Opportunity called in the form of folklorist and 1999 NEA National Heritage Fellow Mick Moloney, who "asked me to go on a six-week tour of Africa the next fall with the Green Fields of America, and I said 'Yeah!' So no more teaching."
From that point on, family and music—in that order—have been the two defining themes of Liz Carroll's life.
Today, Carroll is widely considered one of the foremost composers of new tunes that have worked their way into the traditional Irish repertoire. This is no easy feat for an art form that dates back hundreds of years. She was the first American to receive the Gradan Ceoil TG4 Cumadóir award—Ireland's highest traditional music award for composition—and in 2010, she and guitarist John Doyle were nominated for a Grammy in the Best Traditional World Music category. That same year, she published Collected: Original Irish Tunes, a book of 185 compositions that she wrote, with stories of the songs' inspirations. The book proved so popular that it is in its second printing.
When she was younger, Carroll felt some inner tension over the question of "What is my style?" while also feeling that the player of the tune "should be unrecognizable, and the tune should stand on its own." Still, at a recent Swannanoa Gathering in North Carolina, Irish music luminary Martin Hayes turned to her and said, "Liz, you've created a style."
"You are who you are," she acknowledged about her personality emerging in her playing. "I genuinely listen to other people play, and am curious about other people while they play. Maybe they feel that. I listen for the humor in their music. I'll throw things back at people. If you have a good moment in a session, you'll have a conversation in the music. It's a joyful thing. Maybe I like that when people acknowledge what I've done, and I'll look for that, and do that [for others]. I've always just wanted to get more and more and more from tunes. So I'll look for variations. Sometimes that's nice for some people, and sometimes it's a distraction. But I love changing it up, and I really like people who can change the tunes on the fly in the moment."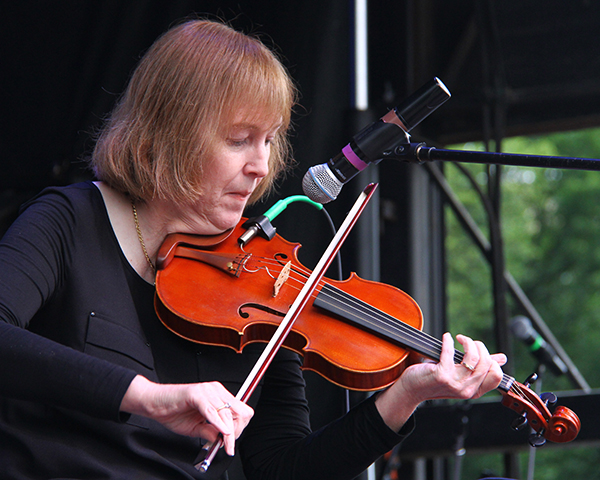 Carroll's impact on her hometown has been as strong as it has been on Irish music: in 1999, Chicago Mayor Richard M. Daley proclaimed September 19th "Liz Carroll Day," acknowledging the musician's contributions to the city's Irish community. She has also collaborated with other cultural institutions in the city. In 2001, under the auspices of the Steppenwolf Theatre Company, she accompanied Irish-American author Frank McCourt on staged readings from his works, and in 2015, she produced music for an Art Institute of Chicago exhibition, Ireland: Crossroads of Art and Design, 1690-1840.
Carroll continues to participate in pub sessions in Chicago and wherever the road takes her. A good session can give her a buzz when she meets very young musicians she can encourage. And "a bad session is when people are so busy listening to themselves that they are not listening to others." Carroll will sometimes stop a session to ask someone to play, and will sit back and listen. And other times, she will hear her own tunes played by musicians who have no idea she wrote the tune.
This quality of deep listening, said McComiskey, is the root of her genius. "She was always respectful of me," he remembered of his first musical encounters with Carroll. "And I would see her with Eugene O'Donnell and other giants of Irish music. She would have these beautiful bonds with people."
Clifford Murphy is the director of Folk and Traditional Arts at the National Endowment for the Arts, where he oversees the NEA National Heritage Fellowship Program.