This Land of Arts
American Artscape | 2020 No. 1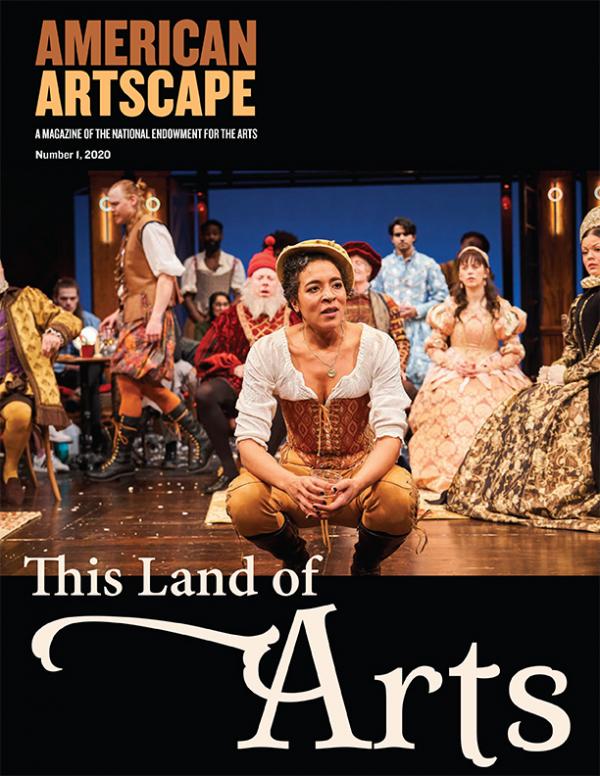 Download Issue
All Issues
About this Issue
Welcome to the new National Endowment for the Arts magazine! We have taken on a new name, American Artscape, that better captures the national scope of the agency's grants, programs, and investments in making the arts available for all Americans. We aim to give every American in the nation—regardless of geography, ethnicity, economics, or disability—the opportunity to participate in the arts, exercise their imaginations, and develop their creative capacities. As part of our commitment to reach all areas of the country, Arts Endowment staff visited all 50 states and several territories in 2019 for site visits, grant workshops, conferences, convenings, and events.
To better leverage our resources and ensure we're making as powerful an impact as possible, we frequently invest in partnerships and collaborations. These can range from fellow federal agencies, such as the Department of Defense and the National Institutes of Health, to nonprofit organizations like the American Theatre Wing and Poetry Foundation.
But among our most important and consistent partnerships are those we have with the state art agencies (SAAs) and regional arts organizations (RAOs). Every year, the Arts Endowment awards 40 percent of our grantmaking budget to these agencies, which represent either an individual state or a particular region of the country. They are our "boots on the ground," so to speak, and tailor their programs and grant opportunities to the particular needs and populations of their jurisdictions.
What this means is that the National Endowment for the Arts, on behalf of the people of the United States, offers arts opportunities at the national, regional, state, and local levels, creating a rich and diverse ecosystem where the arts—and the people who enjoy them—can thrive. What better way to inaugurate our new magazine title than with an issue showing the American artscape at every level of public funding. In the following pages, I'll share the national view I have as head of the Arts Endowment, RAO executive directors discuss the important work they do in their regions, and the leader of the National Assembly of State Arts Agencies shows how the SAAs are great examples of why the arts are a wonderful public sector investment.
Altogether, this collaborative system has helped shape a nation where every American—in every state, in every region, across the entire nation—can celebrate and benefit from the arts.
Mary Anne Carter
Chairman