Arts and Culture at the Core
American Artscape | 2012 No. 3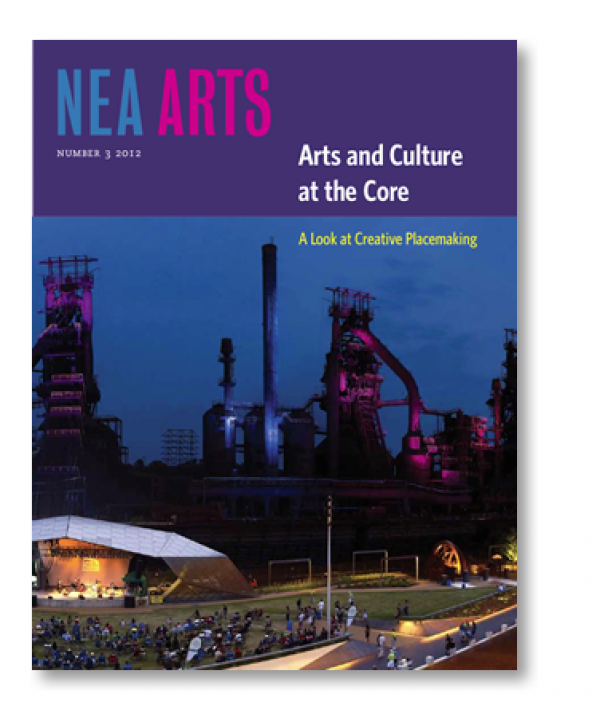 Download Issue
All Issues
About this Issue
At the NEA, we have been focusing on creative placemaking for the past few years. Chairman Rocco Landesman has traveled the country, seeing how the arts improve communities in many different social, physical, and economic ways. In 2011, the NEA made creative placemaking one of its flagship initiatives with the Our Town grant program, funding partnerships led by arts organizations and local governments to increase the livability of communities through the use of art. Over the past two years, the NEA has invested $11.58 million in Our Town projects in all 50 states and the District of Columbia.
In this issue, we take a look at some of the exciting transformations taking place across the country, in big cities and rural areas alike, in places like Baltimore, Maryland; Driggs, Idaho; and San Jose, California. In addition, we look at how other organizations -- foundations, local government agencies, and consortiums such as ArtPlace -- are also looking to the arts for community improvement.
We also have online-only stories, such as how arts organizations in Jackson, Mississippi, are creating projects to revitalize the city; a slideshow on the Tribal Canoe Journey of the Squaxin Island Tribe and its impact on the community of Olympia, Washington; a multimedia piece on how the city of Wilson, North Carolina, embraced local artist Vollis Simpson and is creating a park for his art; and more.
The best place to start, though, is with a strong understanding of what exactly creative placemaking is. So we had our Design Director Jason Schupbach talk with cultural and economic development experts Ann Markusen and Anne Gadwa Nicodemus about the philosophy of creative placemaking and how it can be applied successfully in communities throughout the country.
Don't forget to visit our Art Works blog to comment on this issue or to share information on arts in your community, and join us onFacebook and Twitter.