A Journey of Culture: The Tribal Canoe Journey in Olympia, Washington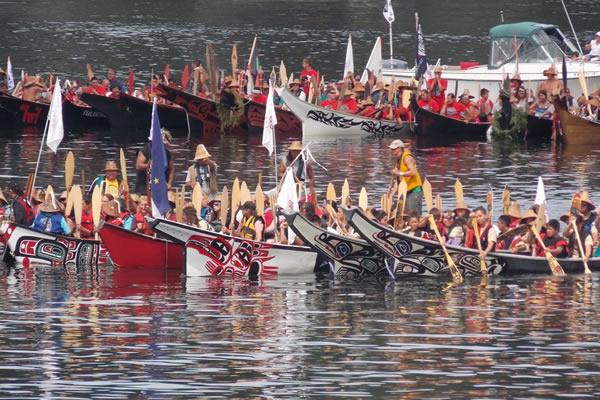 The annual Tribal Canoe Journey has grown to become the largest gathering of Native Americans in the western Washington State region.  This year, the Squaxin Island Tribe hosted the journey, welcoming more than 10,000 people and 98 canoes, with canoes traveling from as far away as northern California, Peru, and Florida. Following the landing on July 29th in Olympia, Washington, the tribe hosted a week-long Potlatch Protocol Celebration in which participants donned regalia, performed traditional dances and songs, and celebrated their culture in tribal fellowship.
  
In 2011, the NEA awarded an Our Town grant to Evergreen State College in Olympia, Washington, to support numerous artmaking workshops where community members crafted traditional art in preparation for the annual Canoe Journey. Led by renowned regional artists and tribal leaders, workshops included carving, weaving, printmaking, and painting. Resulting artwork was used during the Canoe Journey, exhibited during the Protocol Celebration, and is currently being exhibited throughout neighboring communities.