Not Just Another Point on the Map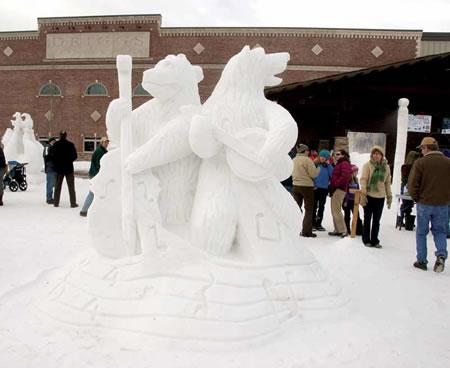 Idaho's Teton Scenic Byway winds its way from the Snake River toward Ashton through miles of spectacular scenery, including the western ridges of the Teton Mountains. Along the way, travelers pass by Driggs, a growing city of roughly 1,660 residents where the highway does double-duty as Main Street. Like many other small communities in the early 2000s, Driggs was in need of an economic boost, one it hoped could be accomplished by enticing motorists to enjoy the local scenery by pulling over to spend some time -- and dollars -- in town.
In addition to re-energizing its economy, Driggs was also concerned with keeping a sense of community identity amidst high population growth. Once thought of as just a bedroom community to the Jackson Hole region in Wyoming, new residents had started flocking to Driggs once they realized it offered the same scenic attractions without the same crowds. As with any long-settled community, the population boom, while welcomed, also led to some tension between new arrivals and long-time residents. "I think being a rural community, there's a deeper need to be more authentic and to maintain the ties to the land, to the history of the place, and respect the cultures that settled the community here," said Douglas Self, the city's planning administrator. He added that the challenge was to find the right balance of "conservative and crazy." As a reminder of that balance, Self keeps in mind a local rancher, who had converted an abandoned building into a hot yoga studio, doing yoga in cowboy boots.
Thanks to the Teton Arts Council, Driggs already had some experience with meeting these challenges through arts events. "Any small rural community needs to offer as many opportunities as possible to experience art in its many disciplines," said Teton Arts Council Chair Linda Lopez, explaining the organization's commitment to promoting the local arts scene. The high-visibility Snow Fest and Plein Air Festival -- which showcased local artists at work -- had not only increased the city's tourism base, but also provided occasions for recent arrivals and old hands to come together as a community. As Self emphasized, "Art for us and our involvement in the downtown is another way to enhance and highlight the high quality of life that is offered in Driggs, and that is one of the main engines for our growth and economic development in the community."
But Driggs wanted to do more, and applying for an NEA Citizens' Institute on Rural Design (CIRD) workshop was a logical next step.
Understanding the Importance of Design in Rural Communities
CIRD (formerly known as Your Town) debuted in 1991. As then-NEA Chair Jane Alexander wrote in YourTown: Designing Its Future, "[This] is our best effort to help small towns and rural communities understand the importance of design and identify resources to help them preserve their heritage and identity while expanding their economy." Initially a partnership among the NEA, the National Trust for Historic Preservation, and the State University of New York (SUNY) at Syracuse, the program was managed by Richard Hawks at SUNY and Shelley Mastran at the National Trust.
Mastran noted that the rural communities that attended the workshop faced a host of challenges ranging from dying downtowns to transportation improvements that had isolated neighborhoods from each other to a disconnect from the natural resources that had defined the communities in the first place. As with the NEA's urban design program, the Mayors' Institute on City Design, the goal was to empower participants to become design leaders back at home. Mastran recalled, "One of the biggest challenges [was] to help them to realize that they do have a special culture and they do have the ability to use it for economic development purposes….[They didn't] think of themselves as being able to do what a lot of communities across the United States are able to do."
While CIRD originated as a one-time workshop for rural communities, the program is currently expanding into an ongoing resource. The in-person workshops are still core to the program, but a complementary online portfolio will soon include webinars and other resources on a range of subjects, such as agricultural preservation, heritage preservation, design, and art. Spearheading the revamp is the Project for Public Spaces (PPS) in partnership with the U.S. Department of Agriculture, Orton Foundation, and Community Matters®. According to new project director Cynthia Nikitin, the goal is to take advantage of their combined expertise "to broaden out the dialogue. We're looking at making [the program] more robust in terms of not just providing information for the communities of practice that are engaged but really being…about access to information to a much broader audience about rural design issues."
From Your Town to Our Town
While the Driggs workshop took place long before the CIRD reboot, the city's experience still had a measurable impact on its future plans. During the three-day workshop, Self and two dozen community leaders engaged with several expert consultants, including sustainable development and land conservation specialist Ed McMahon and then-NEA Design Director Jeff Speck.
According to Mastran, an important marker of success for CIRD participants is community-wide involvement. "If there's a perception that the workshop is being run for and by one particular segment, the long-term sustainability is in question." Accordingly, the working group from Driggs included stakeholders from the corporate and not-for-profit sectors, private citizens and city residents, and, as Self put it, "old-timers and newcomers."
Driggs used the workshop to explore three specific issues. Self explained, "The year before we had a fire in downtown that destroyed four historic buildings right in the core…so we wanted to develop a redevelopment and infill plan for that space. We had also just purchased a 20,000-square-foot grocery store and an acre of property on Main Street that will become the city center plaza. So we wanted to develop concept plans for a community center. And…we wanted to find some solutions to maintaining the small-town look and feel under that growth pressure."
Before addressing specific challenges, the group first discussed what not to do and generated a working definition of "good" design. Next, recalled Self, "We developed a common language to use that enriched our conversations on the local level, and then were given tools and ideas about how to solve these design and growth problems."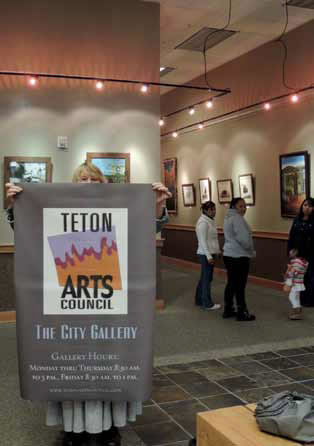 Post-workshop, action plan in hand, Driggs set to work. First they invited a studio class from the University of Idaho Department of Architecture to generate initial conceptual plans for the development work. Over the next several years these ideas were refined into a master downtown plan, which included the rehabilitation of the former grocery store into a multipurpose community space as well as new elements such as the Teton Geotourism Center and a pedestrian-oriented Main Street.
In addition, Driggs figured out how to pay for it all. "The Driggs Urban Renewal Agency put a tax increment financing district in place so that all the taxes from [our] new grocery store and retail center went into the Urban Renewal Agency," explained Self.
In 2012, the city came back to the NEA, this time to apply for an Our Town grant to support the final stage of its design plan -- the development of the community plaza and the acquisition and permanent installation at the plaza of several pieces of public art. With the support of $50,000 from the NEA, this next phase of redevelopment -- expected to last through 2014 -- will include a three-day public charrette to allow residents to give their input on what they'd like to see for the plaza. The city and the arts council also plan to create a Public Arts Advisory Committee to oversee the public artwork selection and installation process, which is a significant part of the revitalization strategy.
While the process will ultimately take more than a decade from start to finish, Self maintained that embracing creative placemaking was the right choice for Driggs. "Creative placemaking for us -- a small town on a state highway that's the main street -- is really about economic development and about triggering a response in those traveling through the city of, 'Hey, there's something going on here and we should stop to explore it,'" he said. In other words, thanks to its artful reinvention, Driggs will no longer be just another point on the map.