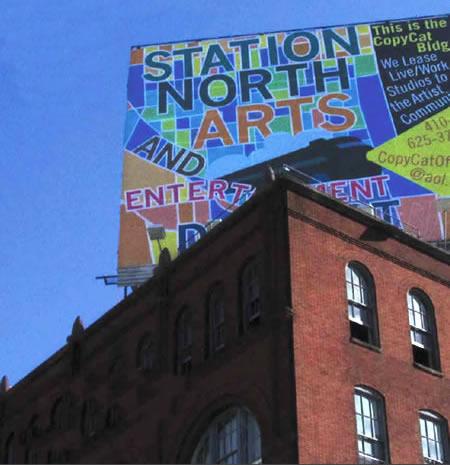 Baltimore's Copy Cat Building is arguably the city's most famous artist residence. A former cork-sealing factory, it has informally -- and sometimes illegally -- housed artist live/work space since the 1980s. It hosts gallery shows and music events and artist parties. Still it is easy to mistake the neglected, slightly desolate building for abandoned.
"You wouldn't know, passing on Guilford [Street], that the Copy Cat was a crazy ill, amazing building with all this amazing stuff happening inside," said Gaia, a local artist who lives in a similarly run-down, "crazy ill" artist building called the Annex. And yet, "[The Copy Cat] is the reason why Station North is Station North."
This problem of existing but easily overlooked potential has long plagued the area just north of Baltimore's Penn Station. Comprised of sections of the Greenmount West, Barclay, and North Charles communities, Station North was until recently a poster child for Baltimore's many woes. Devastated by the 1968 riots, it was further isolated from the city by the construction of the Jones Falls Expressway. The neighborhood's bright spots, which included the Copy Cat, the Annex, and proximity to the Maryland Institute College of Arts (MICA), were overshadowed by drugs, streetwalkers, poverty, and crime.
But ten years ago, the neighborhood used its artistic assets to obtain distinction as an Arts and Entertainment District, a designation administered by the Maryland State Arts Council to stimulate economy and improve livability. At first, change was slow. But within a few years, tax incentives helped lure investors and artists, and the area gained momentum. Today, banners announcing the Station North Arts and Entertainment District (SNAED) hang from lampposts throughout the neighborhood. Vacant buildings have been rehabbed into housing, restaurants, and cultural venues such as the Windup Space, Metro Gallery, and Area 405. MICA has added a number of new buildings to its campus, including the 120,000-square-foot Graduate Student Center, which opened recently. The area's once unassuming artistic presence is moving -- and moving quickly -- into the light.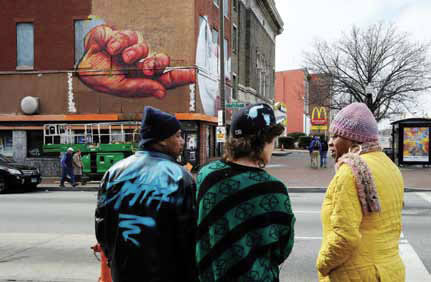 "Nothing was moving forward for several decades," said Ben Stone, executive director of Station North Arts & Entertainment District, Inc., the not-for-profit that promotes and supports the neighborhood's cultural community. "These new artistic projects were kind of a sign of life."
In the past year, some of the area's healthiest vital signs have been supported by a 2011 NEA Our Town grant. Managed by MICA in partnership with Station North, Inc., the $150,000 award helped fund a range of neighborhood activities. D center Baltimore, a cross-disciplinary design space, was able to open a permanent home on North Avenue. MICA held a national symposium on arts, cultural, and entertainment districts last April, and a new cultural programming series called Final Fridays was launched. One of the most visible components of the grant -- the Open Walls mural project -- brought local, national, and international artists into Station North to erect some 23 murals over a two-month period.
Gaia, a 2011 graduate of MICA, was invited by grant organizers to curate Open Walls. As a 23-year-old white male in a largely African-American neighborhood, he was initially wary that he would be seen as an agent of gentrification. Section 8 housing is a necessity for many Station North residents, some of whom have lived in the neighborhood for generations; changes that might attract cost-of-living increases can be a delicate matter. Although he said the project was at times "an interesting balancing act," in the end he was surprised by the overall positive reaction.
"A lot of people in this neighborhood were very grateful that we'd given a gift," said Gaia. "It was such a beautiful coming together of so many incredible things." Ben Stone agreed that reaction among residents was "shockingly positive." Citing post-project surveys conducted by Station North, Inc., Stone said that across the board, residents responded that they were happier with their neighborhood after Open Walls.
Not only has Open Walls helped put Station North on the map -- it has prompted mentions in the New York Times, the Washington Post, the Baltimore Sun, and even on Voice of America -- but it also has helped delineate the neighborhood as an arts destination for its own residents.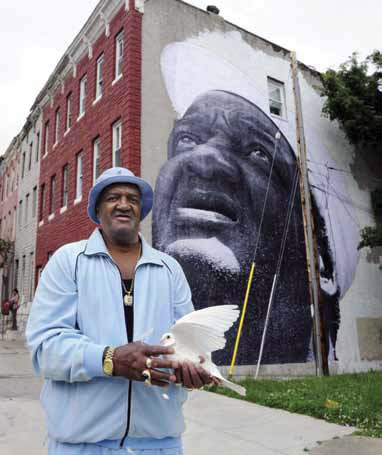 "When you have buildings like [the Copy Cat] that are full of artists working in their studios, and no one really can tell if it's an occupied building or a vacant building…[locals] don't really know what's going on," said Stone, noting that some long-term residents might not even be aware of the area's Arts and Entertainment District designation. "But when you bring artists outside, and they're working for two weeks at a time on a wall…it's hard to ignore that there's artistic activity happening around you."
A similar community visibility effort is made with Final Fridays, cultural events held on the last Friday of every month to bring performance art, music, food, and dancing to public spaces throughout the neighborhood. For many of these events, Stone and his colleagues go door-to-door, informing people of the upcoming program and encouraging them to attend. Many of the programs are held in free, outdoor spaces to avoid the intimidation sometimes caused by theater or gallery settings.
Mike Molla, vice president of operations at MICA, remembers one Final Friday in particular that exemplified the grant's goal of engaging residents and bridging communities. "To see [video artist] Dan Deacon at 8:30 on a Friday night, with 700 to 800 people in this mesmerizing performance of music, video, dancing -- young Caucasian students and older African-American folks and neighbors who have lived in the same houses for the past 40 years all having this experience through the arts -- was quite remarkable."
As the neighborhood blossoms, the problem has shifted from attracting new residents, organizations, and investors to finding space for all those who want to move in. Although the cost of bringing abandoned buildings up to code has hampered some development efforts, there is at least one advantage of working in a neighborhood where a significant portion of buildings are still vacant. "We can rebuild an awful lot of buildings and build on a lot of vacant lots without displacing anybody," said Charlie Duff, president of the not-for-profit developer Jubilee Baltimore, and a lifelong Baltimorean.
In 2011, Jubilee, in partnership with Homes for America and TRF Development Partners, opened the 69-unit City Arts building, which offers affordable artist live/work space using the low-income housing tax credit. Duff said that City Arts -- which was filled in ten weeks -- was built on a lot that had been vacant for 25 years, and marks the first residential building built in Greenmount West since the 19th century. Eight for-sale townhomes were also renovated as part of the project; all were filled within a week.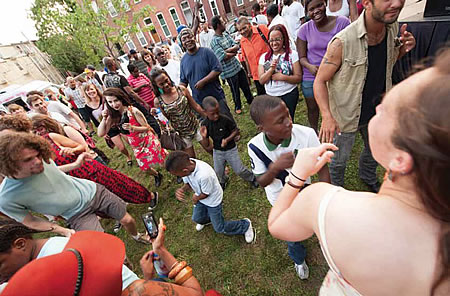 City Arts was almost entirely federally funded, said Duff, and only survived the country's economic collapse thanks to the Recovery Act's Tax Credit Assistance Program (TCAP). NEA Chairman Rocco Landesman and Housing and Urban Development (HUD) Secretary Shaun Donovan arranged a joint visit to the site in March 2010, signifying the collective effort that federal agencies have made to revitalize Station North, each using the tools particular to their area of authority.
According to Duff, these federal efforts have amplified the influence of the local artist community, which he cites as one of the major factors in spurring Greenmount West's turnaround. He hopes that affordable housing like City Arts will convince artists to come to Baltimore, or in cases of MICA graduates like Gaia, to stay. Not only is this for economic reasons, but because of the contagious creativity that can reinvigorate dormant districts. As Ben Stone noted, "People in this neighborhood don't want to lose the artistic energy that really only is brought by the artists themselves."
So far, there seems to be no worry of energy loss; only gain. Jubilee recently purchased the largest vacant building in Station North, which will be converted into a mixed-use artist space. Next autumn, the year-old Baltimore Design School, a public middle and high school, will move to its new campus in the renovated Lebow Clothing Company building, which has stood vacant in Station North since 1984. A new row of market-rate townhomes is currently under construction just next to City Arts, and there is talk of a second iteration of Open Walls.
"All my life I've been trying to do things that the result of which would be that people would say, 'I want to live in the center of Baltimore,'" Duff said. "And it's happening. I didn't think I'd live long enough. I wasn't sure anybody would live long enough. But it's happening."