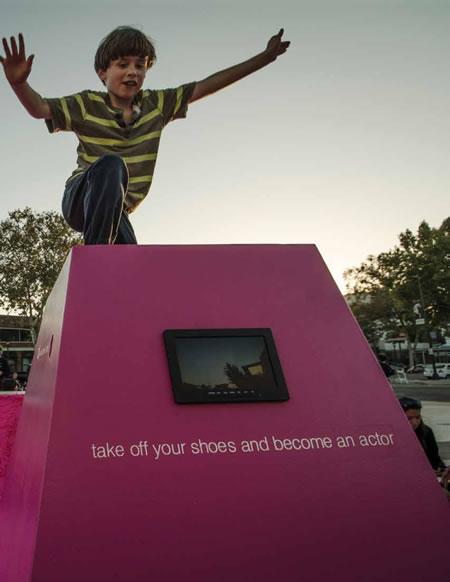 Communities throughout the United States have shown time and time again that art is far more than something pretty to listen to, look at, or experience in passing. Rather, when ignited through inspiration and strategy, art can be an explosive catalyst for positive change.
"Cities have long understood the opportunities to leverage cultural and artistic resources to shape the character of a neighborhood," said Kerry Adams Hapner, director of cultural affairs for San Jose, California. "In the last couple years, though, the National Endowment for the Arts has identified placemaking as one of its priorities and has advocated for the strategy. It's led to outstanding new opportunities to integrate arts into built environments on the city level. It's also elevated the idea of placemaking into the national conversation."
National Strategies, City Initiatives
Creative placemaking began to coalesce nationally two years ago, when the NEA and Chairman Rocco Landesman created Our Town, an initiative dedicated to funding arts-sourced rejuvenation of local communities.
"We saw Our Town as an outstanding opportunity," said Adams Hapner, who applied for a grant with local partner foundation ZERO1: The Art and Technology Network. "San Jose is considered the capital of Silicon Valley and we are proud of our global position," she said. "ZERO1 is a unique art organization with a mission of combining the technologies born in Silicon Valley with the artists who could utilize them and apply them in new ways -- and conversely, embed artists with tech companies to promote and foster new innovations." The specific goal? To partner with ZERO1 on Silicon Valley Inside/Out, a project that "weds public art with Silicon Valley technologies in exciting new ways," said Adams Hapner.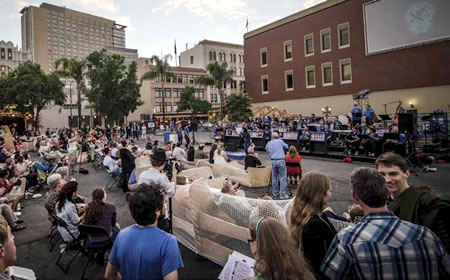 San Jose and ZERO1 won a $250,000 grant, enabling them to put on a thrilling festival with many positive ripples -- not the least of which was an infusion of roughly $20 million of festival-related revenue into the local economy, according to ZERO1's estimates. Less tangible but equally important effects included boosts in public safety, cultural understanding, civic pride, and city reputation.
Beyond federally sourced grants such as Our Town, private arts advocates such as the ArtPlace consortium have helped San Jose's local placemaking efforts as well. "ArtPlace is a group of private and national funders who have all co-invested in creative placemaking strategies throughout the United States," described Adams Hapner. "Those creative placemaking strategies consist of various ways you can utilize the arts to change a neighborhood for the better and give it a sense of vibrancy."
Though its creation was inspired in no small part by the NEA's work on Our Town, ArtPlace works as an independent entity, made up of ten leading foundations and six of the nation's largest banks. The NEA and seven other federal entities serve in advisory roles but contribute no federal funding and have no say in who receives ArtPlace support.
San Jose has won multiple ArtPlace grants for projects like turning an abandoned park in the city's SoFA district into an "urban living room for the arts, so the arts organizations surrounding it could bring the insides of their organizations to the outside," said Adams Hapner. "We just had the ribbon-cutting at the park as part of the ZERO1 Festival," she described. "SoFA is our chief cultural district, and we're excited about these opportunities that help us continue to transform it."
Statewide Success
Kip Bergstrom, deputy commissioner of the Connecticut Department of Economic and Community Development, has seen firsthand that creative placemaking can be a vibrant force statewide, as well as on the city level. "When I began working as deputy commissioner, I knew I wanted to do something similar to the NEA when it came to placemaking," he said. "I knew that we were going to get air cover from the NEA throughout our efforts, and that has proven completely true."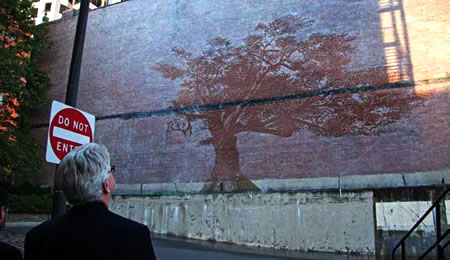 For the state of Connecticut, Bergstrom's efforts to implement a new placemaking strategy have yielded dramatic changes. "We've shifted the focus of all of our arts funding to creative placemaking and put all of our grants under our Arts Catalyze Placemaking program," continued Bergstrom. "Our pilot program, City Canvas, was a momentum-building initiative. It demonstrated the power of the arts in placemaking."
City Canvas funds and facilitates the creation of large-scale public art projects in seven major cities around the state -- and just like Our Town on the national level, City Canvas required each applying city to partner with a local arts organization. "There's a relationship-building benefit just in that," said Bergstrom. "It's created in each of the cities a sense of momentum and a kind of affirmation, a declaration that 'we're back, we're here, and we're on the move.' It's been inspirational."
Bergstrom described a mosaic project in the city of Waterbury that focused on the restoration of the Naugatuck River. "It had been an industrial sewer running through Waterbury, which was a brass city in the day," he said. "The streams were full of contaminants, but it's all been cleaned up. It's a metaphor for the resurgence of Waterbury itself."
More than 1,200 people collaborated on the 30-by-30-foot mural, which depicts brown trout in a stream with a line of brass running through it and is mounted on a blank wall by the city's downtown. While staging individual parts of the mural at Waterbury's historic Palace Theater, none of the participants knew what the project would look like before its first public viewing. "Kids, seniors, and everyone in between came to the unveiling," said Bergstrom. "There were 3,000 people there on one of those magical early summer nights. It triggered a sense of comeback momentum in Waterbury that goes far beyond the mural itself."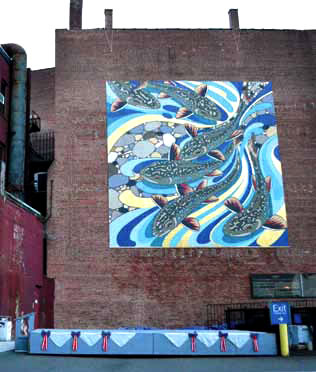 Connecticut has received further placemaking support with an Our Town grant for Project Storefront, a program that sets up working artists in otherwise vacant New Haven storefronts with immediate economic benefits. "Every single artist brings attention to the space he or she is working in, so it gets rented," described Bergstrom. "We even had to work out a 90-day minimum into the free rental agreement with landlords. Otherwise, the space would be rented too quickly for the artist to get anything done. That's how hot the program is."
"Connecticut was at the head of the pack with Project Storefront," continued Bergstrom. "And it was possible because of funding from the NEA."
Bergstrom described the NEA as Connecticut's strongest cheerleader in the state's placemaking work, and further credits NEA funds with training project managers who have gone on to contribute to other impactful projects statewide. "The NEA has been incredibly supportive and enthusiastic," he said. "We feel that we are totally aligned with the direction that Rocco Landesman has set for the NEA. It's the same direction that I'm trying to set for our office here in Connecticut."
Whether on a local, state, or national level, Bergstrom sees placemaking as a potent strategy for civic renewal, but also as a window into something deeper. "Starting with the first cave paintings 40,000 years ago, we've been using art to transform places that feel dark and scary into places that are safe and vibrant," he said. "From primitive hand prints of blue and red pigment to the water-activated murals that were just unveiled in Hartford, Connecticut, the creative process that informs placemaking is an unbroken chain. What defines us, and the places where we live and work, is our art."