The Purple Rose Theatre Company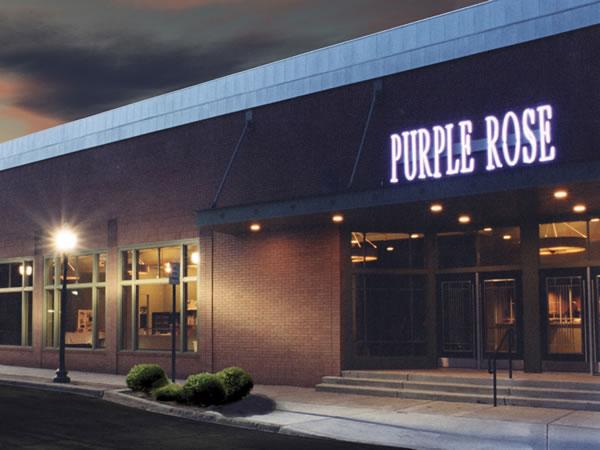 Chelsea, Michigan, is a small town with a thriving arts scene. That's thanks in no small part to the Purple Rose Theatre Company (PRTC), founded by actor, and Chelsea native, Jeff Daniels. Starting out in a garage with a skeletal staff, PRTC has flourished into a first-rate theater company, developing local talent, nurturing Midwestern voices, and providing a cultural hub in this corner of Michigan.  Artistic Director Guy Sanville, who has been with the company almost from its inception, explains how PRTC was a game-changer for Chelsea.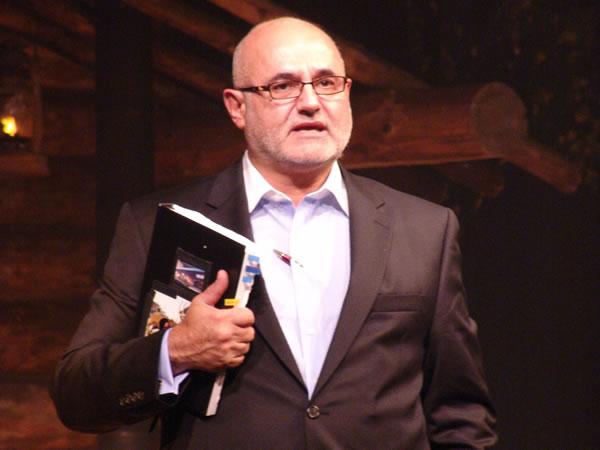 Purple Rose
Transcript
Jo Reed: Welcome to NEA Arts online.
I'm Josephine Reed...the current issue of NEA Arts focuses on the transformative role of creative placemaking in communities...and a great place to start is in Chelsea Michigan, home of actor Jeff Daniels and the Purple Rose Theatre Company.
Daniels has had a thriving acting career from his role as Flap Horton in Terms of Endearment to his current character Will McAvoy in the new hit television show,The Newsroom. Yet, he always remained rooted in his hometown of Chelsea, where in 1991, he created the Purple Rose Theatre Company.  Daniels's goal was to bring high quality professional theater to this town of 4,500. He has more than succeeded, creating not just great theater but a cultural hub.  Twenty-one years later, the Purple Rose Theatre is a first-rate regional theater, committed to nurturing local talent both on the stage and behind the scenes.  Because of the Purple Rose, Chelsea is now a destination point, with some 40,000 visitors a year who come to see good theater in an intimate setting.   Guy Sanville is artistic director of the Purple Rose and has been there almost from its beginning.
I spoke with Guy to find out about the impact the theater company has on the town of Chelsea. I began our conversation by asking him to give me a little history about how the Purple Rose Theatre Company established itself in that town.
GS: When Jeff started out, he bought this empty warehouse on Park Street here and a lot of people told him he was nuts.  I mean, basically okay, you want to start this enterprise in the middle of a cornfield. He started attracting other talents. There was a fella who was interested in opening a fine dining restaurant in town.  They got together and he had a vision for the theater and the town. He marshaled some local support and it worked.  The town is a part of the attraction. It's a beautiful little town--it's a historic town, the people are friendly. You don't have to pay to park your car you're a two-minute walk from the theater to these great galleries and restaurants and things that all came as a result of the theater.  It's had a huge impact on the community.  It's a wonderful combination of commerce and art.
JR: I know the theater has grown tremendously, but in terms of Jeff's vision, has that shifted over the years?
GS: I don't think it's shifted at all, I think it's become more intensified, it's become more focused. And more well-defined. The first directive he gave me my first week in this job was is it's the policy of this theater that we develop our own talent.  We have eight full time apprentices here and our company manager's former apprentice, our PR/apprentice chief is a former apprentice.  All of our stage managers are former apprentices.  We take that part of our mission very seriously.
JR: The theater is in Chelsea, Michigan, and there seems to be a great commitment to Michigan and the Midwest and developing the town that's there.
GS: You know, I remember the first time I sat in the theater and I saw a play about people I knew in a place I knew. It was a play written by a Michiganer named Gus Kaikkonen.  It was called Time Steps.  I knew these people. I mean, Ernie Harwell was on the soundtrack. I realized that our lives were worth telling stories about.  We have a rich diversity of souls here in the Midwest. We have a lot of great stories to tell, and one of the things that's important to our survival is that we tell stories about and stories that matter to the people that see them
JR: How many plays a year do you put on at the Purple Rose?
GS: We do four.
JR: You do four plays a year.
GS: You can see a show at the Purple Rose a minimum of seven times a week, forty-three weeks out of the year. Very intimate venue here. We seat 168 people. In this part of the country I think we offer a pretty unique experience that way and, so yeah, it's really a lot of fun.  New plays are really what we're all about, but every time you can do a new play--I mean each one is sort of a glorious adventure into the unknown.  You really are going where no one's been before, and it's kind of nice every once and a while to do a play where the script is kind of perfect and ready to go
JR: Can you tell me briefly how you put a season together?
GS: Well, we've got new plays in development, so we're working with writers all the time.  Our play development process is called the Green House process, Purple Rose / Green House. We do workshops with these plays.  They last anywhere from three days to two weeks, and then we do readings for an invited audience.  It takes a year or two to kind of get them ready for rehearsals, usually.  We keep lists like everybody else.  I've got a list of great American classics that we'd like to take a swing at eventually. We also are a company. We're not a producing organization, we're a theater company.  There's a difference.  We have a group of associate and resident artists that we create work with and for. 
JR: What are the benefits of producing theater, of having a theater company in a small town like Chelsea?
GS: It attracts people who ordinarily wouldn't come to your town. It gives you a reason to come and check you out.  Everyone of those people, as Jeff says, has a wallet or a purse with them. They all eat.  They buy gas. Buy books. Buy art. They buy cowboy boots, whatever.  Again, we're a town of about 4,500 people and we attract almost 40,000 people a year.  You know, the town used to roll up their sidewalks at six o'clock at night. Now we've got two hotels, bed and breakfasts, several restaurants.  The impact pumps millions of dollars in the local economy over the years.
JR: The other thing I would think it would do is a theater would reinforce the sense of community that a small town already has.
GS: Absolutely. We are a part of the community.  We are a part of the fabric of the community. It's wonderful to be shopping at the grocery store and have the farmer guy come up in the bib overalls and give his two cents about the last play. I mean, they really care. After twenty years we really are part of the community. It's wonderful. When we do our work right, we can change lives. If you could have sat in the theater last night and see 160 people watch the third act of Our Town it was remarkable.  It's an American classic. It speaks to that small town that lives I think in every American.  It's really wonderful.  It gives people a chance to come and feel something and even think a little bit, and if nothing else have a good laugh and a good cry. And that's worth doing.