Buffalo, NY: Grant Street Global Voices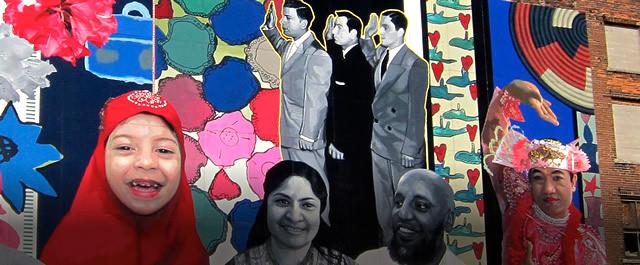 How can an arts-based youth organization help to create community cohesion in a global neighborhood?
Refugees have flocked to Buffalo, NY, in recent years due to a very active refugee resettlement program in the area. This influx of new residents has led to much development and investment on Buffalo's West Side. As a result of all this change, the Grant Street neighborhood in particular has lacked community cohesion. Young Audiences of Western New York (Young Audiences) initiated the Grant Street Global Voices project to build community through artist residencies and public art projects.
PLACE:
The West Side of Buffalo, NY, has a long and storied history of immigration; and the city's Grant Street neighborhood is symbolic of this rich past and its unfolding future. In the face of daunting financial challenges, vacancy, and decades of neglect, this modest urban corridor has somehow become home to an emergent community. The area includes emerging businesses owned by immigrants and refugees, the Niagara River, Buffalo State College, and many new and rebuilding businesses. Businesses have been attracted to the corridor in recent years because of the influx of refugees from around the world living in the neighborhood, and the needs of this new population. In the past five years that influx has swelled because of new levels of investment in infrastructure and residents by developers, and the investment of not-for-profits like the Westminster Economic Development initiative, International Institute, Journeys End, and PUSH Buffalo.
COMMUNITY:
The second most populace city in the state of New York, the City of Buffalo has a population of approximately 250,000, and is identified as the third poorest midsized city in the US, with 29.9% of residents living in poverty. Buffalo's West Side is noted for its rich history of immigration and its textured, multi-ethnic presence. It is home to the majority of its non-English speakers, representative of an active refugee resettlement program in the area. An estimated 30,000 Buffalo residents' native languages are not English, instilling in the area a wide spectrum of multicultural experiences not present anywhere else in the region.
LOCAL NEEDS:
The Buffalo city school district has received recent attention for being the most segregated in New York State. Approximately 3,500 students in Buffalo Public Schools live in homes in which one or both parents do not use English as a first language. One West Side school recognizes 67 different languages spoken in its hallways. The top ten languages spoken in Buffalo schools after English are, in descending order: Spanish, Karen, Somali, Arabic, Burmese, Nepali, Kirundi, Vietnamese, French, and Swahili. 60% of residents are Hispanic or Latino, 37% White, 27% Black or African American, and 3% Asian. These residents need opportunities to come together and build a sense of community.
VISION:
Through the language of art and the dynamics of community interaction, Grant Street Global Voices sought to contribute to the transformation of Grant Street, a core Buffalo neighborhood. As most of Buffalo's refugee and immigrant communities settle there, Young Audiences of Western New York (Young Audiences) thought it was important to bring together long term and new residents, business owners, school age students, college students, and visitors to give them opportunities to understand each other and celebrate the changing nature of the Grant Street corridor. To achieve this, they established arts integration residencies in Buffalo Public Schools (#45 International School and #204 Lafayette High School) with the intention of creating a mural on the side of the building holding the local Italian American owned butcher shop, Lorigo's Meating Place.
PARTNERSHIPS:
Young Audiences worked in close collaboration with Buffalo State College and its Community Academic Center, Buffalo Public Schools, and the Westside Business and Taxpayers Association. Young Audiences as the lead non-profit arts organization for the project worked with these partners in operations design, providing budget management and administration. Buffalo State College provided video museum studies and art education courses while its Community Academic Center served as an operations center, art gallery, out-of-school time program space, and a meeting place for neighborhood children and families. The Buffalo Public School Arts Education department provided the conduit for school partnerships. Lastly, the West Side Business and Taxpayers Association served as the connector to area businesses, helping to set up exhibitions of student work in Grant Street storefronts and raising funds to supplement the cost of the mural. Additionally, a cadre of experienced educators, AmeriCorps members, community volunteers, and talented artists, including Augustina Droze, Ellen Melamed, Ismail and Co., Max Collins, Steve Baczkowski, and Ringo Brill, helped to lead the project.
LOGISTICS:
Resident teaching artists in writing, mural arts, painting, and music worked with Buffalo Public Schools students in-school, afterschool, and over the summer to facilitate the exploration of their heritage through the arts. Teaching artists were chosen for their excellence and their experience in working children with a wide range of life experiences. During the program, youth brought their stories to life in smaller artworks. These then informed the design of a large-scale mural completed under the leadership of Augustina Droze, which now hangs at the corner of Grant and Auburn streets. Buffalo State Art Education Americorp Students led afterschool and summer programs in visual arts at the Community Academic Center on Grant Street for refugee children. Museum Studies and Media students from Buffalo State University respectively mounted Buffalo Public School student work for display in area business storefronts, and documented the entire project on film. Through this project, visitors, residents, college students and faculty, and local business owners collectively celebrated the individual and family narratives of area residents. The final work products creatively applauded and detailed the positive contributions immigrants and refugees have made to the quality of life of Buffalo's West Side.
---
[THE PROJECT] ENGAGD THE ENTIRE COMMUNITY...AND CELEBRATED THE WEST SIDE AS A RESILIENT AND MULTIETHNIC COMMUNITY. WE SEE THIS AS A CATALYST TO SUPPORT AND STRENGTHEN THE COMMUNITY COHESION, WHICH IS OFTEN LINKED TO ECONOMIC VIBRANCY IN AN AREA. - John Siskar, Senior Advisor for Educational Pipeline Initiatives at Buffalo State
---
ANTICIPATED IMPACTS:
Since the mural's unveiling we have regularly heard from various community groups how the mural has become a symbol representing the vitality of the West Side and Grant Street. The mural has helped to create a prima facia reminder of the many cultures of the West Side through its visual representation of the people who live and work there. With the mural and related student and community art activities telling the stories of immigration and refugee experiences, more than just the Grant Street landscape changed. Through the language of art and the power of community engagement, this two-block segment of Grant Street gained a voice and become the city's Global Village, home to neighbors from all over the world. Area business owners and families continue to work together to build community with annual festivals in December and June, and residents and business members advocating together for the betterment of the district.
---
THIS ARTS-IN- COMMUNITY PROJECT...GAVE US THE OPPORTUNITY TO EXTEND UNIQUE ART AND STORYTELLING EXPERIENCES WITH OUR STUDENTS...THE VALUE OF THE LEARNING THAT CAME OUT OF THESE RELATIONSHIPS HAS BEEN INVALUABLE! - Michele Agosto, Supervisor of Curriculum in Art for the Buffalo Public Schools
---
UNEXPECTED IMPACTS:
Many organizations and news outlets have asked for permission to use the mural in their publications. In the past two years, the mural has been featured in a number of articles about public art and economic development around Buffalo. Business owners, including the manager of the nearby 7-11 and the owner of Lorigo's Meating Place, have reported that the mural has created more foot traffic, which has in turn increased sales. Additionally, several businesses have opened within a two-block radius of the mural, including a record store, book store, raw juice bar, coffee shop, art gallery, African immigrant run women's clothing store, and an African immigrant run cellular phone and technology store. Young Audiences and Buffalo State College have continued working together collaboratively, and look to build youth development programs together throughout the community in the future.
Resources:
Four Story Mural Celebrates Grant Street Area Residents
Buffalo News (April 15, 2015)
Young Audiences of Western New York
City of Buffalo
Buffalo State College
Buffalo State College's Community Academic Center
Buffalo Public Schools District
West Side Business and Tax Payers Association
Augustina Droze
Brill & Baczkowski
Max Collins
Augustina Droze
Ismail & Co.
Ellen Melamed
Candace Keegan-Masters
Meg Knowles
Brian McAlonie
Kathy Shiroki
Maureen McCarthy Sondel, Community Academic Center
Dominique Miller, Young Audiences