Missoula, MT: Writing Lives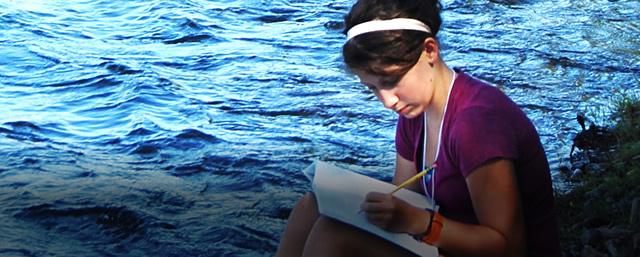 How can creative writing be used to help children connect with and understand their natural and urban environment?
Missoula has a rich literary tradition, with many writers having taken up residence amidst its inspiring beauty. In its public schools, though, creative writing instruction has tended to be piecemeal, with some schools able to afford it and others leaving it aside. The Missoula Writing Collaborative set out to fill those holes, developing a program, Writing Lives, that would place professional writers in 4th grade classes across the city. Like the many writers in Missoula's history, the students would treat the local context itself—the city and its natural surroundings—as the subject of their work.
PLACE:
Set at the junction of five mountain ranges, Missoula, Montana is defined as much by its surroundings as it is by the city itself. On the banks of the Clark Fork River near its confluence at the Bitterroot River, and with easy access to trails through mountains and valleys, Missoula offers abundant recreational possibilities. The city has a population of nearly 70,000 people, although population numbers shift with the rhythm of the academic year since it is home to the University of Montana.
---
INSPIRATION FOR CREATIVE EXPRESSION IS ALL AROUND US, IN EVERY ASPECT OF OUR LIVES. -MWC Executive Director Megan McNamer
---
COMMUNITY:
Writers have long been inspired by the city and its surroundings. As Sheryl Noethe, Montana's poet laureate from 2011-2013, says, "Missoula is a city immersed in the natural world. There are mountains on all sides, eagles and hawks wheel over the rivers, deer wander our yards at night, and we wake to warnings of bears in our garages and alleys. The outside here is inside all of us. Every direction one looks there is monumental beauty, and every cafe and coffee shop has its writers with laptops and notebooks. That urban/rural interaction makes Missoula rich in resources, which include young mountain-climbing, fly-fishing, bird- watching writers!"
LOCAL NEEDS:
The city's schools aim to capitalize on the unique characteristics of Missoula, as a hybrid between natural and built environments. Like many schools, though, they do not always have the resources they need to meet their vision. With the existing creative writing curriculum, primary schools have had to take more of a patchwork approach rather than having a consistent program across all schools. The Missoula Writing Collaborative (MWC), a nonprofit organization that teaches critical thinking through creative writing, set out to supplement writing instruction and provide children the opportunity to understand the art and craft of working with words. The group places professional writers in school classrooms to work with students. The problem, however, is that some schools are not able to pay the fee for this service, reinforcing the inequitable access to writing instruction and the need to make these opportunities increasingly available.
VISION:
Seeing the value of creative writing as a vehicle for students to become critical thinkers by better understanding their natural and urban context, MWC and the school district saw an opportunity to develop the innovative writing curriculum more universally. The group envisioned the opportunity for every 4th grade classroom to have access to MWC's writing curriculum and instructors. This program would allow students to engage with their unique surroundings and discover their own skills to express their thoughts and ideas.
PARTNERSHIPS:
Though there were institutional partnerships arranged between MWC and schools and the school district, the heart of the collaboration took place between individuals, as school teachers would partner with MWC instructors. "We appreciate how teachers have invited us into their classrooms," said Megan McNamer, MWC Executive Director. The program developed a few key partnerships outside the school system as a way to get students access to places and expertise in the natural and urban environment. The Watershed Education Network and the Montana Natural History Center, for example, introduced the students to material about their surroundings to inspire their writings. The MPG Ranch, a private conservation property, taught students about river habitats and migratory birds, and the Fort Missoula Historical Museum introduced students to the history of human settlement in Missoula. The University of Montana provided valuable support with interns to assist in the classrooms, as well as providing meeting space.
LOGISTICS:
The program—Writing Lives, as it was called— paired a MWC writer in 4th grade classrooms across nine Missoula primary schools. The process included both focused writing sessions in the classroom, but also outings to sites in and around the area. Instruction included different writing forms—poetry, fiction, and non-fiction—and different topics—environment, history and memoir. Most events took place at school during class time, so MWC instructors had to coordinate very closely with teachers so as not to interfere with school schedules and teacher plans. As a way to engage the students with a broader audience, MWC also coordinated a series of public readings and poetry slams, and each school published a compendium of students' writings as anthologies.
ANTICIPATED IMPACTS:
As intended, the students received focused instruction in writing and in a range of other subjects relating to their local environment, produced a collection of writings, and published a citywide anthology. As students found they could express the uniqueness of their home through creative writing, they embraced it as their voice to the world. By the end of the project, students were readying original work on stage at TEDxUMontana and sitting on panels at the Humanities Montana Festival of the Book. They saw themselves as writers among writers, part of a vibrant writing community that included all ages.
UNEXPECTED IMPACTS:
Although it wasn't planned for at the outset, MWC was able to implement an unanticipated collaboration with a school in Nicaragua. Students had become interested in the fact that the Montana raptors they learned about migrate to Nicaragua in the winter. Students in each country wrote about the same environmental phenomenon and then shared their work via Skype video exchange. This exchange allowed for a bilingual component of the nature writing program based on the migratory pattern of the raptors. Though it began as a very site-specific program (writing about Missoula's unique environment), it grew into an international experience that allowed students to appreciate Missoula and another culture simultaneously.
Resources:
"A Poem for the End of Summer": Participant Poem
Feature on Montana Public Radio
The Missoula Writing Collaborative Blog
Blog highlights work of the program and participants
Free Saturday Workshops.
Summer Camp Field Trips - excursions include river studies with the Watershed Education Network.
Readings – an annual "book launch" for the Words With Wings anthology.
Parades – Missoula is a parading town. Young writers took creative writing to the streets at the Homecoming Parade and the Festival of Lights Holiday parade.
Free After-School Creative Writing Workshops.
A Celebration Run  - "Up and Running" -- a 5K run for area students and their friends and families.
Missoula County Public Schools
Pleiades Foundation