Montgomery, NY: Arts and Agriculture Transforming Orange County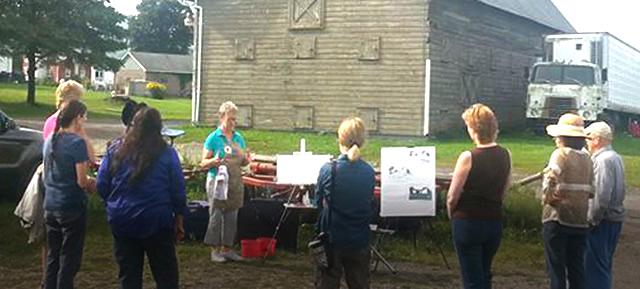 How can artists and farmers work together to expand the local rural economy?
Montgomery, NY, has a longstanding agricultural tradition, with families that have farmed in the area for generations. At the same time, the area has strong roots in the history of American art and is now becoming a magnet for a growing population of contemporary artists. The Wallkill River School, a nonprofit artists' cooperative based in Montgomery, has been working on an initiative to develop programs that would mutually benefit farmers and artists. Its plan involved a series of public charrettes to identify potential strategies for economic development, a study of the economic impact of the arts, workshops to bring together the town's diverse population, and a strategic plan to integrate agriculture and art.
PLACE:
Nestled in the Hudson River Valley, the town has long defined itself based on the waterway. Rich alluvial soils have allowed for abundant agricultural activities, while the scenic land formations that surround it have long inspired artists. Because of the scenic fall foliage, the views of the Hudson, and its proximity to New York City, the Hudson River School of Art took hold throughout the region in the mid-19th century and artists have been based in Montgomery ever since. Just shy of 4,000 people, the town is about 60 miles to the north of New York City, making it an easy travel distance from the city for those who come to visit the local farms and orchards and stay overnight at the local bed and breakfasts. The Wallkill River School, which led the NEA Our Town grant project, was incorporated as a nonprofit organization in 2008. It aims is to support the local arts community while helping to create connections between artists and the local agricultural community.
COMMUNITY:
Though the Montgomery community can be generally broken down into two main groups—agriculture and art—the reality is much more nuanced. The farming community not only consists of small "mom and pop" farms, but also agricultural enterprises on a larger scale. In Orange County there are 642 farms with some open to the public and others kept completely private. The artist community is similarly diverse, ranging from those who have small, local clientele to artists who are actively engaged in public events and who have regional and international audiences. Previous studies have indicated that arts in Orange County generate $16.13 million in local economic activity and that it supports nearly 350 full-time jobs.
LOCAL NEEDS:
Montgomery has seen its share of tension stemming from the fact that the community is comprised of these two very different constituencies. To further complicate matters, the town has registered unprecedented population growth over the past decade, with an increase of new residents who may not fully appreciate Montgomery's complex history. Following the 9/11 tragedy, in particular, the town saw an influx of New York City-based artists moving north. That increase in real estate demand caused economic pressures for some community members who had lived there for many years.
VISION:
The Wallkill River School project wanted to address these tensions by focusing on supporting already successful partnerships between artists and farmers and by finding new opportunities for these two groups to collaborate. The school's founder Shawn Dell Joyce and her partners set out to think innovatively about addressing the town's challenges. Not only did the project aim to bridge some of the cultural divisions between professionals, it also set out to create connections between higher- and lower-income individuals by stimulating economic development across all groups. At its core, the project's vision affirmed the unique characteristics of Montgomery and sought to expand cultural tourism and the local economy by marketing for products made by Montgomery residents--both artists and farmers.
---
OUR ARTISTS ARE BUYING MORE FOOD FROM LOCAL FARMS, AND LOCAL FARMS HAVE BEGUN TO COLLECT ART. - Shawn Dell Joyce, project mmanager
---
PARTNERSHIPS:
Wallkill River School director Shawn Dell Joyce led the project. As an artist and a newspaper columnist with a focus on sustainability and local economy, Joyce had an extensive professional network already in place. The school's members—223 artists, farmers, and community members—were engaged throughout the process. Key to Dell Joyce's success was a combined strategy of creating a larger coalition focused on implementing the plan, along with working closely with artists to run the workshops. Throughout the process, broad community involvement was key and the School worked to form close ties with Parent Teacher Associations, restaurants, farmers markets, art spaces, and hotels.
LOGISTICS:
To meet their goals, the Wallkill River School outlined a four-part plan. The first strategy was to implement of a series of charrettes and public meetings, which would mix farmers, artists, and stakeholders together to come up with a vision that would benefit all sectors of Montgomery. After the charrettes, a planning study on the economic impact of the arts helped to communicate the value of art in accessible and quantitative terms. The third component included expanding an already successful series of outdoor art workshops that helped bring people from the cities to the farms. The fourth element focused on identifying ways to formalize the relationship between the arts and agriculture by enhancing the city-to-farm connection and by integrating strategies into the county's economic development plan. One such relationship was formed by working with farmers at the New York City Union Square Farmers Market to promote the group's classes and art. The School is also working on efforts to support arts/agriculture relationships through a small county grant program.
ANTICIPATED IMPACTS:
The project team was able to meet many of their initial goals. They were successful in creating diverse community gatherings that brought together people from different industry types and income levels. "Our artists have become more inclined to buy from local farms and local farms have begun to collect art," Joyce says. Those farmers involved in the project reported a noticeable increase in foot traffic, and artists reported a significant boost in sales and an enhanced community awareness about their work. Increased economic activity outside the program itself—at restaurants, shops, hotels—was also noticed anecdotally (but has not yet been quantified). Project organizers have seen an expansion in demand for produce from Montgomery area farms and an increase in open-air painting, which has long been a Montgomery area mainstay. Looking toward the future, a Farm/Art Trail, which pairs artists with farms, has been planned and is currently in its second phase.
Number of Original Artworks: 5533
Number of Project Workshops: 2233
UNEXPECTED IMPACTS:
Not everything in the project always went as planned. Though some resistance to the plan was anticipated from the outset, organizers were surprised at how much resistance they had to overcome at times. Artists often expressed that they didn't want to work on farms, and farmers were often too busy to meet with artists. However, with continued community involvement and the benefit of noticeable progress, this reluctance faded. Organizations and community members not originally involved in the planning phase committed to joining the process. Sites and venues not identified in the initial plans emerged and became popular spots for the programs. Much to the organizer's delight, some farmers, on their own accord, have even started reaching out to artists to offer exhibition spaces for their work.
Resources:
Orange County Planning Commissioner - offered economic impact guidance
Orange County Tourism and the Orange County Citizen's Foundation - provided help with the charrette initiative
Orange County Arts Council - helped with communications
Orange County Land Trust - advised on regulatory issues
Most additional project funding came in the form of in-kind support that was raised by the project partners as part of their annual budgets.