San Jose, CA: Silicon Valley Inside/Out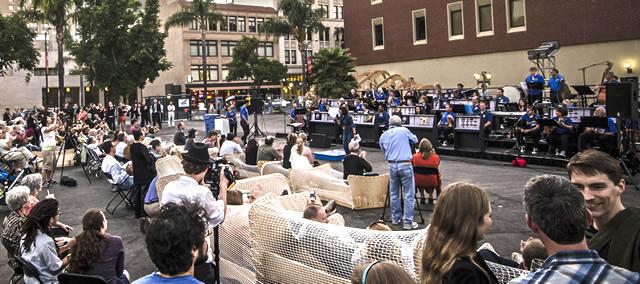 How can a city use art to help foster relationships between arts organizations and technology companies?
San Jose, the capital of Silicon Valley, has no shortage of creative residents. But its population tends to be very focused on technology, spending long hours in offices working on specific digital programs and applications. The city wanted to apply that same creative approach to its urban fabric, transforming the downtown area from a place to work into a vibrant community, where art installations would encourage technology workers and residents to intermingle.
PLACE:
San Jose, the center of California's "Silicon Valley," is the country's 10th largest city with just under one million residents. The city is recognized as an international leader in technology innovation, evidenced by the fact that it is the top city in U.S. patent generation. It is home to more than 6,600 technology companies, which collectively employ more than 254,000 people. In the midst of this technological innovation, the city is promoting the arts as an added vehicle for economic development. Several plans address this ambition, including the San Jose General Plan's Envision San Jose 2040, the Economic Strategy 2010, Cultural Connection: San Jose's Cultural Plan for 2011-2020, and Public Art Next! As a way to formalize this commitment to the arts in the downtown area, San Jose has created what it calls the SoFA District (for "South First Arts").
COMMUNITY:
The downtown area has a large community of employees who work in the technology sector. It also has a broad resident base, including a wide cross-section of incomes and ages, as well as a diverse array of ethnicities, including Latino and Vietnamese. There is also a large number of visitors, driven mainly by the downtown Convention Center, which attracts 450,000 people each year. In 2006, ZERO1, a local art and technology organization, launched the 01SJ Biennial of Art & Technology, which brought in over 20,000 people over a seven day period to view 250 art installations. This event has served as a successful platform in linking the city's robust technology community with the cultural landscape and reinforced the city's plan to emphasize its downtown area as a vibrant site of cultural opportunities.
LOCAL NEEDS:
San Jose is an undisputed center for technology innovation, and the city wanted to continue nurturing this position by drawing companies and talent to the area. The city also recognized, however, the need to continue developing the area's livability, ensuring it was more than just a place to work in an office. The city needed to connect workers with residents, the technology sector with other industries, and highlight the arts and culture landscape that makes San Jose so unique.
VISION:
To take on this challenge, the city's Office of Cultural Affairs (OCA) proposed an arts-based initiative, Silicon Valley Inside/Out (SV I/O). The initiative would promote partnerships between artists and technology companies, uniting together their creativity. OCA set out to stimulate innovation in such a way to explore new ways of experiencing and sharing the city. Artists would contribute to technology innovations to explore how an interactive city might function. As ZER01 Executive Director Joel Slayton said, "place is critical, and the realization of SV I/O provides us with a unique opportunity to demonstrate how arts organizations have the ability to stimulate cultural and economic sectors, and inform the changing nature of collaboration, experimentation, and invention." Art initiatives would become platforms to support an ongoing and future dialogue surrounding these issues.
PARTNERSHIPS:
OCA, which instigated the project, worked closely with ZER01 and the City of San Jose Public Art Program. ZER01 coordinated the selection of artists and oversaw the public installations. They also led the marketing and public relations efforts. The city helped with the extensive permitting that was needed to implement the projects. "The different responsibilities were identified early on," said OCA Director Kerry Adams Hapner. "The partnerships were critical—we always kept each other informed on a regular basis."
LOGISTICS:
SV I/O was a multi-pronged initiative with many moving pieces. OCA, therefore, created a Strategic Advisory Committee, which served as a "brain trust" for the project. The committee was informed by a community charrrette at the outset of the project as a way to ensure the community's aspirations were reflected throughout the process. The committee launched an open call for artists that was aimed at identifying creative partners for both temporary and permanent installations throughout the downtown area. They worked closely with the city to clear any permitting hurdles involved in adding structures to the public domain. Programming dovetailed with existing initiatives, including the 2012 Biennale and the programming that ZER01 already had in place. Continual community outreach—through public meetings and social media—kept the conversation open between organizers and the public.
ANTICIPATED IMPACTS:
The project resulted in an arts masterplan for the downtown area, linking technology and culture. Three permanent technology-activated public art projects went up at different sites downtown, while a series of temporary projects animate different public spaces throughout the city. SoFA now has a more distinct brand identity, since it is associated with this SV I/O initiative. Because the program is so dynamic, one of the biggest measures of success has been the fact that it has become a platform, or a model for other subsequent arts- or technology-related programs. "The platform idea is definitely continuing in our ongoing efforts," said Hapner. "Platforms allow for flexibility and lots of different types of expression." Organizers plan to undertake an economic impact analysis, measuring the effects of SV I/O on the local economy.
UNEXPECTED IMPACTS:
Organizers report that local businesses and residents now ask for more arts programming and opportunities, an encouraging indicator of the success in bridging the relationship between art and business. There have even been unsolicited offers to partner on future arts initiatives. Though there has been an added presence of art throughout the area, the ability for artists and art organizations to get permanent space has still been challenging. "As part of the activation strategy, we had hoped to see increased leasing in the area," explained Hapner. "While there has been some forward movement on this front, other market forces are at work that impede this progress." To work around these pressures, SV/IO and ZER01 are pursuing temporary pop-up strategies as an alternative. Altogether, the area— including artists—is moving in a positive direction. As Hapner said, "all ships rise together."
Resources:
Defining Creative Placemaking
NEA Arts Magazine (2012 3)
ZERO1 Biennial
Online home of the arts showcase
ArtHere - a collaboration between 11 businesses and artists to create site specific projects
ColoniaTecne by BIOS Design Collective:  - an interactive pavilion that translated movement throughout the space into light and sound
Sky-Fi by Rebar - an outdoor suspended light installation
The Great Room - an outdoor projection screen
Datagrove by Future Cities Lab - a temporary sculpture that captured local trending twitter feeds and incorporated them visually and sonically into the artwork
iLounge by Mona El-Khafif and Marcella del Signore - an outdoor interactive seating module 
Idea Tree by Soo-in Yang's  -a sculptural gateway into the San Jose McEnery Convention Center
San Carlos Lantern Project by Steve Durie and Bruce Gardner -  LumiLEDs connecting the SoFA district to San Jose State University and the Convention Center