Dallas, TX: Activating Vacancy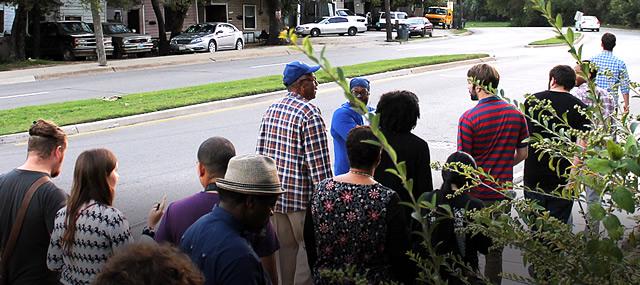 How can design and art help to reimagine neglected spaces and preserve a forgotten neighborhood?
Sparking dialogue about what the neighborhood is, was, and could be, artists and designers were commissioned by buildingcommunityWORKSHOP—[bc]—to immerse themselves in the Tenth Street Historic District community of Dallas, TX. Working collaboratively with residents and stakeholders, they developed and executed projects that investigated, strengthened, and shared the community's unique history while planning for its renewal and growth. Collaborations included installations, performances, and other artistic actions that explored the cultural, social, political and economic life of this historic neighborhood.
PLACE:
Recognized on the National Register of Historic Places and by the city of Dallas as a Landmark District, Tenth Street was founded as a freedmen's town shortly after the Civil War. As a result of segregation, the neighborhood was driven to self-sufficiency, and Black businesses, churches, and families thrived. When integration opened opportunities in newer suburban areas and South R.L. Thornton Freeway (I-35E) was forced through the heart of the area, the neighborhood began to decline.
COMMUNITY:
Today, the Tenth Street district is one of Dallas's oldest and most culturally significant neighborhoods. It is Dallas' oldest intact freedmen's town, and its history is at great risk. The neighborhood has 440 residents, 80 percent of which are considered low to moderate- income, and is subdivided into 358 parcels of land. Nearly 150 of the parcels and many houses are vacant. These high vacancy rates make the Tenth Street Historic District unlike any other historic district in the city of Dallas. Despite these challenges, the neighborhood is striving to revive its identity and retain its heritage in the face of demolition and disinvestment.
LOCAL NEEDS:
Even though Tenth Street is a recognized historic district, historic preservation efforts have been largely unsuccessful. Over the past twenty years, approximately one quarter of the housing stock has been demolished, including the historic Sunshine Elizabeth Chapel C.M.E. Church, which was built in 1889. The loss of these historic structures coupled with increasing vacancy threatens the unique social and historic fabric of the area, and contributes to a strong perception of urban blight in the Tenth Street Historic District. Through design charrettes and community meetings, the
VISION:
Activating Vacancy was designed by [bc] in conjunction with the Tenth Street community and local artists to explore how design and art can reimagine these forgotten or neglected spaces and spark dialogue about what the neighborhood is, was, and could be. Artists and designers were commissioned by [bc] to immerse themselves in the community, working collaboratively with residents and stakeholders to develop and execute six projects that corresponded with six main community-identified interests. These projects were meant to retain and enhance the cultural heritage of the Tenth Street Historic District, change local perceptions of vacancy from blight to opportunity, and create a framework for further artistic, cultural, and physical development in the area.
PARTNERSHIPS:
A variety of partners -- government, non-profit, academic, community-based organizations and the arts -- were involved in making Activating Vacancy activities happen. Local government was key in the organization & implementation of the grant. Local nonprofit and faith-based groups, including the Greater El Bethel Baptist Church and the American Care Foundation, assisted with outreach, provided space for construction, participated in the creation of artwork, and staged & hosted finished works. UT Arlington School of Architecture helped shape and participated in the Tenth Street Sweep, one of the six Activating Vacancy projects. Neighborhood-based artists were involved both in the production of artwork and planning of projects. Partners were pulled together from a diverse range of networks and community engagement processes. For example, [bc] had previously worked in Tenth Street as part of another NEA funded project, Neighborhood Stories, and artists were chosen by a selection panel of local experts and community members through an open request for proposals process. (A full list of partners is available in the sidebar.)
LOGISTICS:
Despite having previously been a focal area for local activists and restoration activities, by the start of Activating Vacancy, the Tenth Street neighborhood had been largely abandoned. However, many individuals in the Dallas community were still interested and involved in the survival of the neighborhood. A key element of Activating Vacancy was community involvement at each stage of the process, from conceptualization and planning, to execution and celebration. It was critical that the Activating Vacancy process not be viewed as an external intervention, but rather as an empowering neighborhood driven series of creative placemaking activities. To accomplish this, artists collaborated directly with neighborhood citizens to conceptualize arts projects through a series of charrettes. Each artist worked closely with the neighborhood to develop projects that addressed aspects of the physical, cultural, social, and economic facets of the people, history, and place. Community members helped set project goals, gave feedback on artwork proposals, and volunteered with art production. [bc], along with the artists and neighbors, acted as producer and community liaison for the art projects. [bc] was an ideal community liaison as its prior experience working in the neighborhood meant it had contacts in and the trust of the neighborhood, and could therefore fairly easily engage neighbors in the process.
ANTICIPATED IMPACTS:
The broad anticipated impacts of Activating Vacancy were increased neighborhood cohesion, awareness of the variety of physical, cultural, and social vacancies that exist in the neighborhood, and creative, citizen-led engagements to address the vacancies. Each Activating Vacancy project addressed a number of these historic vacancies, allowing the neighborhood to share and create a detailed, personal, social, cultural, and architectural history of the place. Projects included The Ark on Noah Street, Story Corners, Show Hill Biz Park, Dear House, Ghost Bridges, and Tenth Street Sweep. These six temporary art installations, and a comprehensive framework document for the future of the area, succeeded in enhancing the cultural heritage of the Tenth Street Historic District and increasing its livability. Livability was increased in a number of important ways: 1) The community was inspired and supported in coming together; 2) Residents were provided empowerment and entrepreneurial training through art, as seen through an increase in the number of personal activities, including small businesses and political activism; and, 3) detailed maps and lists were created of areas in the neighborhood that need immediate improvement and can be dealt with as part of the City of Dallas' routine maintenance. Lastly, as a result of the project, the Tenth Street neighborhood has become a place where local artists in the Dallas/Fort Worth region can participate in creative placemaking projects through a variety of means – festivals, entrepreneurship, and asset mapping.
UNEXPECTED IMPACTS:
Activating Vacancy's larger presence in the neighborhood catalyzed the growth of a community group known as Operation Tenth Street. The organization's increasing level of activism is an impressive outcome that was not anticipated at the beginning of the project. For instance, one neighbor became involved during the Ghost Bridges project because her children showed an interest and wanted to hang art in the pop-up gallery. Previously, she had isolated herself, partly because of visible drug dealing in the neighborhood. Without this project, she would have likely remained isolated from the neighbors. In addition to an increase in their level of community engagement, community members asserted their rights as property owners; at one point, an issue arose over the placement of a temporary art piece on a parcel of vacant private property. Originally perceived to be part of the public right of way, [bc] and a neighboring property owner and family member decided to move forward with the temporary art piece without the adjacent owner's permission. Upon discovering the artwork had been placed at their property, although already removed, the owners expressed disapproval. This incident led [bc] to formalize their process for engaging property owners. Despite the challenges that absentee owners create for the neighborhood, [bc] would not rely on neighbors, or presumed publicness, but instead would only move forward with artwork in the neighborhood with written approval from the landowner. The Activating Vacancy program is currently being expanded to Market Square in Brownsville, Texas, as well as Downtown Dallas as part of another [bc] program, Control of Public Space.
Resources:
Activating Vacancy vimeo page
21 videos of events associated with the Activating Vacancy project.
Dallas CityDesign Studio
Greater El Bethel Missionary Baptist Church
Sunshine Elizabeth Chapel
Preservation Dallas
2000 Roses Foundation
UT Arlington School of Architecture
Orr-Reed
Bruce Armstrong
Jessie Salazar
The Provost Family
Rolando Cobos
Catherine Cuellar
John Spriggins
Phillip Collins
Tisha Crear
Shaun Montgomery
Lou Nell Simms
Patricia Cox
Sara Mendez
Isaac Cortez
Alphonso Smith
Shelby Cunningham
Sarah Francis
Porter Fuqua
Jennifer Jones
Fuad Kareem
Jessie Salazar
Lou Nell Sims
Noble Sims Jr.
Joan Winter
John Winter
Giovanni Valderas
ARK ON NOAH STREET
Christopher Blay
DEAR HOUSE
Tammy Gomez, Linda Jones, Christopher Blay
GHOST BRIDGES
RabbleWorkshop, Erika Huddleston
SHOW HILL BIZ MARKET
Iv Amenti, Tammy Gomez, Benny Walker
STORY CORNER
Linda Jones, Iv Amenti, Rabbl Workshop, Erika Huddleston, Melody Bell
Cecil Armstrong
Shamarra Garman
Denise Ladd
D'ara Starkes
Shauntel Montgomery
Mahogany Dance Theater of Texas
The Desoto High School Theater Ensemble
Verb Kulture
Otis Williams
Don Bell
Lou Nell Sims
Lynne Saahir
Kathy Aziz
Jamila Mendez
Sarah Mendez
Lee Bruce
Stacey Jordan
SJ's Light Expressions
Quineka Ragsdale
Linda Michaello/Rev. Willie James Johnson
Naturally Isis
Lemetra Marin
Kendall Ferguson
Emotion Brown
Mamamade
Denise Ladd
Christopher Blay
Benny Walker
Tammy Gomez
Iv Amenti
Melody Bell
Linda Jones