Mount Rainier, MD: Art Lives Here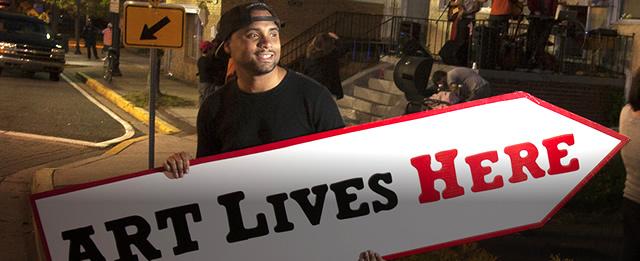 How can a pop-up arts project help reclaim a downtown's empty spaces and create a new identity for the area?
Mount Rainier, Maryland, a suburb of Washington DC, is home to a creative community drawn to the city by its proximity to the capital and its relatively inexpensive cost of living. However, the downtown area has suffered from a spate of underutilized spaces and vacancies, creating the impression of a city less vibrant than it actually is. To overcome this challenge, a coalition of cultural organizations and artists imagined an initiative that would bring performances to vacant spaces and convert empty storefronts into pop-up galleries, giving artists an opportunity to exhibit their work and residents a greater incentive to explore these areas of town. "Existing small businesses were struggling and there were high barriers for new ones moving in," said Michelle Darden Lee, Art Lives Here communications partner and Mount Rainier resident.
PLACE:
Mount Rainier, Maryland, is an 8,500-person municipality in the greater Washington DC metropolitan region, just northeast of the city. Founded in the 19th century as a streetcar suburb of the nation's capital, much of the town is on the National Register of Historic Places. With two Washington DC metro stations and many of the charms of smaller scaled early suburban communities, the area today is home to a large community of independent arts professionals.
COMMUNITY:
A diverse community, Mount Rainier has an active arts community, based largely around the Prince George's Gateway Arts District, a multi-jurisdictional economic development area including 4 towns in Prince George County (Mount Rainier, Brentwood, North Brentwood, and Hyattsville). One of its cultural hubs is Joe's Movement Emporium, a performing arts organization founded in 1995. With diverse programs in dance, yoga, and theatre, and with educational events geared to people of all ages, the place has a broad appeal. Open 7 days a week, the Emporium attracts locals, Maryland and Washington, DC, residents, and visitors from the larger mid-atlantic region. As reported by the organization, 70,000 people visited Joe's Movement Emporium in 2013.
African-American Residents: 50%
Caucastion Residents: 20%
Residents of Other Races: 30%
LOCAL NEEDS:
Though the town has a high number of historic structures, there were many unused spaces downtown that needed to be activated. Inner Beltway communities in the DC region−like Mount Rainier−suffered from suburban migration in the 1970s and 1980s, eventually leading to the demise of many small urban businesses and central city neighborhoods. Outdated commercial spaces with little or no parking found it difficult to compete with nearby strip malls. Over time, municipalities funded infrastructure and development projects that started to attract a new wave of entrepreneurs back to the city; however, not enough of these larger scale municipal projects have occurred in Mount Rainer, leaving many downtown buildings to remain empty. Additionally, Joe's Movement Emporium had reached capacity within its own facility and could not increase programming without additional space. Other partners and artists also had need for production space; regional interest in affordable studio space was high.
VISION:
Project leaders searched for ways to connect the demand for production space by these programs with the underutilized properties and public spaces throughout the community. The partners envisioned Art Lives Here, an 18-month initiative that would implement participatory art events at venues around the city. This series of events would increase foot traffic throughout the downtown area, bringing people and economic development to otherwise empty spaces. It would also begin to forge relationships between artists and local businesses, laying the groundwork for continuing collaborations beyond the initiative itself. The program would entail an array of different programs, including an open studio tour, pop-up galleries, public performances, and installations. Furthermore, a number of events directly coupled art with civic engagement (for example, facade improvements and trash pick-ups).
PARTNERSHIPS:
Joe's Movement Emporium was selected as the arts organization best positioned to facilitate the first phase of the initiative. Core partners included Art Works Now, Gateway Community Development Corporation, Hyattsville Community Development Corporation, Mingus Communications, Mount Rainier Business Association, Red Dirt Studio, and the Washington Writer's Retreat. The organizations worked closely with the City of Mount Rainier, which helped with permits and compliance issues. Brooke Kidd, Executive Director of Joe's Movement Emporium, was impressed at the support given by the city administration. "The municipal government was a fantastic partner, providing staff, marketing, visioning," she said, "they had tremendous buy-in from the beginning." Because the programs were so diverse and complex, local businesses, county agencies, and artists provided invaluable logistics and production support. For example, the pop-up galleries and other events needed rented space and DL Management contributed to negotiating reduced rents for storefront spaces used by artists and arts organizations.
LOGISTICS:
Designed as a pilot project that could be expanded in later phases, collaborating organizations held planning meetings and a community forum early in the process to determine local interests before sending three Request for Proposals for creative projects. For the artist- business partnerships, a city-appointed panel chose a roster of area artists from which participating businesses could select someone to execute a creative project in their space. With so many participants, the group held regular meetings to keep everyone on task and utilized events and social media to maximize their public outreach. "It was important to make connections with residents and businesses to find out what would be useful to them and to tap the talent in our artist community for exciting projects," said Anne L'Ecuyer, a planning partner and Mount Rainier resident.
ANTICIPATED IMPACTS:
Ten artist-business partnerships paired creative projects with businesses to better utilize storefronts and combat the high vacancy rates in Mount Rainier. More than 20 artists were contracted for work throughout the community. These commissions contributed not only to the creation of social and cultural activities, but also to permanent improvements to the urban fabric. Five sidewalk paint projects, which also took place throughout Mount Rainier's public domain, allowed residents to participate in painting artist-designed streetscape improvements. There are nine existing cultural events that take place in the community throughout the year, so Joe's Movement Emporium and project leaders also staged performances as a way to promote these regularly occurring events and increase arts-related activities throughout the community. The results of all the different projects were wide ranging, from some that were very popular and others that needed rethinking. Overall, Art Lives Here achieved its primary goal to attract interest in the art district. Shortly after the initiative began, the city of Mount Rainier attracted an important new mixed-use development project and other investments have followed since.
UNEXPECTED IMPACTS:
Businesses also began to see the economic impact of the arts. In a neighboring community, a strip mall owner hired Joe's Movement Emporium to create a pop-up gallery featuring 14 different artists, with three to five pieces each, installed over a one-month period. The exhibition generated art sales for the artists and the opening and closing receptions brought an art audience to a long vacant storefront. Following the exhibition, seven new events were offered in the space over a one- month period, including family activities and a film showing, which helped attract a new clientele to the retail stores nearby. Artists and locals felt the pop-up gallery was a great success, increasing accessibility to the arts through the exhibition and programming events in an unlikely location. Other businesses have followed suit, creating similar opportunities for artists through short-term rental agreements for exhibitions and programs beyond the Art Lives Here initiative.
Resources:
Anacostia Trails Heritage Area Inc
ArtPlace America
Busboys and Poets
Cafritz Foundation
Community Forklift
Gateway CDC
Hyattsville CDC
Mount Rainier Business Association
Prince George's County Council
Prince GeorgeCounty Arts and Humanities Council
Shelf Genie
Streetsense
Urban Eats Arts and Music Café