Marfa, TX: Drive-In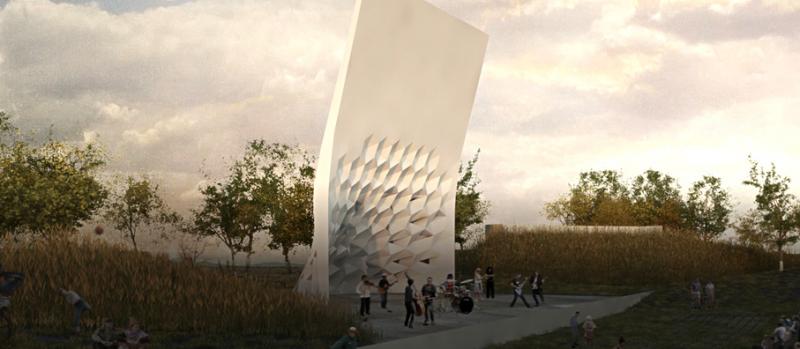 Can the creation of a large arts venue help to stitch together a small rural town?
For decades, Marfa, a small town set in the vast high desert landscape of Far West Texas, has been a destination for international art students, patrons, enthusiasts, and collectors intent on seeing the adopted home of celebrated Minimalist artist Donald Judd. A variety of arts organizations have emerged in the years since, including Ballroom Marfa, a contemporary cultural arts space established in a historic dance hall in 2003. Since 2006, the organization has been at work developing the Drive-In, an innovative outdoor venue intended to appeal to international and regional audiences, with plans to accommodate new types of programs and larger audiences from music festivals and film screenings to smaller scale community gatherings. In 2014, Ballroom Marfa's board of directors decided that the project had outgrown the original vision and that in its proposed state would require fundraising efforts that would compromise the organization's core programming priorities. As a result, the board voted to "indefinitely defer" the project.
PLACE:
Marfa is is a small town of fewer than 2,000 people in the remote high desert of west Texas. It is also an international hub of contemporary art. Situated near the Texas/Mexico border, Marfa has a majority Latino population. In addition to the tourist-related industries, its economy is based in ranching and agriculture. Its county, Presidio, is ranked as the 14th poorest in the United States. Since the 1970s, when Minimalist artist Donald Judd started developing permanent installations of his work along with his contemporaries John Chamberlain and Dan Flavin, the town's importance as a site of contemporary art has also grown. Over the past three decades artists, writers, architects, and musicians have continued to travel through and settle in Marfa. A number of arts organizations have emerged there over the years, including Ballroom Marfa, a contemporary art space that focuses on visual arts, film, music, and performance and that supports the creation of new works such as Prada Marfa. Ballroom Marfa is unique in this landscape as a non-collecting institution with a gallery space that is completely transformed for each of three annual exhibitions.
COMMUNITY:
For Marfa's approximately 2,000 local residents, everyday life is centered around more than just contemporary art; ranching, Border Patrol, and the hospitality industry (catering in large part to tourists) are the largest employers. Glaring disparities exist in socioeconomic status between locals and visitors, with Marfa's median household income hovering around $24,000. Marfa has increasingly welcomed large groups of visitors for major events. The Marfa Film Festival is always a summer highlight, attracting about 1,000 visitors; the recent XX concert at Chinati Foundation had an audience of over 500 people; and the Railroad Revival Festival brought 2,000 visitors in 2011. Ballroom Marfa hosts approximately 4,000 visitors each year, hailing from around the U.S. and abroad.
LOCAL NEEDS:
Ballroom Marfa recognized an opportunity for the arts to make an impact on the whole community by improving a public park while simultaneously realizing a unique cultural and architectural project that would attract international visitors. Presidio County lacked funds to invest in public parks, and there was an apparent need for a community gathering place that could accommodate a diverse audience of tourists, newcomers, locals, young people, and senior citizens. Even when taking into account existing venues, both public and private, Marfa lacked a permanent performance venue that could accommodate over 250 people. Large-scale concerts and festivals relied on stages and supporting facilities being brought in or built out, which was unaffordable except in occasional circumstances. Ballroom Marfa was also looking to expand its music and film programming and respond to artists' desire to perform in the breathtaking Far West Texas landscape.
VISION:
As a way to address these institutional and civic objectives simultaneously, Ballroom Marfa proposed an outdoor venue that would allow the organization to expand its scope, while providing a large, open community gathering space. In a public park, with views of the surrounding grasslands and mountain ranges, Ballroom Marfa conceived a drive-in movie theatre. The goal was to combine the American cultural and architectural tradition of the drive-in with the vanguard spirit of Marfa, while at the same time creating a venue to be used by the whole community. The Drive-In would push the outdoor movie theater into the 21st century, commissioning a cutting-edge architecture firm to design the structures. Ballroom Marfa went into partnership with Presidio County in February 2011 to explore locations and came to the decision to base the project at Vizcaino Park. In May 2012, Ballroom Marfa was granted a 99-year lease of a 8.35-acre site within Vizcaino Park's 21 acres. Assisted by Presidio County, Ballroom Marfa met with local community leaders and surveyed the public to gather information about what programmatic elements were most important in the park and how the Drive-In might be located and oriented.
PARTNERSHIPS:
The Drive-in is a public-private partnership between the Ballroom and Presidio County. From the outset, architecture and design was central to the vision of what this project should become. As such, Ballroom Marfa tapped MOS Architects, a New York-based firm, to develop the structure and OLIN, a Philadelphia-based landscape architecture company, to help develop the park site. Since the Drive-In's inception, Ballroom Marfa has also turned to Josh Siegel, a film curator at New York's Museum of Modern Art, to lead the conversation about future film programming. The Drive-In project led Ballroom Marfa to collaborate with the Marfa Chamber of Commerce, to bring Tejano superstar AJ Castillo to Vizcaino Park for the 2013 Marfa Lights Festival, and to work with Presidio County 4-H for a concert by Doodlin' Hogwallops at the county fair. Ballroom Marfa used this planning and design process to lay the groundwork for future Drive-In programming. Though the Drive-In project was deferred in 2014, many of the local programming partnerships that were developed over the course of its planning remain intact and will inform the organization's future community outreach efforts and its continued use of existing performance spaces.
LOGISTICS:
Ballroom Marfa secured a 99-year land lease from Presidio County. In exchange, Ballroom Marfa would name and operate the 8.35-acre lease area as Vizcaino Park. Because the site was a significant space for many residents, the Ballroom held community meetings to understand the types of recreational and arts-related programming the local community wanted. MOS and OLIN devised the designs for the Drive-In and the site and worked with the design firm Son & Sons to develop a consistent graphic identity for the project. MOS did a full-scale prototype of the drive-in screen, testing different configurations and designs. Throughout the planning phase, the Ballroom worked with their visual arts and music curators to come up with creative approaches to programming the venue. While design and construction documents are complete, further development of the Drive-In is currently being deferred while Ballroom Marfa's board of trustees explore the timing and the financial feasibility for the organization to raise up to $4.5 million for its construction.
ANTICIPATED IMPACTS:
If construction is completed, the Drive-In will provide open public space at Vizciano Park for the entire community to use. The Drive-In itself will offer alternative forms of art to both the local community and contemporary art audiences. The form of the amphitheater, a decidedly contemporary construction, will rekindle the spirit of community that once surrounded the original drive-in. By providing a new and large-scale cultural offering, the Drive-In could encourage the expansion and creation of new businesses in the surrounding area. Standing to draw large potential audiences, the project could also catalyze regional and community economic development.
UNEXPECTED IMPACTS:
New ideas for participation have been sparked throughout the Drive-In planning process. Ballroom Marfa's former Deputy Director Melissa McDonnell Luján and designer Jack Sanders have been discussing a local version of Sander's Design Build Adventure, a week-long camp where community members could directly participate in the design and construction of certain park elements. According to Luján, "a project like this would pay homage to the past Marfa generations who gave so much of their own time and materials to initially build Vizcaino Park." Over the years, Ballroom Marfa's programming has been shaped around its historic dance hall space and the Crowley Theater. Even in the initial stages of planning its Drive- In site, Ballroom Marfa was able to undertake a realignment and expansion of its programming. While the Drive-In originally synthesized ideas of architecture and arts programming, Luján expressed that this has been a challenge for the project. After design, Ballroom landed at a construction cost higher than what had been desired, but fair in consideration of what the Drive-In included. Through their work with external consultants, they identified the need to raise an endowment so that Drive-In operations would not be an annual fundraising burden on the staff. Both the real costs for construction and the endowment have prompted the Ballroom Marfa board to take a harder look at the financial burden of the project. Their lesson learned: an organization needs to understand not only the financial cost but also the time and energy a capital campaign takes and how such efforts will impact their existing projects and programs.
Resources:
Ballroom Marfa
Online home of organization
Talk at Ten: Ballroom Marfa Drive-In
Local radio interview with Ballroom Marfa staff about Drive-In