Last Chance, CO: Gran's University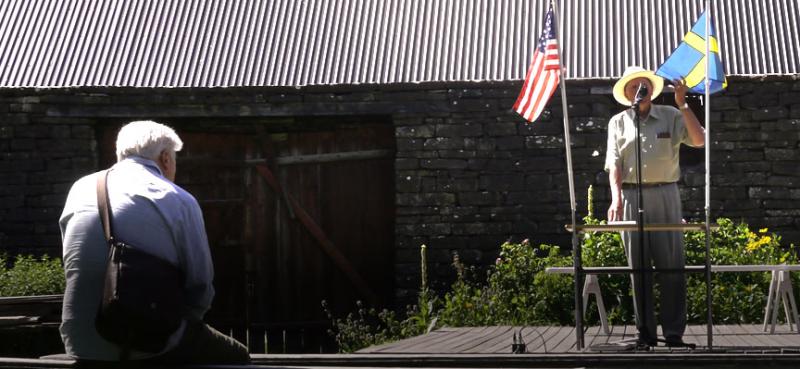 What role can the arts take in harnessing the wisdom of rural communities?
For a rural community in Colorado's Eastern Plains, the out- migration of younger residents who were more interested in living in larger cities presented a threat to the local culture rooted to this agricultural region. Significant cultural practices—food, art, and crafts—were at risk of becoming lost. To counteract this trajectory, M12, a Colorado-based art and architecture collective, created what it called Gran's University, a place that would provide residents a chance to make and explain their products rooted in local and family traditions.
PLACE:
With fewer than 20 residents, Last Chance is the smallest community funded through Our Town. Founded in 1925, along U.S. Highway 36, it got its name as the only place to get provisions for many miles. An agricultural outpost set amidst the vast stretches of Colorado's Great Plains, the town is 100 miles due east of Denver. Family ranches spread out across the landscape, interspersed with farms whose principal crops are corn, oats and wheat. Its county—Washington—is a sprawling 2,523 square miles with a population of nearly 5000.
COMMUNITY:
When the interstate highway system was implemented after WWII, the routes bypassed Last Chance, severing it from one of its main sources of economic activity. Even though Last Chance has always been a small, rural town, its population has recently dwindled under the strain of a sluggish economy and a younger generation moving to bigger cities. Over 90% of the farms in Eastern Colorado are family farms, so this out- migration has not only caused economic challenges but also it has also represented a significant social and cultural shift.
LOCAL NEEDS:
At risk of losing the continuity of the area's cultural practices due to the out-migration of many younger residents, the town perceived a need to preserve the unique culture of the place. It needed to pass on local knowledge. There was also a need to connect Colorado's urban communities to the state's significant agricultural heritage by increasing awareness of life on the Great Plains. Often referred to as the "fly-over" zone due to its remote location, Last Chance residents wanted to draw Coloradans from other communities and cities. Recognizing arts and culture as an integral component of a thriving economy, new partnerships between locals and visitors were needed to stimulate development and embrace cultural traditions.
VISION:
M12, a collaborative studio of artists and architects based in Colorado, envisioned a program that would develop initiatives to support site-specific cultural practices. They developed the vision by driving the region's flat ribbons of highway to interview locals about what they wanted to see in their community. Gran's University, as the group called the idea, would provide a forum for Last Chance's grandmothers to make and discuss wares and foods, such as traditional quilts and rhubarb pie. They called the specific initiative "Ornaments of Knowledge," emphasizing the critical role that made objects have in transmitting knowledge and cultural continuity from generation to generation. M12 sought out this cultural production and, in doing so, featured the beauty of rural, cultural heritage.
PARTNERSHIPS:
Based in nearby Byers, Colorado, M12 is itself a collaborative studio, more a collective of practitioners than a hierarchical office. Because of this, partnering is in the DNA of the group. For Gran's University, M12 worked closely with Washington County. The three county commissioners became personally involved, leveraging their personal relationships to help facilitate the project. For community engagement and outreach, M12 collaborated with Swedish art collective Kultivator, also experienced in working in rural areas with small farming communities. The University of Colorado provided support to the project through interns. Of course, Last Chance residents were the main partners, volunteering to get the project implemented and becoming participants in the programs.
LOGISTICS:
M12 conducted extensive informal interviews with residents to determine the community's concerns and aspirations. Once the program was identified, the group first set out to make the "hardware"—a space where Gran's University could meet, then it set out to implement the "software"—those programmatic elements that would structure the group's time and process. The hardware was designed as a mobile unit, allowing the group the flexibility to travel to other sites. Working with Kultivator, many planning meetings were arranged over Skype to allow everyone to participate from afar. Kultivator traveled to Colorado for a two week research trip and returned for a one-month residency to carry out the project. Local Colorado meetings had to be scheduled carefully since some "neighbors" would have to travel up to 100 miles.
ANTICIPATED IMPACTS:
Gran's University engaged over 150 people from five remote towns in Washington County, using the mobile structure they built to help facilitate community meetings. Many residents were able to make and explain the food, arts, and crafts that their families have done for generations. The group estimates that over 600 people visited the installation from out of town. These exchanges contributed to the preservation of rural knowledge and tradition, bridging distances across the region and generational gaps within families.
---
M12 FOUND THAT ARTISTS' WORKING IN RURAL COMMUNITIES CAN VALIDATE TRADITIONAL WISDOM AND CULTURE SIMPLY BY BEING PRESENT AND LISTENING.
---
UNEXPECTED IMPACTS:
Though they expected to turn up a number of cases of local knowledge, they were impressed with how deeply rooted many of these local cultural practices were. "One of the participants made a rhubarb pie," said Kirsten Soltz, M12 Program Director. "She talked about how her grandparents homesteading to the area many, many years ago and that they had brought the rhubarb plant with them. Her family had been taking care of that plant for over 100 years, and we were able to taste this year's harvest." Based on the success of the Gran's University, M12's Swedish collaborators Kultivator implemented a similar project in a remote part of Sweden. Called Elder's Hill, the project is inspired by the 19th century vernacular houses in Sweden, and it aspires to the same objectives as the Colorado project.
Resources: