Team: Ashley Dilorenzo & Mateo Lizcano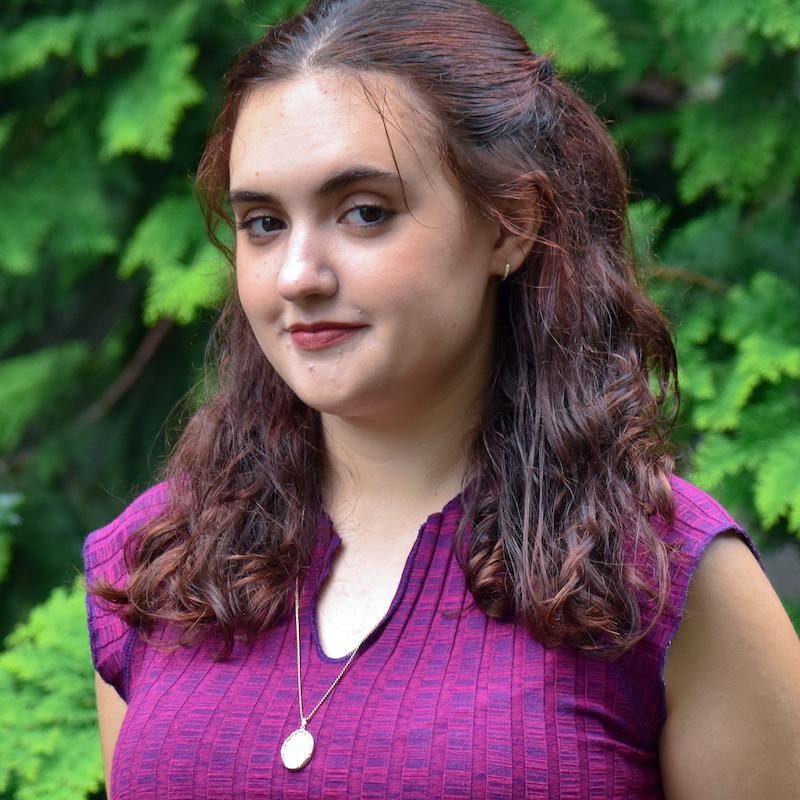 Maspeth, NY/Flushing, NY—Frank Sinatra School Of The Arts High School (Senior/Junior)
Ashley DiLorenzo is an actor, singer, writer, and storyteller currently pursuing a B.S. in Media/Screen Studies and Theatre at Northeastern University in Boston. Some of her favorite acting roles include Woman 2 in Songs For a New World (Roger Rees Award Nominee), Tracy in Hairspray, and Julianna in The Other Place. At Frank Sinatra School of the Arts High School, she discovered her love for playwriting and met her writing partner for the Songwriting Challenge, Mateo Lizcano. Some of her plays (Hopefully: An Ethnodrama and Someone Should've Told Me) have gone on to festivals or received professional staged readings with TDF (Theatre Development Fund). She hopes her work can bring people as much joy as creating it gave her. She'd like to thank God, her family, friends, and teachers for constantly offering their support, love, and words of wisdom.
Mateo Lizcano majors in vocal studies, participating in Chamber's Singers/Concert Choir and the school musical theater program. His credits include Songs for a New World (Man 1), Hairspray (Link) and Phantom of the Opera (Raoul). He is a recipient of the New York Film Academy College of Visual and Performing Arts Talent Award for his performance in Songs For a New World. He discovered his passion for writing during the pandemic, when he began writing his own songs, as well as a musical with his friend, Ashley DiLorenzo. He is currently working on an EP and will be releasing his first single in the near future. Mateo is grateful to his family and friends for all their love and support.
"Birdy-Lingo" by Ashley DiLorenzo & Mateo Lizcano
Music Director: Daniel Lincoln
Mentor: Zeniba Now
Vocalist: Chris McCarrell
Musicians: Rose Van Dyne, Elena Bonomo, Ron Gardner, Monica Davis, Ada Westfall, Jeremy Clayton, Jennifer Hinkle
It is 2019 and Humphrey, a 13-year-old boy is sheltering in a storm bunker during a Florida hurricane. Humphrey struggles to make friends at school, but he has discovered the language learning app, Birdy-Lingo (modeled after Duolingo) and the owl that is the app's mascot. Humphrey becomes consumed with learning languages with the goal of using them as a way to make international friends. He sings the song to bunker-mate Steve who, in casual conversation, unintentionally prompts Humphrey's impassioned response. This song was inspired by the love young people have for oddly specific things.
Final recorded song:
Song submitted for competition: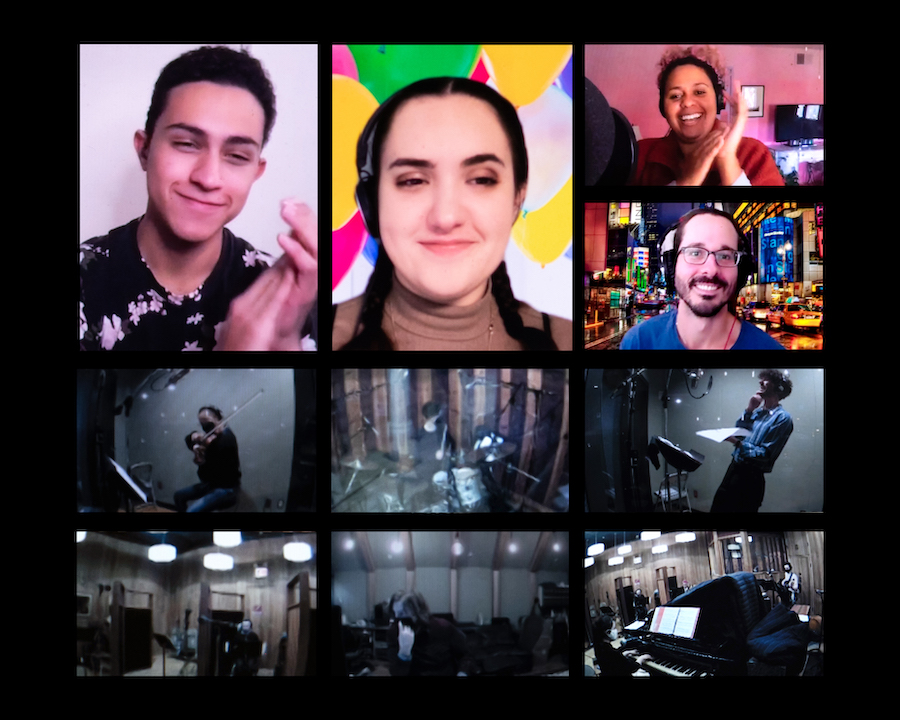 Ashley Dilorenzo (top center) and Mateo Lizcano (top left) watch the recording of "Birdy-Lingo" with mentor Zeniba Now and music director Daniel Lincoln. Photo by Natalie Powers